Update to this article: Chitika since retracted its survey numbers. 43 percent might not be accurate, but according to Google, one-third of mobile searches were local in 2016. Mobile local searches were growing 50 percent faster than all mobile searches, according to Google.
Are your target customers finding you on local search?
There's no better time than today to plan and execute a local search marketing strategy for your business. Defined in Wikipedia as the use of "specialized Internet search engines that allow users to submit geographically constrained searches against a structured database of local business listings," local search continues to show rapid, explosive growth among Internet users.
In fact, according to a study by ad network Chitika, 43 percent of all search queries on Google carry a local intent. This means that, apart from searching for the "what" information (keywords that include a business category or the name of a product or service or brand), Google Web searchers are also looking for geographical – the "where" – information, which may be a physical address, city or state name, postal code, or a set of geographic coordinates.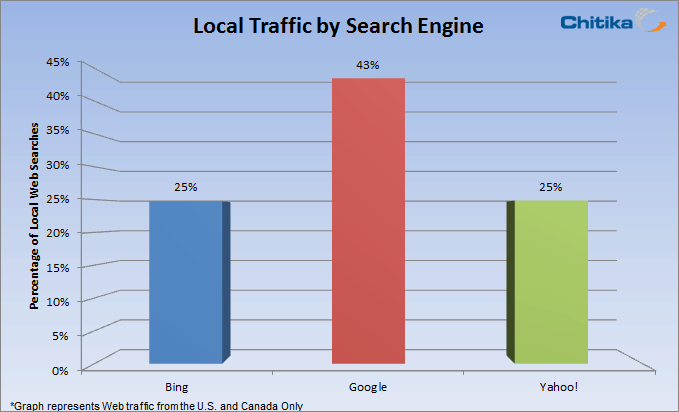 Here are the main highlights from the local search study conducted by Chitika.
43 percent of Google search queries are local. This is well above the percentage of local searches done on other search engines like Bing and Yahoo! (both 25 percent). It also marks a significant jump from when Google announced two years ago that 20 percent of Web searches from PCs, laptops, and non-mobile devices were local searches.
A staggering 74 percent of these local searches on Google are conducted on mobile devices. The remaining 26 percent are conducted using non-mobile devices.
In contrast, local searches on Bing and Yahoo! are mostly done using non-mobile devices. In fact, only 7 percent of local searches on Bing are mobile, while for Yahoo! it's only 17 percent.
A Chitika Insights summary of the report suggested that: "Combined with Google's larger share of searches performed on the Web (measured at over 75% this past month) this edge in local search makes the search giant's traffic a must have for local businesses, particularly on the first page of results for important keywords or phrases."
"And as the site's algorithm is constantly changing, maintaining a site's place on the search engine result page (SERP) requires regular attention."
Where to get listed
The results of the study further demonstrate that, more than ever, businesses should claim their listings on websites that publish local information: online directories, maps and business listings, social media sites and networks, and online review sites. Doing so serves as a great way to reach out to and connect with existing and potential customers who are using search engines to find local information.
Just getting started? Here's a list of where you can get your business listed:
Looking for a better mousetrap? Sign up today to get started with ReviewTrackers, a simple, fast, and easy solution for monitoring online reviews.