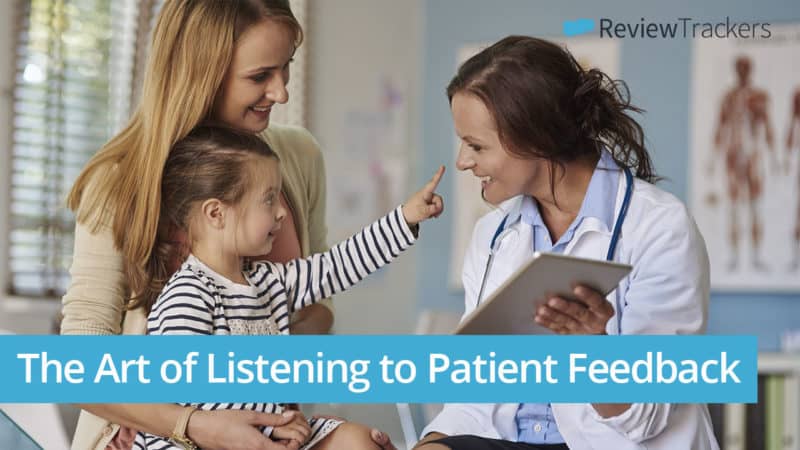 In order to build a positive brand reputation, it is crucial for healthcare providers and organizations to develop relationships with patients and provide the best patient care possible.
Part of building a positive brand reputation involves actively listening to patients during the diagnosis and treatment process. The other part, however, is listening to –  and engaging with –  patients online. It's an art… the art of knowing how to communicate effectively and build relationships through all of a healthcare organization's communication channels.
"All care is ultimately delivered at the level an individual," wrote Dhruv Khullar, M.D, in a New York Times article about the benefits of listening to patients, especially older ones, and giving them the chance to tell their stories. "As we acquire new and more technical skills, we begin to devalue what we had before we started: understanding, empathy, imagination."
The in-person patient experience requires effective listening skills and communication skills. The digital healthcare experience requires these skills, too, but they need to be applied in the both the online space and the in-person world.
An additional benefit of managing online reviews and customer feedback is that prospective patients will see that you care about current patients. So it is absolutely necessary to tweak and change your customer feedback strategy alongside the evolving healthcare industry.
What is important for healthcare systems today, through the all of the advances in technology and the unstructured patient feedback, is to listen.
'Your Patients Write the Only Stories People Care About'
To inform individuals who work in the healthcare industry about the advances in the digital realm, the 20th annual Healthcare Internet Conference (HCIC) will take place November 7 to 9, 2016 at the Cosmopolitan in Las Vegas.       
In an industry that's always advancing along with new developments in tech, HCIC is for healthcare professionals hoping to learn what's new in digital marketing, the Internet, and technology.
Events will include learning sessions and speeches by industry leaders, including Aaron Watkins, director of Internet strategy and digital content marketing at Johns Hopkins Medicine, and Scott Stratten, president of UnMarketing.
Stratten's keynote session is titled, "Everything has Changed and Nothing is Different." This means that although a lot has changed, the core of a business is the same – to provide a great product or service and deliver.
"Where we communicate may be different, but what we're saying isn't," Stratten said in an email.
Digital methods are changing the entire health experience. Whether it's communicating with patients or managing appointments online, it's important to stay on top of feedback and deliver a positive customer experience.
But when it comes to traditional marketing, Stratten said that an advertisement can be very useful when it makes sense for the individual who is viewing the content.
"People aren't annoyed by advertising, we're annoyed by being blasted with every ad," Stratten said. "I just bought something a half hour ago because of a Facebook ad. Facebook and Google have changed the ad game. Don't ignore traditional marketing because…..well…. everything has changed and nothing is different."
"Truly to do the best marketing, you have to let your patients/clients be the ones who market for you, spreading the word," he said. "You just have to work on ensuring the words they're spreading are good ones."
Stratten said brand recognition is a good part of marketing. "So when I have the need for the health service you provide, you're the brand I think of."
"Your patients write the only stories people care about," he said. "Use that."