See customer feedback from over 100 review sites in one place
Request a demo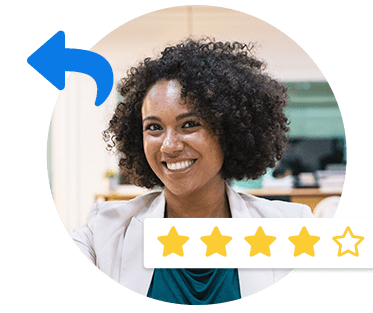 You're in law school, and you spend your nights at the library studying. While eating dinner in the library, as you usually do, you hope that one day all of this hard work will provide you with the key to a successful and rewarding career.
During the first few weeks of the first year, you wake up one Saturday morning at 7 a.m. to study for Torts. It's just for one morning right? Not really. You wake up early almost every Saturday morning for the rest of your law career.
Finally, after three years of endless hard work, you have a law degree, pass the bar exam and start working for a law firm. You're now successful.
Part of your job, however, is to bring in new business for your firm, which you didn't learn how to do in law school.
One way a potential client will make a decision about your law firm is by reading online reviews. According to Modern Comment, 72 percent of consumers trust online reviews as much as personal recommendations made by friends and family. It's important that your firm has an online reputation management strategy in place while using customer feedback to the fullest extent.
Interview with an attorney on the power of online reviews
Larry Buckfire, managing partner and lead trial attorney at Buckfire & Buckfire, P.C., says his firm is very serious when it comes to online reviews. The law firm, located in Southfield, Michigan, uses customer feedback to improve how the firm operates. The personal injury firm has two additional locations in the Detroit area.
Here's our Q&A with Buckfire:
Why is social validation so important now when prospective clients are choosing a lawyer? How did people make decisions when choosing a lawyer in the past?
The Internet has made social validation an important part of decision-making for all consumer purchases. In the past, a prospective client would ask a friend or family member for a referral to an attorney and would rely on one person's opinion. Many times, the referring person was never even a client of the attorney so little was known about the overall client experience.
With the Internet, prospective clients can search to find a lawyer and then read reviews by people giving unsolicited opinions about an attorney. If an attorney has enough reviews, the prospective client can formulate an opinion to help in the decision-making process.
Do you use customer feedback to improve your operations and overall business? If so, where does the customer feedback come from? Do you have an example?
Customer feedback is an important part of our operations and overall business. In addition to reading reviews, we send client surveys at the conclusion of every matter. The survey asks questions about overall experience, including responsiveness to inquiries and satisfaction with staff members.
The biggest consumer complaint of lawyers is the lack of contact once the relationship has started, so we pay particular attention to that criticism. If an employee is criticized for that issue, we make sure that a contact plan is initiated and followed. This has worked effectively in the past and that criticism against the employee was not made again in a subsequent survey.
Why is it important to have both negative and positive reviews on third-party online review websites?
No business likes negative reviews, but they at least provide authenticity to the review process. Rarely will every business, including a law firm, be perfect and adored by all clients. There are always clients that will never be happy no matter how good of a job you do for them. Negative reviews balance the process and potential clients can read them and determine whether they present an obstacle to hiring the firm. If the firm has a substantial number positive reviews, they usually carry weight over the negative reviews.