Download 43 free review response templates for negative and positive reviews
Get the templates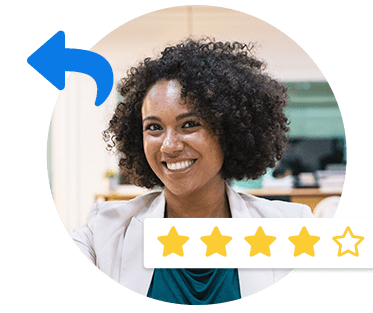 Shep Hyken, customer service expert, author, and speaker, talked with us about the importance of online reviews and what it means to create a consistent customer experience.
Why are Online Reviews an Important Part of Customer Feedback Management?
Shep Hyken: There are typically two types of customers that leave online reviews: customers who love you, and customers who are unhappy with you.
The ones in the middle tend to just not care. And that's a shame. We'd like to get as much feedback as we can. Also, people are leaving online reviews for exactly that. They've decided they want to take it upon themselves to leave a review.
However, sometimes people go to these review sites to actually make a complaint rather than complaining directly to the company, or worse, they've tried to complain to the company, nobody is listening to them, so they take it to a review site.
The company needs to respond to every review.
I want to emphasize: If you think of review sites as just Yelp and TripAdvisor and places like that, that's not accurate. Every industry, it doesn't matter what it is, has its version of a review site. It can be what looks like traditional review site in a niche industry, but it can also be some type of form or bulletin board posting where somebody can go in and make a comment, ask a question, or make a statement about the company they've been doing business with.
So every company needs to respond to every review. Good and bad. Good is not quite as time-sensitive, but it's important to do it within a reasonable period of time. They should go on and just thank the person for the nice compliment and appreciate them doing business.
For the negative reviews or the complaints or the problems, I think that it's imperative to respond quickly. Now what's a reasonable response time? Depending on what statistics you read – email, Twitter, some of the social channels – companies are spending somewhere on the average of about seven hours to take to respond.
Here's the thing: somebody leaves a review. It's social, and that means everybody gets to see it That's why they call it social media. And the potential customers are going to watch to see how a company responds to that complaint or negative review. And they want to see action. They want to know that a good effort has been made. Northwestern University did a study that said that a five-star rating – every rating is a 5-star rating – it's not nearly as effective as a 4.2 to 4.4 rating with proof that the company steps in and tries to take care of the customer.
How Does a Company Make Customer Experience Consistent?
Shep Hyken: There are two ways to look at this. There's one that is an operational consistency and one that is a cultural consistency. The operational consistency is looking at the different channels from a customer service standpoint that somebody can contact the company.
For example, all the talk is omni-channel or multichannel. Somebody is going to make contact through a self-service situation that needs to be effortless and easy. If they decide to do a chat, and if it's chatbot, doesn't matter, but it needs to be easy and accurate. If somebody decides to pick up the phone and call… are these channels giving the customer the consistent experience that the company wants to be known for?
So when Nordstrom decided to do a lot of online retailing, there were questions as to whether or not they'd be able to maintain their service levels in an online format. And my response to that when asked was, "I can't imagine that Nordstrom would do anything to erode their reputation, so I'm sure they are going to great lengths to make sure there's a consistent experience."
Now, let's talk about people – that's culture. In order to have a consistent customer service culture within the organization, it needs to be clearly defined, communicated, trained to, and everything needs to fall into place.