Restaurant technology is poised to play a significant role in shaping the future of food service.
With COVID-19 disrupting the entire restaurant and food service industry, operators must quickly adapt to the "new normal" and devise creative solutions to combat the pandemic's potentially years-long tail of adverse effects and challenges.
One way of doing so is to embrace digital transformation. 
Given the emergence of new opportunities offered by restaurant technology, along with consumers' reluctance to gather in confined spaces, it's high time for restaurants to invest in digital services and position themselves to offer improved in-store and online experiences. 
Restaurant Technology Trends and Tools in 2020 
To help operators and independent owners kick-start their digital transformation, we compiled a list of restaurant technology trends and tools that apply to various facets of restaurant operations — from marketing and sales to guest experience management and analytics.
Point-Of-Sale (POS) Integration
According to industry research, 78% of restaurants say off-premise operations (online ordering and delivery) is a strategic priority, and 92% go on to say that it helps drive additional sales. 
While joining third-party marketplaces increases a restaurant's visibility, operators must ensure efficiency by streamlining orders from these marketplaces into their POS systems. Here are a few restaurant technology tools that help restaurants solve this problem. 
Third-party online ordering and delivery systems like Uber Eats and DoorDash are here to stay. Chowly acts as a bridge between these systems and a restaurant's POS system. The platform eliminates the need for manual order entry, helping operators improve accuracy and reduce labor costs. 
Chowly works with a wide range of ordering and delivery platforms and POS systems. (See the list here.) 
Ordermark is a similar online ordering management platform for restaurants. With it, restaurants can manage orders from multiple platforms in a single stream, complete with standardized tickets.
Ordermark also offers a stand-alone system that consists of a specialized printer and tablet, ideal for restaurants running a variety of POS systems. The platform also features the ability to use one universal menu to easily manage all your online menus.
Here's a list of integrations that Ordermark offers.
ItsaCheckmate provides end-to-end integration between a restaurant's POS system and 100+ third-party delivery and ordering systems. Here's a list of third-party integrations that work with ItsaCheckmate. 
ItsaCheckmate also provides users with a dedicated customer support team that handles menu adjustments, pricing updates, and order flow issues. Operators can sign up for this restaurant technology solution at a flat monthly price ($85 per location for up to 2 platforms; $100 per location for unlimited platforms) with no setup fee. 
Online Ordering and Delivery
Consumers ordering through third-party marketplaces are on the rise. At the same time, many still choose to order directly from a restaurant to show support for local businesses and their delivery services. To optimize for these situations, restaurants can use the following non-third-party restaurant technology tools for online ordering and delivery.
Olo is a digital ordering and delivery platform for restaurant brands. It offers full menu and order management features, delivers orders accurately to your POS system, and includes integration with third-party marketplaces.
Olo also has an on-demand delivery service that connects restaurants to a network of third-party delivery companies. Delivery bids are submitted in real-time and customers are matched with the best available courier based on a restaurant's delivery rules.
Like Olo, GoParrot enables white-labeled digital ordering for restaurants. It specializes in offering a platform that "parrots" your restaurant's brand across all platforms, ensuring that your restaurant's digital experience matches your expected customer experience. 
The restaurant technology tool also includes customer engagement features like cart recommendations, loyalty programs, coupons and promotions, and gift cards. 
ChowNow is a commission-free online food ordering platform. It allows customers to place orders from a restaurant's website, social media profiles, and custom-built ordering apps (available for iPhone and Android, and branded to your business).
ChowNow also provides restaurants with a tablet designed to streamline operations. Orders come through the "ChowNow tablet" in real-time, prepaid — which means staff spend less time on the phone, and you can take as many orders as possible at once. 
Guest Experience Management
The end-to-end guest experience — from research and reservations to ordering, delivery, consumption, and payment — can now happen in a handful of screen taps or mouse clicks. This underlines the need for operators to keep customers' needs at the forefront in order to build a community of loyal patrons. Where there is great guest experience, there is margin. 
Here's a couple of digital tools to help operators adopt a customer-centric approach to managing the guest experience. 
HGEM is a market leader in guest experience management for the hospitality sector. 
The company helps over 10,000 operators — including restaurants, hotels, bars, and caterers — monitor their performance, manage guest feedback, and generate a culture of continuous improvement.
HGEM offers a comprehensive guest experience management platform, called the Hub, which helps busy managers quickly benchmark their performance against a range of guest experience measures. Here's a video preview of how the Hub works:
Market Force provides location-level guest experience management solutions, with mystery shopping, customer satisfaction (CSAT) surveys, contact center data, social media, and employee engagement surveys. 
The company, with operations across the globe, completes over 100,000 mystery shops and analyzes millions of employee and customer experience surveys every month. All this data is consolidated in the company's customer experience technology platform, called KnowledgeForce. 
Social Media, Online Reviews, and Reputation Management
More consumers than ever are discovering great restaurants through social media and online review sites. 
Nearly half of US consumers (45%) have tried a restaurant for the first time because of a social media post by the business. During volatile times, social media is also a powerful community management tool, helping any small business connect with customers and even attract a new audience. 
Meanwhile, 33% would not choose a place with an average restaurant star rating of 3 stars out of 5 on online review websites such as Yelp, Google, and Facebook.
Here are a couple of tools to help you navigate the world of social media and online reviews. 
ReviewTrackers is an online review management and customer feedback software platform trusted by thousands of restaurants and foodservice operators.
The platform consolidates all your online reviews in one dashboard, which includes a powerful analytics and reporting engine that allows you to drill down data and accurately measure the performance of individual restaurant locations.
ReviewTrackers also has a feedback and review request tool, complete with customizable customer feedback survey creation and distribution, to help restaurants build online brand visibility through reviews. 
Hootsuite is one of today's most widely used social media listening platforms. As a restaurant technology tool, Hootsuite helps operators manage their social media marketing efforts in one place.
Hootsuite users also have access to insights, analytics, and real-time results to help them understand and improve their social media performance. The platform also has a growing App Directory that lets restaurants connect existing marketing, content, and other business systems to Hootsuite. To learn more about ReviewTrackers + Hootsuite, click here and fill out the form.
Guest Communications and Marketing
As operators face difficult decisions about how to transform their business models, consumers are looking for ways to support their favorite restaurants in these unprecedented times. This makes keeping in touch with customers more important than ever. 
We rounded up a list of restaurant technology tools to help you communicate operational changes, answer customer questions, encourage support, share your sanitation procedures, announce new promotions, or simply say hello to your community of fans and followers.
OpenCity is a restaurant technology tool that allows operators to automate responses to customer questions. The platform integrates with your website and aggregates all social media messages so that you can instantly respond to customers from one place.
OpenCity is powered by Natural Language Understanding and Processing (NLU and NLP) technology, which means customers will feel like they're having engaging personal conversations with a human. Users also have the option to have tougher questions routed to restaurant staff for further assistance.
Pedanco is a cloud-based guest engagement and recovery platform that works with most of your existing feedback solutions, including website contact forms, survey systems, phone communications, and reputation management apps.
Pedanco centralizes your communications with guests and allows you to quickly organize conversations, analyze what's being said, and improve the guest experience. 
Fishbowl is a full-featured guest management platform that offers technology solutions built exclusively for restaurateurs. 
Think of it as a digital marketing Swiss Army knife for restaurant operations. Fishbowl's easy-to-use software and online tools allow restaurants to engage with guests through messaging (email and SMS campaigns), promotions (coupon marketing and menu optimization), analytics (competitor auditing and social media analytics), and app integrations.
Restaurant Analytics
Data and analytics aid the restaurant industry in many ways: from refining marketing and promotions to improving menus, maintaining stock, and introducing operational efficiencies. 
If you want to know why certain menu categories are more popular than others, or why you get more takeouts than deliveries on Mondays, the following tools for restaurant analytics can provide the insights you need. 
Restaurant intelligence platform Yumpingo brings data analytics to restaurant operations by tapping into guest feedback delivered in real-time. 
Yumpingo integrates with a restaurant's POS system to facilitate data that can impact operations, product development, and marketing. The platform also enables restaurants to collect real-time actionable insights from guests, including delivery and pickup customers.  
Keboola is a data operations company that streamlines vast sources of structured and unstructured data into a single integrated platform. 
With Keboola, restaurant owners and operators can uncover insights based on the competitive landscape and constantly evolving consumer preferences. An integrated data system also empowers operators to benefit from smarter inventory management and better staff planning, which remain as key priorities for the restaurant industry today.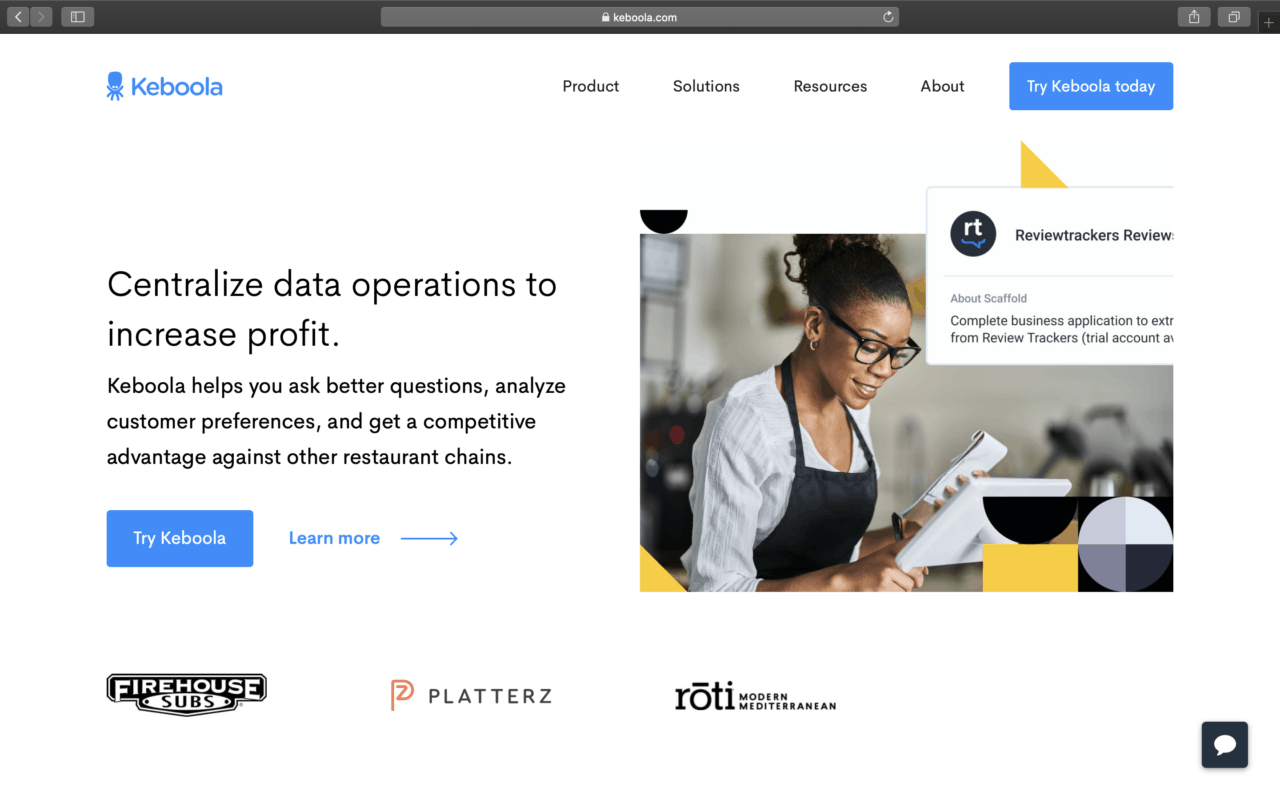 Other Digital and Restaurant Technology Services
Here is another restaurant technology tool paving the way for future opportunities. 
Buyers Edge Platform is a group purchasing organization (GPO) that serves clients and partners throughout the food service industry. It represents a network of companies and 50,000 operator locations, including independent restaurants, multi-unit restaurant groups, hospitality brands, and educational and healthcare facilities.
Buyers Edge Platform provides its members discounted prices and increased cost efficiency through its procurement network and price-driven contracts. Companies that participate also benefit from rebates processing, audit contracts, normalized purchasing data, shared service departments, and access to the network's client base.
Final Thoughts on Restaurant Technology
Before the COVID-19 pandemic, many restaurants wondered whether a positive digital experience was critical to success; some were not sure about how digital played a role in their value proposition. 
Now, digital transformation is sweeping over the entire restaurant industry. Amid the current health crisis, operators must make restaurant technology an investment priority. We hope the list of tools above help you get started on your own digital transformation.