Looking at customer referral program examples can often spark new ideas that will help your customer acquisition strategy. 
The best referral programs allow companies to identify their happiest customers and biggest supporters, then incentivize them to refer their friends and family. Not only does this tactic save your organization time and money; it also serves as a powerful way to generate social proof and word-of-mouth marketing activity. 
Remember: when you make customers happy, they will want to share their experience with their friends and family. A referral program is a great way to leverage that and really empower your promoters to introduce and advocate your business to others.
Referral Program Example 1: Dropbox
When Dropbox launched its cloud storage and file hosting service in 2008, the brand was unknown and didn't have the large community of users that it has today. 
To kickstart its customer acquisition strategy, Dropbox launched a referral program that rewarded referrers (as well as the newly referred users) with product-based perks, such as free storage space and access to premium features. Thanks to this classic referral program example, the company was able to double its customer base every 3 months, achieving a 3,900% growth in a span of only 15 months.  
Referral Program Example 2: Tesla
American automotive and clean energy company Tesla has a successful word-of-mouth marketing strategy powered by customer referrals. 
Here's how the company's referral program works: Tesla owners can earn rewards when their friends and family use their referral link to order eligible Tesla products and transition to sustainable energy. 
At the peak of this classic referral program example, Tesla gave away free Roadsters to owners who accumulated enough referrals. The company also rewarded referrers with thousands of free Supercharging miles.
One of the world's top Tesla referrers earned two free Roadsters worth $500,000, while generating millions of video views for the automotive brand. Tesla doesn't like to spend on marketing or advertising efforts, so referrers do the marketing (and provide much-needed social proof) for the brand.
Referral Program Example 3: Airbnb
Travel and hospitality marketplace Airbnb is known for its highly successful referral strategy. When it launched its referral program, the company identified referrals as a way to gain visibility in new markets and acquire users who hadn't previously heard about the brand. 
The program allows Airbnb members to earn promotional coupon credits ("travel credit") toward future homes/ experiences bookings by referring friends to become new users on Airbnb. Referred users were also given travel credit.
One of its keys to success early on was crafting emails that presented invites as gifts, rather than as a promotion. This encouraged referred friends to accept the offer and sign up for Airbnb.
Referral Program Example 4: Evernote
Evernote, the popular note-taking app, has set a great referral program example for those who would like to boost their customer retention strategies. Out of the 225 million users of Evernote, 13% were referred by other users.
Here's how the program works: the company rewards referrers with Evernote Points, which can be redeemed for monthly or annual subscriptions to Evernote Personal, even if users are already subscribed to a paid service plan.
What makes the referral program unique is that every time a customer's referred friend upgrades to Evernote Premium, the referrer receives additional Evernote Points. This means the referral doesn't end after a user invites or submits their friend's contact information; they get rewarded again and again every time their peers upgrade to access the app's premium features.
Referral Program Example 5: MeUndies
For MeUndies, an underwear, loungewear, and apparel company, simplicity is the name of the game. This referral program example is easy to follow and execute: for every successful referral, MeUndies customers get $20 store credit, while the referred friend gets 20% discount on their first purchase.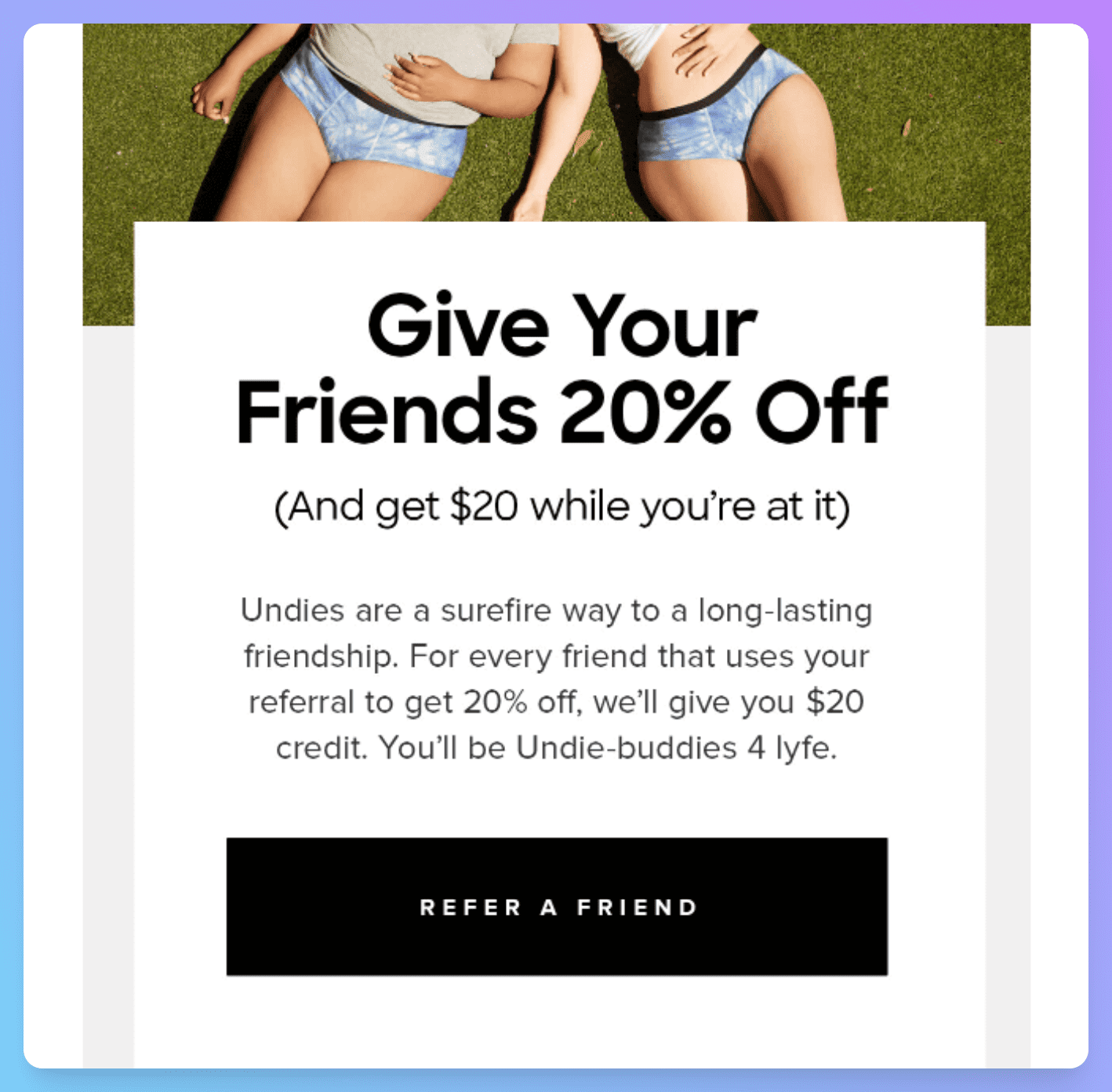 To consistently win new customers, brands must sometimes get creative and look for inspiration from others. Hopefully, these referral program examples can spark some new ideas and help your team generate word of mouth and social proof for your brand, and ultimately a constant flow of new customers.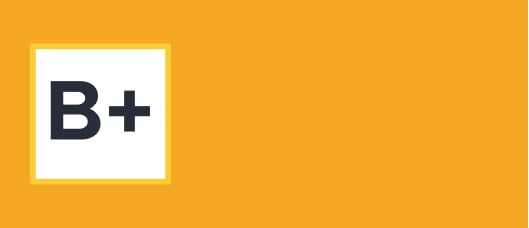 Find out your brand's online reputation score
Take the guesswork out of your strategy. Instantly generate your brand's online Reputation Scorecard, complete with review highlights, ratings, keyword trends and more.