Organizations with doctors specializing in cosmetic treatments should get a listing on RealSelf. The cosmetic treatment-focused site features listings from over 20,000 physicians and attracts over 9.9 million consumers every month.
Numbers like that make a listing on RealSelf hard to ignore because it attracts more attention from a specific audience, but only those with an informative page and a growing number of reviews will convert interested consumers to actual patients. Here's what we'll cover in this beginner's guide to RealSelf:
RealSelf Features
Just like other industry-focused review sites like Healthgrades, RealSelf makes an effort to make all available information as easily accessible as possible. This starts with the home page, which encourages consumers to begin their search for a doctor or specific treatment.
Customers can find a doctor based on country, state, province, or city, but RealSelf's "Treatment Finder" is the star of the show. You start by choosing treatments based on a specific part of the body. RealSelf will then ask more specific questions about your treatment goals before presenting multiple options. Each treatment option also has its own specific page that includes helpful information such as its cost, patient reviews, videos, eligible providers, and a Q&A section.
You can also find treatment options with a list of "Top Concerns" by patients or another list of the most worthwhile options based on factors like reviews or average cost.
Each listing also contains a multitude of useful information for each viewer. Aside from the usual offerings of a profile picture, location and contact information, and patient reviews, each listing also includes spaces for:
Specials and deals
Links to a third-party website and social media channels
Q&A section
Patient images and videos  
How to Claim a RealSelf Listing
Listings are the backbone of RealSelf's success, and any physician can get one on RealSelf for free provided that they meet the site's "Healthcare Professional Listing Criteria." This requires that each healthcare provider listed must meet one of the many medical verification requirements (such as a valid license or a verified certification from specific organizations).
Those who meet the requirements can then go through the signup process on RealSelf's claim page. There will be a form available that asks for information such as:
First and Last name
City, State/Province
Email Address
Website
Board certification
There's also an option to tell RealSelf if someone referred you to the site. After agreeing to RealSelf's Terms of Service, you can hit the "Claim Profile" button to finish the process. Verifying and processing the application will take one to two days.
Patient Reviews on RealSelf
At a glance, consumers will see the overall star rating and the total number of reviews for the physician at the top of the listing page. Clicking on either score will bring up the page's review section.
By default, it's sorted by the most featured review, but consumers can also sort them by highest and lowest rated reviews and by the most recent review. Listing pages with multiple specialties will have a pie-chart breakdown of patient reviews for each specialty. There are also additional star ratings that pertain to the patient experience with factors such as:
Wait times
Bedside manner
Doctor's ability to answer questions
Time spent with the patient
Post-visit follow-up
Responsiveness through phone or email
Staff friendliness
Payment process
How a Patient Leaves a Review
Patients can review in one of two ways: through the "Start Your Review" tab on the site's navigation bar or directly on a listing page.
The "Start Your Review" process requires the reviewer to answer a few questions such as the type of treatment they're reviewing and whether or not an appointment was already scheduled. They also have the option of directing their review towards a specific physician or to just rate the overall treatment experience.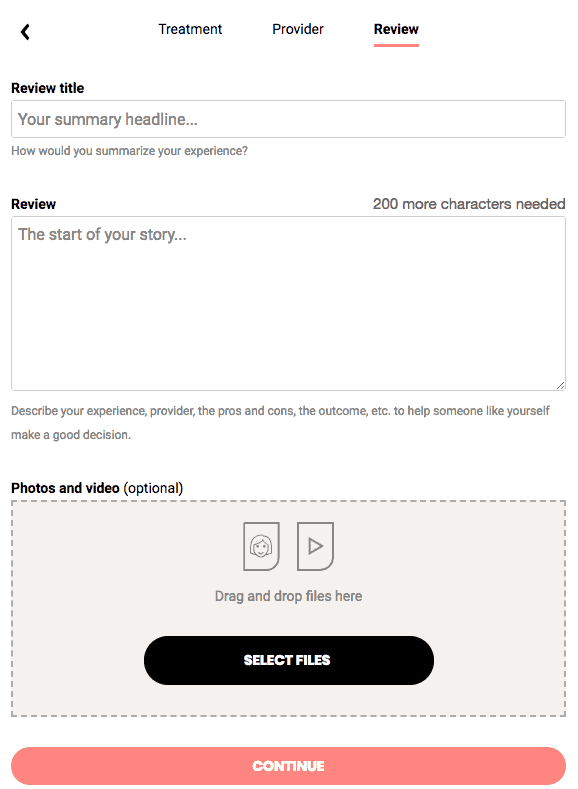 The final page of the process will ask patients to give their review a title and write a minimum of 200 characters for the review. Patients also have the option to upload a photo or video of their treatment as an additional supplement to the review.
Best Practices for any RealSelf Listing
Creating a RealSelf listing is the first of many steps to improving any physician's online reputation. There are plenty of things to do once a listing is up and running, and we have some tips on some best practices that should point you in the right direction.
Include All Relevant Information in the Listing
Each listing page has a plethora of digital real estate where you can add vital information that can better inform potential patients about a physician. Things like contact and location information are standard for any listing, but they can still have a significant impact on patient conversions.
Taking advantage of the Q&A section is also important because it's one of the first opportunities for physicians to answer any concerns that future patients might have before they set up an appointment. Anyone on the site can answer these questions, but it seems like an answer from a licensed physician ranks higher on the list of responses so make sure to take some time to get responses.
Monitor and Respond to Reviews
Another crucial part of any doctor's online reputation is the patient reviews they receive. Monitoring listings for new reviews on a regular basis ensures that you stay on top of rave feedback as well as reviews that point out flaws in the patient experience.
You might as well also set aside time to respond to reviews. Responses show patients that you care about their feedback and using it to further improve the various aspects of the experience like wait times, appointment services, or even the doctor's bedside manner.
Before responding it's important to have a plan in place so that each response sounds personal and professional at the same time. You should also make sure that each response is HIPAA-compliant to avoid any legal issues.