ReviewTrackers is the smartest way to respond to your company's online reviews and customer feedback. That's why we call our response feature Smart Response. A touch obvious, but hey.
Once you've loaded your account with brand-approved responses, it takes one click to answer your customers (or assign the task to a local manager). All this happens from a single dashboard that's designed to help you save time, win over critics, foster customer loyalty, and drive revenue.
Smart Response protects your brand
ReviewTrackers' Smart Response feature makes review response easier by enabling your managers to pre-approve language and responses consistent with your brand. This ensures that all your responses meet brand or compliance standards, and that they always reach the customer as fast as possible.
The power of Smart Response
53% of customers who review a business expect to hear back within 7 days. (Some are even more demanding.) Get back to them ASAP with Smart Response: literally the fastest way to activate your promoters and recover any brand detractors.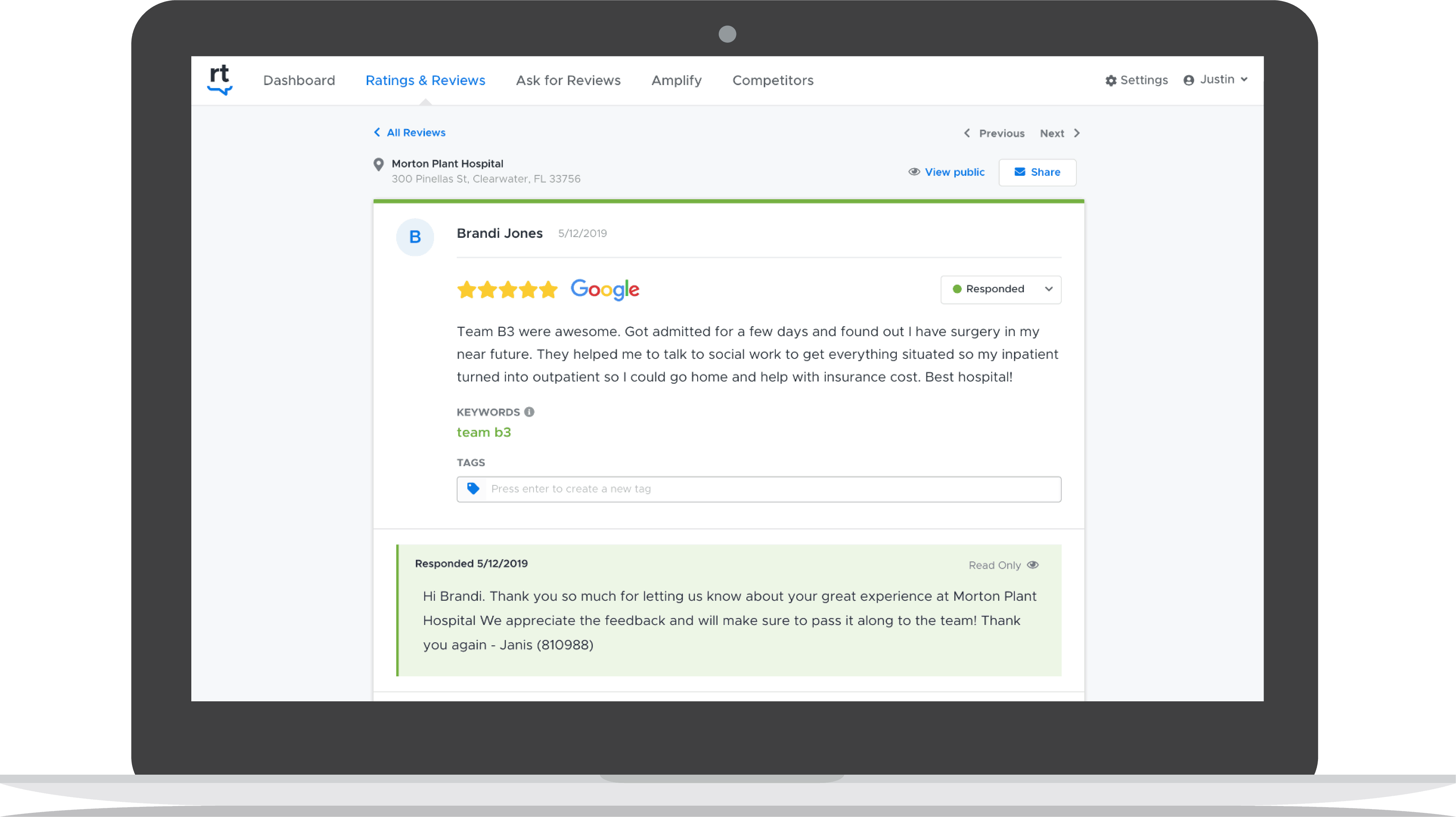 Faster, smarter responses with ReviewTrackers
More responses = increased revenue
According to Cornell, revenue increases (and overall ratings improve) as the number of responses to reviews increases. Failure to respond, on the other hand, leads to lower review scores and revenue.
Data-analyzing, forward-thinking dashboard
Online reviews offer a window into the kind of customer experience your company is delivering. Centralize your review data, track all responses to reviews, discover customer trends and patterns, and measure reputation scores and performance over time.
Win customers for life
Stay connected with the voices that matter the most, and transform the way you respond to your customers' reviews with ReviewTrackers.
Collaborate on your responses
Use ReviewTrackers' @mention and tagging capabilities to keep your reviews organized and assign responses to members of your social or customer success team.
Respond in-app with third-party integrations
Google and Facebook are two of the places where you'll find the fastest-growing, most valuable, and most actionable reviews. With our exclusive integrations, you can respond to Google and Facebook reviews directly from your ReviewTrackers dashboard. No need to open multiple tabs or log into various accounts.
Build a 5-star brand reputation by responding faster
78% of consumers believe a business cares more about them if they see management respond to their reviews. Indeed, how you respond to what customers are saying online will have a greater impact than what's being said in the first place.
With ReviewTrackers, it takes fewer clicks than ever to build a 5-star brand reputation. Our integrations with Google and Facebook allow you to respond instantly to those reviews in the app. The ReviewTracker's chrome extension and mobile app enables you to respond across all devices.
Track response performance over time, locations
The ReviewTrackers dashboard includes Location Performance metrics. Track which locations and users are responding and make sure your local managers and users are responding quickly and on-brand to your customers.
Demo today's best review response solution — for free