Consumers today go online to "do their homework" when shopping for — well, literally anything.
It can be dinner at a nearby restaurant, an executive suite in a hotel out of town, a fancy new dress or a brand new car… whatever. Modern consumers are combing through all the information at their fingertips, through smartphones, word of mouth, and social media to weigh pros and cons before purchasing.
Consumers are relying on feedback of previous happy (or unsatisfied) customers in order to make purchase decisions. When making decisions with a bit more impact than what's for dinner — decisions that impact their quality of life, the health of their children, and in some instances, life or death — consumers are doing the same.
They're reading patient feedback to guide their healthcare decisions.
"Consumers increasingly challenge the notion that doctor knows best about everything," wrote NPR's Charles Ornstein. "Though Yelp's health reviews date back to 2004, more than half of them were written in the past two years. They get millions of page views every month on Yelp's site alone. In many ways, consumers on Yelp rate health providers in the same way they do restaurants: on how they feel they've been treated."
Doctors and healthcare professionals are listening more closely to patient feedback, too. Dr. David Greuner, the managing director and co-founder of NYC Surgical Associates, says he monitors and responds to patient feedback. He said NYC Surgical Associates appreciates and welcomes the reviews they receive online. (Their website even has a dedicated section incorporating patient feedback from both reviews and surveys.)
Monitoring patient feedback is also crucial in saving time and increasing efficiency in the doctor's office. Digitally savvy doctors are already implementing review management tools so that they're always on top of what patients are saying online. These tools also help doctors manage their online reputation, respond to patient feedback, as well as gain insights into the patient experience.
Online Patient Feedback: The Facts and Numbers
Let's look at some numbers:
A 2011 study by the Pew Research Center

shows that almost 80 percent of those online and 60 percent of all adults have used the Internet to look for health information or information about healthcare providers.

More patients than ever are turning to online physician and hospital reviews to search for (and choose) doctors. According to

a 2014 survey

, the number of patients using online reviews increased 68 percent from 2013 to 2014. Almost 50 percent of survey participants said they would go out-of-network for a doctor with

favorable online reviews

. Many of these patients are also more likely to have private insurance.

According to

Vitals

, approximately 85 percent of consumers are now at least "moderately likely" to choose a doctor over another based on high ratings and positive reviews.

Vitals also found that 51 percent of people check reviews to assess their physicians and healthcare providers. 47 percent of those who look up physicians online feel differently about the physician after viewing their profiles and reviews.  

Salesforce

found

that reviews, ratings, and feedback (76 percent) written by other patients on sites like Yelp and Healthgrades are considered by Millennials as the main criteria when selecting a doctor.
These statistics highlight why even reluctant medical practices and doctors should focus on effectively managing online reviews and patient feedback.
As the healthcare segment becomes increasingly patient-centric, having online profiles and positive patient feedback is not only advantageous — it is a necessity. Managing patient feedback could become key to attracting and retaining patients.
Fortunately, negative patient feedback isn't as plentiful as positive. To ensure positive feedback and reviews for your practice, continue to improve listening skills and diagnostic accuracy.
However, when negative reviews occur, it's important to have a strategy in place. Respond in order to:
Satisfy the reviewer.

Maintain a positive online reputation and brand image.

Remain in HIPAA compliance.
Physicians and healthcare professionals have an increasing interest in patient feedback management. Armed with the knowledge that many patients, caregivers, and family members are discussing symptoms, diagnoses, and doctors online, healthcare has gone digital.
Practicing physicians benefit from actively monitoring their online presence and managing patient feedback and reviews. If they don't? What starts off as a single small flame can grow into a raging wildfire, with the power to impact a practice's bottom line.
Develop a Patient Feedback Strategy in 6 Steps
Step 1
In order to establish a proper patient feedback management strategy, you must first engage in some offline preparation.
Meet with your team to discuss best practices for listening to patients online.
Then set up Google Alerts with the name of your practice, practicing physicians, and any search terms which you believe are identifying. This will give you a clearer picture of when and how you're being talked about online.
Step 2
Now that you have the capability to monitor online discussions about yourself in real-time, it's also important to investigate what's already been said and what's getting the most traction on search engines.
Run a few search engine tests to see what's appearing on page one when searching for the name of your practice or hospital, etc.
Is it a bunch of 5-star reviews that will help get prospective patients through your doors or is it a scathing blog post about a long waiting room experience?
Step 3
Identify your patients and prospective patients. Who are the people you are already reaching?
Note important characteristics and demographics. How can you work towards cementing a positive reputation with this existing clientele online? How can you ensure they are seeing positive depictions of your brand and practice?
Step 4
If you haven't done so already, start a website or blog and claim or create social media pages, and physician profile pages.
Scattering your visibility across multiple platforms allows you to have more control over what people are seeing when they type your name into a search engine.
Creating content for these sites may seem burdensome at first, but once you find a rhythm you'll learn how convenient this sort of information dissemination can be towards informing and garnering new patients.
Step 5
Once you've established these initial online spaces, branch out to other social media and professional profiles. Having a positive presence on social media platforms will go a long way in driving down unwanted search results while professional profiles on sites like LinkedIn will rank highly on search results and provide extra online credibility.
Step 6
Closely monitor your online reviews and mentions and keep track of the number of positives versus negatives.
If you find poor reviews to far outweigh their positive counterparts, there may be more steps you need to tackle offline than online. Sit down with your group and review what's being said. If a particular staff member is routinely generating negative reviews, dealing with the matter internally will go a long way towards curbing online negativity.
Developing Patient Feedback Surveys
Patient feedback surveys are one of the best ways to gauge the patient experience and understand your healthcare group's online reputation.
Healthcare organizations are already aware of the HCAHPS survey, but creating a custom patient feedback survey has its own benefits. We'll give you some best practices for creating these surveys so that more patients provide the high-quality feedback you need to improve their experience.
Personalize the survey. Details matter especially when it comes to getting feedback from patients. Don't just put "Dear Patient" at the beginning of the survey. Make an effort to include their name or other specific details that were part of their visit. These details show patients that their opinions are highly valued and that you care about the provider's quality of service.
Make it simple. Try to not include industry jargon in-patient feedback surveys. If you must put it in the questions, make sure that you define it well enough that anyone can easily understand it.
Keep it short. Research shows that 10 percent of mobile users tend to abandon surveys after seven minutes. Desktop users will stick around for a bit longer at a 4 percent abandonment rate, but it jumps to 6 percent at the 9-minute mark.
The 7- to 9-minute window might seem small, but making short, and personalized questions within that time frame can yield valuable patient feedback and data.
Best Practices For Managing Patient Feedback
Be present and active on all relevant review sites
It's not enough simply to have a Yelp profile, a Facebook Page, or a Google business listing. Those are obviously extremely important, but you have to establish and actively build your presence, too, on industry-specific websites and platforms where patients seek information about you.
In healthcare, these sites include Vitals, Healthgrades, and RateMDs, all of which serve as channels for patients to share their feedback and experiences. If you're just getting started, this list should help you cover your bases.
It's also useful to identify other sites specific to your practice that rank on search engine results pages. If you've never done it before, Google yourself. Type a search query in the same way patients are likely to search for you (or your competitors).
Be sure to search with local intent, too: say, "best pediatrician + town" or "Los Angeles family practice with best reviews". The results should give you a better idea of the sites and platforms that are most relevant to your market.
Highlight common procedures, specialties, and conditions
Managing patient feedback and building your online reputation requires the ability to provide the kind of information patients are looking for.
This means that, on your website and in all those listings you've claimed and created on online review sites and local business directories, you should include not only your degree, licensure details, and certifications, but also your most common medical procedures, the conditions you treat, and your medical specialties.
Feel free to include other types of info that patients are likely to be interested in, like the use of new technologies, the application of certain pharmaceutical products, or access to new medical equipment and facilities. Go beyond credentials to create detail-rich, solution-oriented profiles that anticipate patients' needs and expectations.
The more complete the information you provide, the less likely they are to look elsewhere.
Be specific about coverage
In healthcare, coverage matters. You can be the most accomplished doctor in the world, but if your office doesn't clearly communicate coverage options and payment plans to patients, you'll remain vulnerable to one-star reviews and negative patient feedback, which could potentially blemish your professional reputation.
When patients walk in, make sure they are provided with as much information as possible regarding insurance coverage and potential payment plans. Train your staff to integrate this into the patient experience. And make it a point to update your online properties with pertinent insurance information.
Implement appropriate technologies
It's no secret that digital methods are changing the health experience.
One aspect of the patient experience that has become increasingly tech-driven is appointment scheduling. In fact, a study by Harris Poll found that, for Millennials, the ability to book appointments and pay bills online ranked as the second most important criteria for choosing a doctor or healthcare provider.
Patients today also express a growing interest in using mobile apps for managing their health, reviewing their personal records, and connecting with their doctors. There's no excuse for a phone service or paper trails that leave patients frustrated with long waits and uncertainty about your availability.
To improve patient satisfaction and generate great reviews and feedback, you must be able to meet your patients' technological needs. Implementing a tool like ZocDoc, for example, helps you engage with patients via a mobile app and instant appointment booking platform.
You may also explore opportunities with manufacturers of electronics, with a view of empowering your patients to proactively manage their health data using wearable devices.
Options vary, but the key is this: to stay competitive in an increasingly wired and data-intensive health economy, you have to make technology a key investment priority for your organization.
Embrace feedback and encourage patients to review you
In the age of Vitals and Yelp, you can't be afraid of what patients might say. Embrace their feedback, show that you're listening, and respond whenever you can.
On sites that allow you to be open about requesting your patients' honest opinions, be active in encouraging people to review you.
The quality and quantity of your reviews are obviously crucial in ensuring your visibility in search, and they are also a major factor in your lead generation efforts, as well as in determining whether or not patients choose you. And with many providers having implemented follow-up quality-control calls, it just makes sense to take advantage of the contact opportunity to encourage a patient to leave a review, when applicable.
Analyze patient feedback to foster service improvements
The opinions and feedback of your patients are a valuable source of information essential to making service and operational improvements. The most successful doctors and providers take the time to carefully analyze their reviews and use business intelligence to shape their services.
In an analysis of over 5,000 patient reviews on Vitals, data researchers

found

that "time," "staff," and "office" are the three most common words found in reviews. "Diagnosis" ranked at no. 47, which goes to show that patients are looking beyond qualifications and professional expertise; bedside manner and service matter, too.

Patients also complain online 4 times as often about a medical practice's customer service – such as receptionists' cordiality and doctors' bedside manners – than about a doctor's ability to heal,

according

to Vanguard Communications.
Does your receptionist need more training? How do patients feel about your bedside manner? Do people feel comfortable receiving treatment in your facility?
With genuine patient feedback, you can position yourself to answer these questions. Don't just look at your numerical ratings; make an effort to understand the overall sentiment of your patients, too. Having a patient experience shaped after the voiced needs of your patients sets the stage for long-term relationships and a medical practice conducive to patient loyalty.
Online Review and Patient Feedback Sites for Healthcare Providers
Remember: patients will talk about, review, promote your practice, or dissuade prospective patients on these sites whether or not you take the time to monitor and manage your profile. You may as well join in on the conversation!
Yelp
Yelp is one of the world's biggest review sites – with lots of business categories to choose from, including physicians and healthcare providers. To claim your practice listing on Yelp for Business, just visit https://biz.yelp.com/. You can also check out the ReviewTrackers guide on claiming your Yelp page.
Healthgrades
You can claim and maintain a free profile on Healthgrades by registering on the site at https://update.healthgrades.com. The site also features sponsored programs for providers looking to promote their practice. If you're managing or marketing a hospital or other healthcare facility, be sure to check out Healthgrades' solutions suite to foster growth, expand engagement, and improve performance.
Vitals
To claim your listing on Vitals, visit vitals.com and sign up. You can manage and edit your information, including display name, practice address, specialties and expertise, and education and awards. Once you've established a profile, you can begin responding to reviews.
Wellness.com
You can get listed on Wellness.com by enrolling in their Wellness Provider Program. Visit http://www.wellness.com/docs/12761/wellness-provider-program and use the search box to find and claim your business page. To see if you're already listed, go to http://www.wellness.com/provider/public/search.
Google My Business
To create or edit your listing on Google, visit the Google My Business page at www.google.com/business. Having Google reviews and a Google My Business account is key to domination! When folks turn to Google to search for a particular medical specialty plus the word "best," you want to be one of the search engine frontrunners. Oftentimes, Googling "best dermatologist + city" will result in a Google My Business search result first.
ZocDoc
To claim and manage your ZocDoc listing – as well as set up instant online bookings and build up your positive reviews – go to https://www.zocdoc.com/join/Start. ZocDoc is helping increase the number of annual doctor visits through targeted emails. The messages offer recommendations and allow readers to click through and make an appointment immediately.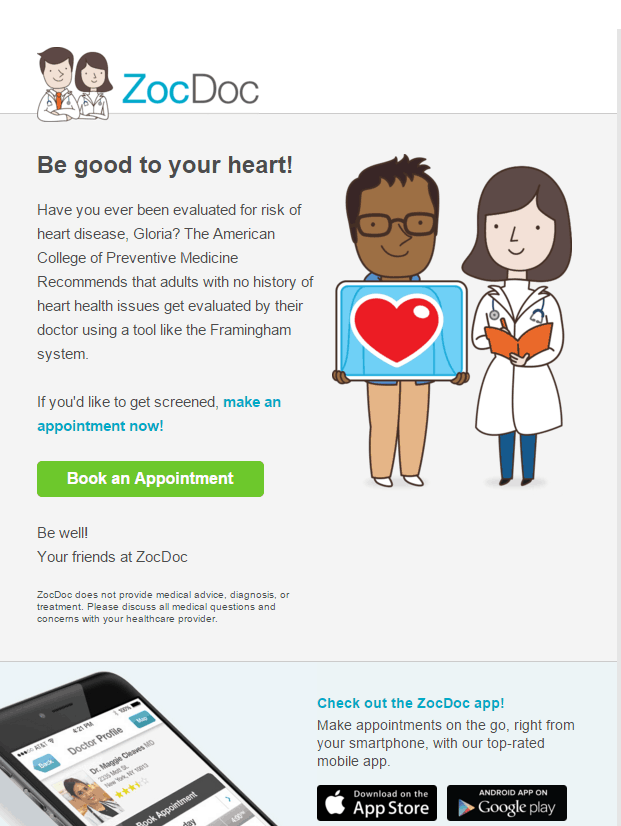 RateMDs
Doctors and healthcare providers are listed on RateMDs free of charge. To claim, manage, and edit your listing, click on Claim Doctor Profile located at the top of your reviews page. You can also contact RateMDs to remove fake listings you may find.
Dr. Oogle
Dr. Oogle can generate listings of your dental practice – with or without consent – because your information is  made publicly available by the State Dental Board. You can maintain your listing's accuracy and update your office information by going to https://www.dr-oogle.com/sitemap1.cfm.
Doctor.com
http://www.doctor.com/
Signing up for Doctor.com gives you visibility on all sites available through its network, as well as access to review generation tools, a Showcase Page for your practice, and various consultants with a diverse knowledge base. For more information, visit http://www.doctor.com/providers.
Real Patient Ratings
Real Patient Ratings houses one of the largest databases of verified plastic surgery patient reviews. The reviews generated by the site are the result of surveys completed by patients who have visited a qualified doctor's office. Plastic surgeons can sign up for reviews from Real Patient Ratings by visiting http://www.therealratingsgroup.com/deliver-amazing-patient-experiences-and-grow-your-online-reviews/.
RealSelf
Another site providing patients with reviews of plastic surgeons and cosmetic treatments is RealSelf. You can claim your practice's listing on RealSelf's website by going to http://www.realself.com/dr/claimprofile.
UCompareHealthCare
http://www.ucomparehealthcare.com/ UCompareHealthCare allows users to search by location, specialty, or doctor name. The site offers highly comprehensive comparisons of healthcare providers based on data from federal and state government agencies and multiple third-party sources. Your practice is probably already listed on the site, but if it isn't, contact the UCompareHealthCare team to add your listing.