Customer Acquisition: Banking Strategies
The ways that customers shop for banks and financial services providers have changed. So, therefore, have the methods and strategies for customer acquisition in banking.
What does it take to acquire and keep new banking customers? How can companies achieve a better understanding of consumers' new path to purchase? And what can banks and financial marketers do to influence the decision-making process?
Read on as we share cost-effective strategies for customer acquisition in banking.
6 Banking Customer Acquisition Strategies
Increase your visibility on social media
Today's banking consumers typically begin their investigation online. But it won't take much time for them to make a decision. According to a local search study, 53 percent of users typically visit a business within 48 hours of search.
If you can build a high-quality social media presence, your bank can achieve greater visibility in the eyes of those searching for new institutions and providers.
Post regularly on your social media profiles. Respond to customer questions and inquiries. Share high-quality content about what's happening in the industry: trends, security practices, investment opportunities, etc. Add an appointment booking option or link to your digital application forms on your Facebook business Page and Instagram bio. And, if possible, integrate your social media efforts with your customer relationship management application or software.   
A strong social media presence can boost your banking customer acquisition strategy by simplifying access for potential banking customers and making it easy for current customers to encourage referrals to your business.
Not quite sure how to work on social? Check out these social media marketing strategies that drive real results for businesses.
Become a master at managing online reviews
Online customer reviews can impact your search engine performance, affect your brand reputation, and determine your ability to win new customers.
According to finance industry research, online reviews are five times more influential than TV advertisements and six times more influential than social media advertisements.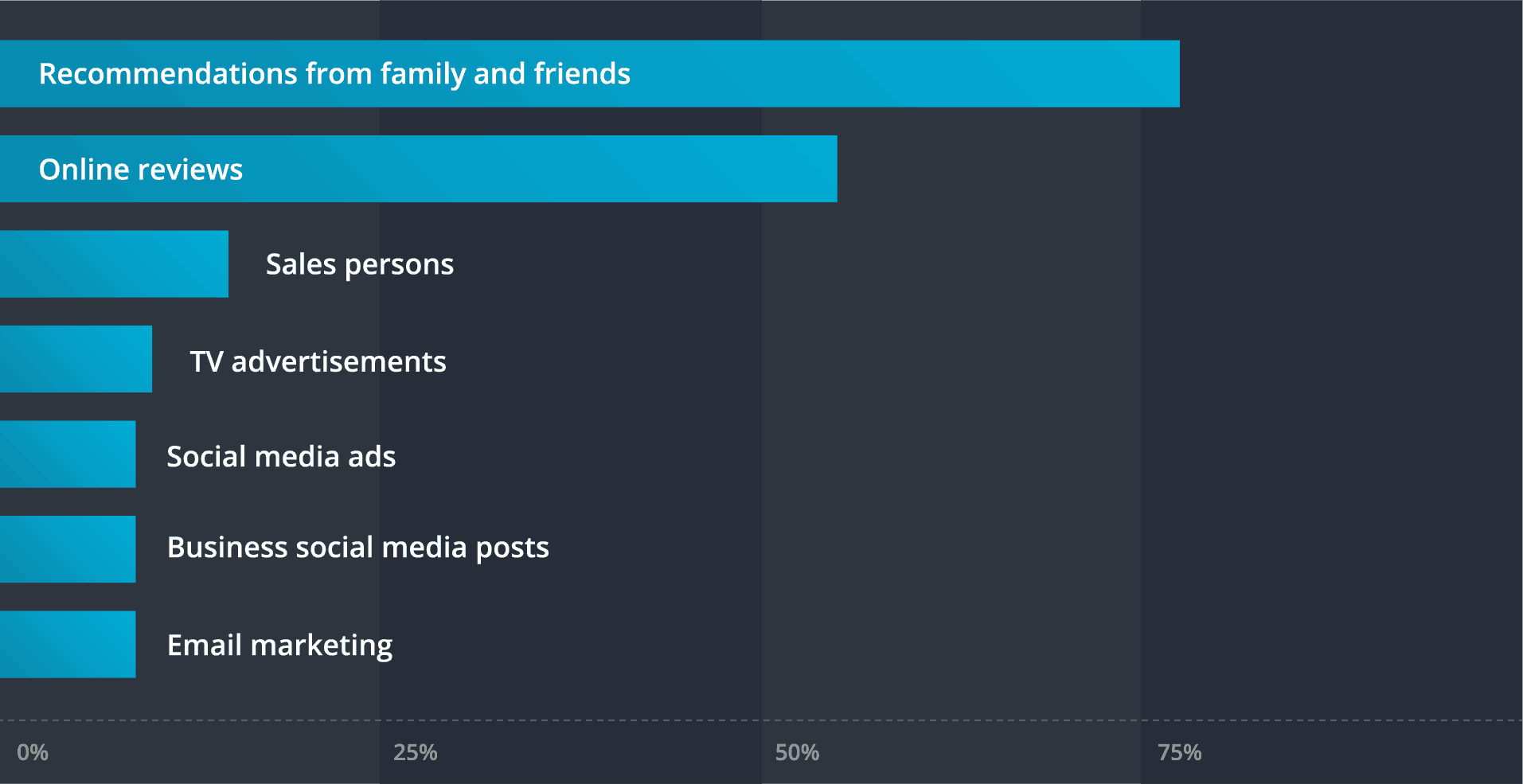 This makes online reviews management an important component of any successful customer acquisition banking strategy.
Tune into online review websites and engage with banking customers who leave feedback. Respond to their reviews. Be active in protecting your brand reputation. To save time and improve your productivity, use an online review monitoring software tool. Taking these steps lets you demonstrate to potential customers that you care about what existing customers have to say.
But don't stop at responding to reviews. Take advantage of the 5-star reviews you may already have. Share these on social media. Add them to your website by using review widgets. Show your appreciation for those who consider themselves your biggest promoters and fans.
Online reviews serve as powerful social proof that you can use to inspire shopper confidence and acquire more customers.
Understand the multichannel experience
For a banking customer acquisition strategy to work, you must first understand which channels are most relevant to your target customer. After all, you don't want to waste your time and money on the wrong channel or customer acquisition tactic.
There isn't a single correct answer here. Like in other sectors, consumers may switch from one channel to another on their way to making a purchase decision.
Digital channels are important, but branches still play a big role. Recommendations from friends and family can be very influential, but so can traditional marketing and brand-building tactics.
Here's a revealing infographic from an AOL and Oliver Wyman research study, which explores the motivations, influences, and behaviors of consumers who recently switched banks and opened a new primary checking account. It lists down a number of marketing channels influential to today's banking customer.
The infographic reflects shifts in the consumer mindset and research behaviors, while also suggesting a non-linear path to purchase.
This means that multichannel insights are more crucial than ever. By understanding the multichannel experience, banks can navigate quickly shifting marketing channels and effectively drive customer acquisition.  
Demonstrate thought leadership through content
Great thought leadership content is a great way to capture your potential customer's attention and trust.
You're in an industry that's always changing, so there are always numerous financial topics you can talk about. Don't just aim to sell, though. Create compelling educational and meaningful content that shows you're an industry leader. Talk about new areas of investment opportunities, online banking safety practices, emerging digital tools and trends — and pack your content with search-engine-friendly keywords and calls-to-action.
There are also plenty of channels for publishing your content: social media, a customer blog, mobile apps, video platforms, and (don't forget) marketing materials distributed in all your branches.
Engage with your happiest customers to drive referrals
In banking, recommendations from family and friends are powerful customer acquisition drivers. It therefore makes sense to develop a customer referral program. This incentivizes your best and happiest customers to refer their friends and family to your business. It's a low-cost, high-ROI banking customer acquisition strategy. (The acquisition costs for these referred customers will also be lower than normal acquisition.)
Start a newsletter campaign that goes out to your brand promoters. Develop a program that rewards your regular customers with points or freebies. Or create personalized discount links or codes for your banking customers to share with their own networks.
Remember: when you make customers happy, they will want to share their experience with people who matter to them. A customer referral program is a great way to leverage that, nurturing your relationships with happy customers and empowering them to refer your business to others.
Invest in customer-centric transformation
Customer experience — more so than digital strengths, rewards program, or coverage options — could be the key for banks that prioritize customer acquisition. By providing an effective, easy, meaningful, and effortless experience, your bank can attract more customers without inflating customer acquisition costs.
Your entire organization, from the C-suite to the frontline, must therefore focus on becoming more customer-centric. Reengineer your sales, service, and marketing strategies based on customer feedback. Refine your operations and processes to deliver experiences that wow, delight, and inspire loyalty. Train your sales teams so they can more effectively communicate the product functionality and value proposition of your offerings, while also being able to handle customer questions, issues, and concerns.