The use of citation tools is vital to your rankings in local search results.
A typical citation provides the Name, Address, and Phone number (NAP) of your business, and Google and other search engines view this packet of information as one of the major contributors to determining your business' authority, online and offline prominence, and relevance.
More consistent and accurate citations across the Web brings more weight to your company in local search rankings. Here are a few tools to help you spot inconsistencies and improve your online rank.
Citation Tools To Check Out
Moz is an alternative listing service. You can enter your business' accurate information on its dashboard, which is then pushed out to multiple distribution partners including Google, Bing, Apple Maps, and Foursquare.
Three plans are available and start at $99 a year per location. The major differences between each plan include listing alerts, SEO analytics, a personal Customer Success Manager, and API integration.
All plans include the ability to constantly check current listings and the removal of duplicate and inaccurate listings.
The bread and butter of the ReviewTrackers platform is the ability to monitor, respond, and generate reviews from multiple sites, but we can also manage your listings.
We first submit your locations to aggregation sources including Infogroup, Acxiom, Factual, and Localeze/Neustar with updated and correct information available on many third-party sites within a few weeks. During that time, we also add your NAP to our partner network.
With the correct listing information implemented we then go one step further and optimize your business locations on major sites, such as Bing, Citysearch, and Foursquare, to ensure your listings are claimed and accurate. Reports on your listings are available on a bi-weekly basis.
The Business Listing feature is an add-on package to any of the three plans – Enterprise, Professional, and Partner – which start at $59, $49, and $49, respectively.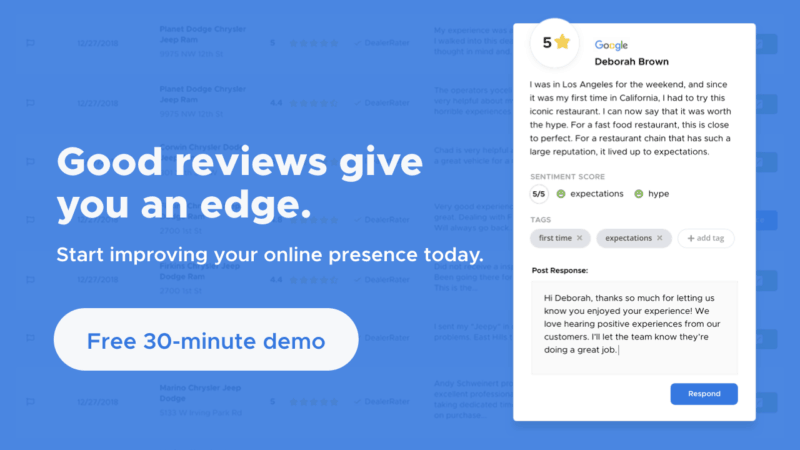 The Canadian-based company is all about helping businesses on the local level. Its Local Citation Finder allows you to search for targeted keywords, find higher-ranking competitors, and opportunities to add more citations. The company also performs local search and citation audits, and the ability to track your rankings over time.
Pricing works differently for Whitespark because of the different services available. If you want to build citations across general/national directories, you'll have to pay $4 per citation. Local citations, on the other hand, will cost $3. These are published on "city level local directories or directories specific to your industry."
Citation audits and cleanup are more expensive. The Essentials plan will look at sites like Google, Bing, Facebook, and Apple Maps, to name a few for a one-time fee of $279 per location. Additional audits on sites like Yelp or Foursquare are at a higher plan and costs $379 per location.
A comprehensive audit involves additional sites like Superpages, MapQuest, and the Better Business Bureau, and is the most expensive plan at $679 per location.
HOTH Local takes a more strategic approach to your citations. After a full citation audit, HOTH will then build citations with one of three strategies, which are based on your market and niche area.
HOTH can also add "rich media citations" by creating videos and publishing provided photos for your business. HOTH can also submit citations on social media platforms including Twitter, LinkedIn, and Facebook.
A $49 Local Audit plan is available, which will find NAP variations and existing citations that are correct, incorrect, or listed on aggregator sites.
There are also "Local Citation Packages" available, which provide the full citation audit, additional citation listings, and variations of photos, video, and social media citations. These packages range from $149 all the way to $549.
Citation Tools: A Must-Have Solution For Your Business
Needless to say, citations are the lifeblood of your company's online presence.
Ensuring that your citations are uniform and complete across Google services and every business directory, social media platform, review website, data aggregator, and third-party local directory is crucial in maintaining a strong local search presence.
The complexity of SEO and listings management make these tools a necessity for your business. Without these solutions, potential customers will have a difficult time finding your business online. These are missed opportunities, which you can easily rectify by utilizing one of the tools above to strengthen your online presence.