Brands must stay on top of customer feedback posted on bank reviews and ratings sites as well as financial services review sites. After all, online reviews are one of the most accurate indicators of customer experience for banks, insurance providers, and financial services organizations.
Not only do reviews have the potential to either attract or drive away customers. They are also a major reputation factor and a key source of information for consumers.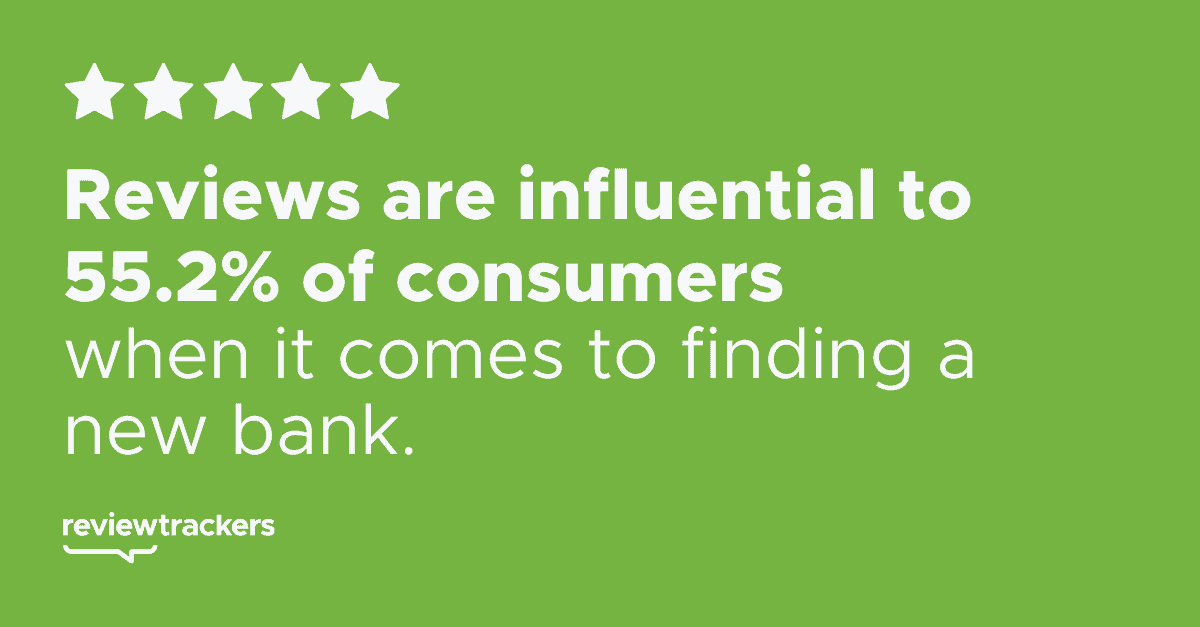 11 Websites for Bank Ratings and Reviews / Financial Services Reviews
According to customer reviews research:
The customer perception of banks having a good reputation and "being customer-driven" is lower in 2019 than in 2009.

80 to 90% of insurance agencies have 3 reviews or less.

Insurance services are ranked 12th among industries where customers read online reviews.

61% of consumers think reviews are influential when choosing an insurance agent.
Whether it's in the form of a Yelp review, an aggregate star rating on Credit Karma or Lending Tree, or a candid comment on Facebook or Google, customer feedback plays a crucial role in shaping consumption behavior. This makes it critical for banks and financial services companies to manage reviews and customer feedback on channels where people are talking about their brand. 
Here's a list of top bank reviews and rating sites that your company should monitor. If your company isn't listed on one of these sites, be sure to plant your business flag on it and create or claim your business listing.
Founded in 2006, Credit Karma is a website that publishes free credit scores, reports, member reviews, and insights to help consumers take control of their credit.
It gives members access to their credit scores and reports from TransUnion and Equifax, with weekly updates, as well as analyzes members' credit profile and makes product recommendations to help them save money.
For more information, check out this guide to Credit Karma reviews.
LendingTree is an online lending exchange that connects consumers with multiple lenders, banks, and credit partners who compete for business.
By creating a My LendingTree account, consumers can track their credit score and review all loan and credit card accounts. The website also offers a variety of informational resources and tools for borrowers to help manage their finances and have an informed experience. These include financial calculators, interactive loan coaching tools, monthly newsletters, and lender ratings and reviews.
Not yet registered? Click here to join the Lending Tree network.
SuperMoney is an online financial resource that helps consumers save money. It compares real personalized rates from multiple lenders within minutes, as well as collects online reviews of a wide range of financial services.
These reviews of services range from banking, insurance, credit card, and debt help to investment, loans, mortgages, and taxes. SuperMoney's rating is based on a proprietary scoring algorithm that takes into account multiple variables such as price, consumer ratings, quality, and availability.
Consumer Financial Protection Bureau (CFPB) is a consumer finance marketplace responsible for consumer protection in the financial services sector.
CFPB jurisdiction includes banks, credit unions, securities firms, payday lenders, mortgage-servicing operations, foreclosure relief services, debt collectors, and other financial companies operating in the U.S.
Part of CFPB's work includes taking consumer complaints and researching the consumer experience of using financial products.
According to its website, the agency has provided $11.9 billion in relief to consumers from its enforcement actions, as well as taken and handled more than 1.2 million complaints from customers.
If you thought Yelp was just a review site for restaurants and doctors, well — think again. The popular online review site also collects reviews of financial services companies (ranging from banks, credit unions, insurance, and mortgage brokers to financial advising and investing).
Read the complete guide to using Yelp for business.
Google is the world's biggest search engine — as well as a leading platform for local search and online reviews. Simply put: customers use Google in order to find great local businesses.
Organizations in banking and finance can build their visibility on Google by using Google My Business. Google My Business is an online dashboard designed to streamline the management of business information across multiple Google services. This is used to create and manage your Google business listings.
Read our complete guide to using Google My Business.
Based in Austin, Texas, CardPaymentOptions.com is a website dedicated to organizing a coalition of merchants and industry professionals who want to enact change in the merchant credit card processing industry.
It has a collection of merchant account reviews and ratings to help small businesses find ethical merchant services providers. Reviews on CardPaymentOptions primarily measure merchant satisfaction and provider policies regarding, fees, sales tactics, customer support, and cancellation of service.
Merchant Maverick is a comparison site that reviews and rates credit card processors, POS software companies, shopping carts, mobile payments services, and small business software.
Reviews are updated on an "as needed" basis; as new information emerges, the site updates reviews accordingly.
MyBankTracker tracks thousands of banks to help consumers find the perfect match for their banking needs.
Established in 2008 during the height of the economic downturn, MyBankTracker provides in-depth information on 6,000 banks and credit unions, including the latest interest rates for checking and savings accounts, mortgages, IRAs, and CDs.
WalletHub is a personal finance website that also offers free credit scores and full credit reports that are updated on a daily basis. This is supplemented by online reviews of financial products, professionals, and companies, along with advice from a diverse community of subject matter experts.
Clearsurance provides an independent source for consumers to share insurance experiences and learn from others to make informed and insightful decisions.
Reviews are based on the experiences of Clearsurance users, who share feedback on their homeowner's insurance, automobile insurance, and renters insurance companies, factoring in everything from price and customer service to how quickly the company handles claims.
All of these reviews serve as the basis for Clearsurance's rankings, which are generated by a proprietary algorithm. It determines a company's score based on consumer ratings for the overall company and customer service, as well as their likelihood to recommend and renew with the company. Once a company has received at least 25 reviews, Clearsurance generates a rating based on those reviews.
Reviews Foster Trust in Banking and Financial Services
Finance and insurance — two industries that are predicated on consumer trust in order to function — are often perceived as lagging in that department.
According to

research

, insurance companies rank low in a list of most trustworthy industries. Just 29% of customers trust insurers vs. 40% for banks.

Under normal circumstances, most customers trust their banks and financial services provider to manage their transactions and their data. But only 43%

believe

their bank truly cares about their long-term financial needs. 

While the fallout from the big banking scandals and corporate collapses of previous years has since slowly faded away, 75% of consumers agree there is still a gap between their expectations and bank performance across a range of factors essential to creating trust. 
The trust factor continues to be a concern for consumers, highlighting the need to reset the foundation for consumer relationships. One of the most effective ways to inspire trust among potential and existing customers is to monitor and manage online reviews.
According to

customer reviews

research, 68% are unlikely to decide on an insurance agent with zero reviews.

Respondents say reputation is a "very important" factor in deciding whether or not to trust a financial services provider.

When choosing where to open a checking account, 63% of Millennials and 54 percent of Boomers cite personal experience, reviews, or recommendations as being the most influential factors.
Successful financial brands and banks have learned to use customer feedback from business review sites in ways that foster consumer trust. By staying on top of online reviews, and by listening and responding to feedback, you can more effectively develop and sustain trust-based relationships with your customers and policyholders.