It's one thing to claim your business on online directories, review sites, social media profiles, and local listings on the Internet. It's another to ensure that the information you provide is correct and complete.
Apparently, a lot of businesses are doing the first – but not paying enough attention to the second. In effect, customers are being prevented from finding these businesses on the Internet.
(Check out: "YELP HELP: The Ultimate Guide to Optimizing Your Yelp Business Page / Listing")
According to a quarterly research document by location software company Yext, approximately 43 percent of businesses in the US have at least one incorrect or missing address on various local directory sites. These sites include online review aggregators like Yelp, Google+ Local, CitySearch, DemandForce, and Yahoo! Local, as well as location-based services and social networks like Facebook, LinkedIn, and Foursquare. The data comes from a December 2012 survey that looked at local data on over 40,000 US business listings – majority of which are multi-location businesses.
Ironically, the industry most notorious for having incorrect or missing addresses on their listings is – surprise, surprise! – real estate. In fact, 57 percent of real estate listings contain wrong information. This is followed by insurance companies (55 percent), retail stores (43 percent), restaurants (41 percent), and finance / banking (40 percent).
Meanwhile, 37 percent of businesses have at least one incorrect or missing name on their listings. 19 percent don't have their website URLs on their listings, while 18 percent don't have their phone numbers.
(Check out: "Google+ Local FAQs for Business Owners")
This, says Yext, is costing businesses a lot of money. Just how much exactly? In total, about $10.3 billion worth of potential annual sales are lost because of wrong, missing, or incomplete local data. This just goes to show how important local discovery is – not just for individual customers, but also for business owners and marketers.
Having wrong information on your business listings also has adverse effects on which you can't put a price. The survey found, for example, that 47.6 percent of consumers will have a negative reaction to finding local data that turns out to be wrong. 22 percent said that they won't again trust the source of the wrong information, while 15.1 percent said that they'll look for another merchant. Needless to say, these lead to lost customers and, therefore, lost revenue opportunities.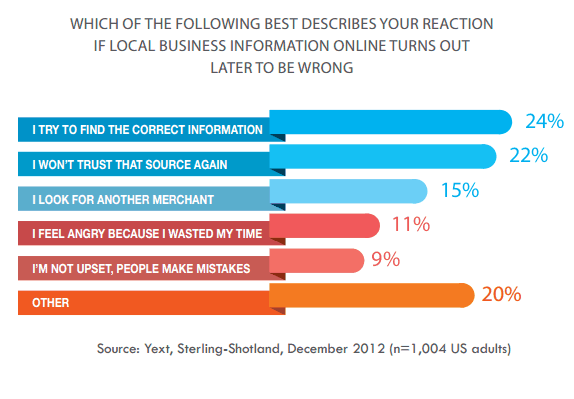 As a business owner, what should you do? 
It's important never to underestimate the impact that online business listings, local directories, and online reviews have on your business. Here are a few tips that you can follow in order to maximize the potential of local discovery platforms – while also minimizing the risks and costs of having wrong or incomplete local data.
Claim your business listings. The more flags you can plant, the more control you'll have over the information and local data published on the Internet about your business.
Guarantee that the information is correct. When filling out profiles, always check and double-check. Make sure you have the correct business address, business category, phone numbers, URLs, names, operation hours, and map location in your listings. Spare your potential customers the frustration of having to look elsewhere.
Update your website. So you've claimed, completed, checked, and corrected all your business listings? Awesome. Now do the same with your company website: that way, you can further help customers find key local information about your business. Feel free to link to your Facebook, Twitter, LinkedIn, and Yelp profiles as well.
Manage and monitor your reviews. It's important to stay on top of local business reviews regularly. This will allow you to spot problems as early as possible, while also alerting you to any customer reviews or feedback that can potentially harm your reputation.
(Infographic credit: Yext)