Online reviews on sites like Google, Facebook, Yelp, and Tripadvisor play a major role in shaping consumers' purchase decisions.
According to online reviews statistics, 94% of people say a bad review has convinced them to avoid a business. 
Whether you're managing a small business or an enterprise-level organization with hundreds or thousands of locations, it's clear that reviews have a direct impact on your brand reputation and revenue. 
This makes responding to reviews extremely important, especially for companies that are looking to convert prospects, casual visitors, and review readers into loyal customers.
Why Respond to Reviews?
The popularity of third-party business review sites like Yelp and Tripadvisor — or even local search services like Google Maps and Facebook business Pages — is strongly driven by customers' genuine desire to engage with your brand.
In these digital spaces — just as in traditional feedback channels like post-transaction surveys and support and service phone calls — customers want to be heard individually and addressed personally.
According to research, over 50% of customers who write reviews expect a response in 7 days or less. (

Online Review Statistics

)

1 in 4 expect to hear back from a business within 3 days.

44.6% of customers are more likely to visit a local business if the owner knows

how to respond to negative reviews

. 

80% of consumers also say that seeing management respond to their reviews makes them feel like the brand cares more about them.
Taking part in the conversation and demonstrating that your brand cares about reviews and unsolicited feedback can have a significant impact on your company's reputation and bottom-line performance. 
Responding to Reviews Increases Lifetime Value, Reduces Churn
When customers do hear back, their perception toward the business immediately improves. This explains why the most successful and highly-rated companies online are typically the ones that are most responsive to customers.
They're also usually the ones that can more easily build goodwill, inspire customer loyalty, and extend customer lifetime value.
Several studies establish a clear link between management responses to reviews and business performance. 
Responding to a 1- or 2-star review within 24 hours has a 33% higher probability of the reviewer coming back and upgrading the review by as much as 3 stars. (

Nation's Restaurant News

)

Business listings that respond to reviews at anywhere between a 5% to 40% rate have an average rating of 4.0 out of 5, compared to an average of 3.8 for those that don't respond. Businesses with a response rate of 65% or above have an average overall rating of 4.15 out of 5. (

Tripadvisor

)
Key Takeaway: Taking part in the conversation and demonstrating that your brand cares about feedback has a very real and measurable effect on converting prospects into customers.
Best Practices in Responding to Reviews
Success in managing these reviews starts with the commitment to becoming a responsive brand. This may sound simple enough. But for teams with multiple locations and therefore multiple online listings and profiles across several review sites, responding to reviews presents a real challenge, especially without an effective review response and management program in place.
Need help navigating the (sometimes treacherous) waters of online reviews? Here are 10 best practices to help your company get started.
Best Practice 1: Assign Ownership of the Process
Identify people on your team who will be directly involved in responding to reviews. Branch or location managers, your social media team, or members of the customer service staff are ideal candidates. 
Whoever steps up as the head of your review response program should understand the guidelines of each review site, be able to transform the collected feedback into valuable insights for your company, and — perhaps most important of all — can keep their cool in various situations. 
Best Practice 2: Streamline Your Workflow and Ensure Your Responses are On-Brand
If your company has multiple business locations, chances are that more than one person will be assigned to respond directly to online reviews. This makes it crucial to have an organization-wide policy that guides how your company should proceed whenever new reviews are posted online. 
Your policy should cover things like how to respond to negative reviews or which positive review response examples work best in certain situations. Also make it clear to the team what language and tone you should use, what the timeline is for getting back to customers, and to whom in your organization should the reviews and feedback be shared. Lastly, conduct some research to find out when do escalations become necessary, what the ideal response rate is, and other items that may affect how your company handles reviews. 
The timeliness of your review responses is particularly crucial. The more clearly defined your policy is, the more smoothly your review response program will run.
To inform your policy, let's examine what's often said when companies respond to reviews. This data is taken from ReviewTrackers' own database of negative and positive review response examples.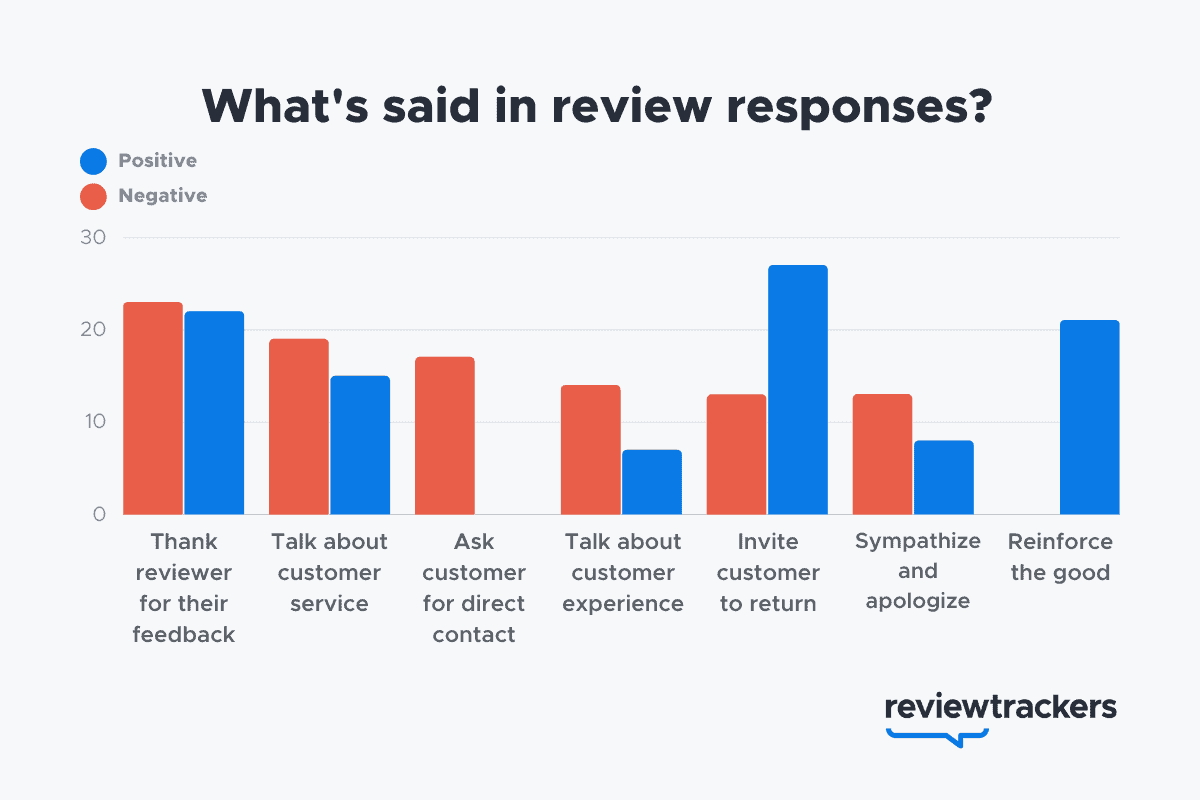 Based on the graph above, companies most often invite customers to return when they're responding to positive reviews. Meanwhile, when responding to negative reviews, brands are conscious of showing appreciation for the customer and thanking them for their feedback.  
Best Practice 3: Focus on Personalization
Your customers want to be heard individually and addressed personally. So: don't forget your salutations and, if possible, avoid the generic "Dear guest," or "Dear customer." 
Because 76% of reviews are now on Google or Facebook, you can usually get a first name for the reviewer. Even if a review has been posted anonymously, you can probably investigate further by associating email addresses with, say, order numbers and transaction histories in your system. 
Best Practice 4: Always Say Thank You
It's important to recognize that, when they post reviews, customers have taken the time to write and share their candid feedback, which actually benefits your business more than if they had stayed quiet about problems. Show your appreciation by saying thank you. You'll lose nothing by doing it.
The most successful brands always listen to and value what their customers have to say. Showing how appreciative you are of constructive feedback can go a long way in building trust among your community of existing and potential customers, with 45% saying they are more likely to visit a business whose management responds to negative reviews.
Here are some phrases where a short and sweet "thank you" goes a long way:
"Hi (Name of Customer), thank you for taking the time to write us a review. I'm sorry that your experience didn't match your expectations. I'd love to be able to solve this problem for you."

"Thanks for bringing this to our attention. Your feedback is important to us, and we'll use it to do better next time."

"Thank you for sharing your candid feedback with our team. Please allow us to look into this issue so that we can resolve it promptly and accurately."
Best Practice 5: Respond Quickly
The sooner you can get back to your customer, the greater your chances of improving the situation.
You can respond by writing out a public reply to the review so that others can see that you're paying attention to feedback and trying to solve customer problems. 
If customer privacy is a concern, we recommend that you respond publicly, without touching on specific details, while letting the reviewer know that your company will be reaching out to them privately to resolve the issue. 
Best Practice 6: Act on Feedback to Deliver Better Customer Experiences
In many ways, bad reviews can be good for your business. These reviews are extremely useful in helping companies identify which areas or aspects of the business they can improve on, and for figuring out how to deliver better customer experiences.
When responding to reviews, it's therefore important to avoid cookie-cutter responses that do not resolve or address any specific issues raised in the review.
Sometimes, even positive comments and 5-star ratings may include points of concern that the customer wants to discuss with you. Responses to negative reviews should be approached extra carefully. Be as specific as you can about the customer's experience and communicate any changes or improvements you have made as a result of their feedback. 
With a customer experience analytics tool, you can gain extremely valuable insights from reviews data and act on feedback. You'll also learn not to make the kind of mistakes that can damage the reputation of your company.  
By going beyond responding to customer feedback and tapping into your precious review data, you can support the objectives of your customer experience management program and make smart business decisions that will earn the trust of potential and existing customers. 
For example: you notice that a number of customers keep mentioning "long wait times" in their reviews — prompting questions like, "Should you invest in more training for staff members so they can serve customers faster?" or "What is the number one factor that's slowing down service at your business locations?"
Successful brands know how to tap into their review data using enterprise feedback platforms and natural language processing technology. (Sometimes, the data may even provide interesting insights for competitor analysis.) They will have the ability to understand, in seconds and at scale, what customers really mean whenever they share their thoughts in their own words. 
With instant insights, your organization can make actionable changes.
Best Practice 7: Invest in Tools that Drive Efficiency 
Managing online reviews on third-party sites is a lot of work. To ensure efficiency, consider investing in reputation management software that centralizes your reviews and helps your organization stay on top of what customers are saying. 
You definitely don't want to be logging in and out of every review site manually. Remember: the clock begins ticking once reviews are posted, and customers are waiting to hear back from you.
Final Thoughts
Follow the best practices outlined above to power your review response strategy. By taking part in the conversation and demonstrating that your company cares about customer feedback, you can create a real and measurable effect on your brand reputation, as well as your ability to convert casual visitors into customers.