Customers are using multichannel marketing more than ever to better engage with businesses. Marketers can use this new trend to navigate an increasingly complex landscape and deliver great experiences that reflect the lives of customers.
What is Multichannel Marketing?
Simply put, multichannel marketing is the business process of developing relationships with customers using a wide variety of direct and indirect channels. This includes websites, search engines, social media, email, mobile, promotional events, conventional storefronts, and direct mail just to name a few. 
This approach allows customers who start researching about a product or service on their laptop or mobile phone to take the next step on their path to purchase from another device or channel. In other words, multichannel marketing provides seamless transition between channels and devices, while ensuring consistent messaging across a brand's multichannel presence.
At its core, it enables businesses to reach and satisfy customers on the customers' channel of choice.
Multichannel Marketing Examples: Brands that Do It Well
To provide a better understanding around multichannel marketing, let's take a look at four brands that excel at the practice. 
Apple
Apple excels in creating a seamless experience for its customers across multiple channels. The company's online presence accounts for a majority of total sales, but Apple also operates physical retail stores, where the focus is experience and education, and not necessarily selling the products. 
Customers can visit any Apple Store without feeling like they need to buy an iPhone or a MacBook. They can come simply to get a feel of the products, ask questions about an app or a service, book an appointment with customer service representatives, or even take a class. 
These visits help drive brand immersion, and the stores help Apple articulate its brand promise. When customers are ready to buy, they can do so online, where purchases can be completed in a handful of screen taps or mouse clicks. 
Apple also maintains a consistent visual style and design language across all its marketing channels: a must for any successful multichannel marketing strategy. Whether it's in an Apple Store, the company's website, apps and services, or emails, customers can easily identify a piece of content as "Apple" because of the company's consistent brand messaging.
Starbucks
Another brand that sets a great example for multichannel marketers is Starbucks. The coffee's Starbucks Rewards program uses the multichannel approach effectively to inspire loyalty and encourage customers to continue visiting Starbucks locations.
Like many loyalty programs, Starbucks Rewards lets customers earn points or "stars" with every purchase; these points can be exchanged for free food, drinks, and merchandise. To reach customers on their preferred channels, Starbucks provides multiple options for checking and reloading a Rewards card such as phones, its website, in-store, or on the dedicated Starbucks Rewards app.
Using the app, customers can also order ahead, customize their drink, and pay (then pick up their coffee when it's ready) right from their mobile devices. Starbucks also wisely uses the app as a customer touchpoint through which the company can share coupons, discounts, and special limited-time offers. 
Airbnb
Airbnb uses multichannel marketing effectively to attract and retain its users. The company leverages plenty of user-generated content to boost its social media presence (on Facebook, Twitter, and Instagram) to raise brand awareness on channels popular with its users. Airbnb also applies best practices in local search marketing to successfully rank for location-based accommodation terms in search engines. 
Booking a place to stay on Airbnb is also seamless whether it's done through Airbnb's website or mobile app. Both channels also offer personalized content to produce more relevant pages for travelers, gearing them towards making a booking decision. 
Once a reservation is confirmed, Airbnb emails guests (and hosts) the details of their trip, which they can then print or save offline before checking in. The entire Airbnb experience — from the research phase, through booking, up to the checkout, and review process — is simplified for users, so they stay engaged regardless of their preferred channel or device. 
Oasis
This UK fashion retailer made headlines a few years ago for its clever use of iPads in enhancing the in-store experience. 
Oasis' sales associates are equipped with iPads, which they use to provide shoppers with on-the-spot product information: people can check sizes, colors, and styles from anywhere on the shop floor or changing room.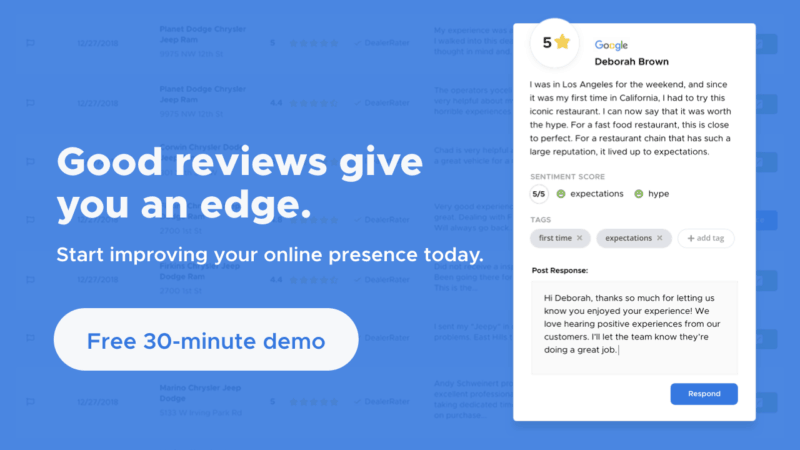 The iPads also serve as a cash register with your receipt and orders sent to your address within 90 minutes. If an item is not currently in stock, the associates can instantly place an online order and have the item shipped directly to your home.
The convenience in shopping experience that Oasis provides also extends to its e-commerce website and dedicated mobile app, where customers can similarly access accurate and up-to-date product information (and special offers) without paying a visit to the physical store locations.