Setting up your listings on Healthgrades is one of the best ways to acquire new patients for your health organization. The healthcare-focused site already includes over 1.1 million physician listings along with 7 million ratings and reviews from patients.
The overwhelming number of reviews on Healthgrades is further proof that online reviews are a major factor when choosing a doctor. In fact, a 2018 online reviews survey showed that 66.3 percent of consumers consider reviews to be influential when looking at new primary care physicians.
With Healthgrades listings, many organizations can get better feedback from current patients while also providing enough information to attract new patients.
Why Healthgrades?
A major reason for getting on the Healthgrades platform is its focus on healthcare. A Healthgrades listing is made specifically for an audience that wants to get as much information as possible before making a vital medical decision.
Part of the patient journey involves looking at the many reviews left by patients in each listing. However, Healthgrades aims to make the final decision easier by providing a plethora of information. In addition to a physician's name, photo, and list of specialties, each listing includes:
Conditions treated

Procedures performed

Types of insurance accepted

Hospital affiliations

Degrees and credentials
Some listings also include Healthgrade's Top Area Care rankings. This additional insight can show patients how frequently a physician performs or treats a specific procedure or condition, respectively. The data is based on billing claims, and it can further help patients determine if a doctor fits their specific needs.
How to Claim a Healthgrades Listing
Creating a Healthgrades listing is free, but you need to make sure that the provider's name is already available in the Healthgrades database. The site uses the National Provider Identifier (NPI) Registry, a government directory, to display an up-to-date, comprehensive list of healthcare professionals. Those without an NPI listing won't be listed on Healthgrades.
You'll begin account creation process by clicking on the Healthgrades account registration link. From there it's just a matter of following a series of simple instructions.
Find the medical provider name in the Healthgrades database. You can also narrow the search by adding a city and ZIP code.

Apply as the actual provider or someone authorized on their behalf. Providers will need to provide "certain identifying information that [Healthgrades] will verify." Those applying for the provider will have to supply their first and last name and additional authorization from the provider in order to edit the listing.

Enter an email and password for the new account. The password must be eight characters or longer and include at least one number, one uppercase letter, and one lowercase letter.


Finish the setup.

All that's left to do at this point is to read and agree to the User Agreement and then click the "Register Now" button to complete the process. Once Healthgrades verifies the provider's information or gets authorization from the provider to have someone else edit the profile, then the account will be available for edits.
If you are authorized to manage multiple listings you will see the full list of each profile on the "Providers" page, which appears whenever you log in to Healthgrades. You can also manage multiple practices and office locations on a similar page titled "Practice."
Patient Reviews on Healthgrades
Each listing also includes a section called "Patient Experience" where patient reviews will appear. Patients with a Healthgrades account can visit the page leave feedback in two ways: they can fill out a Patient Satisfaction Survey or write a brief review.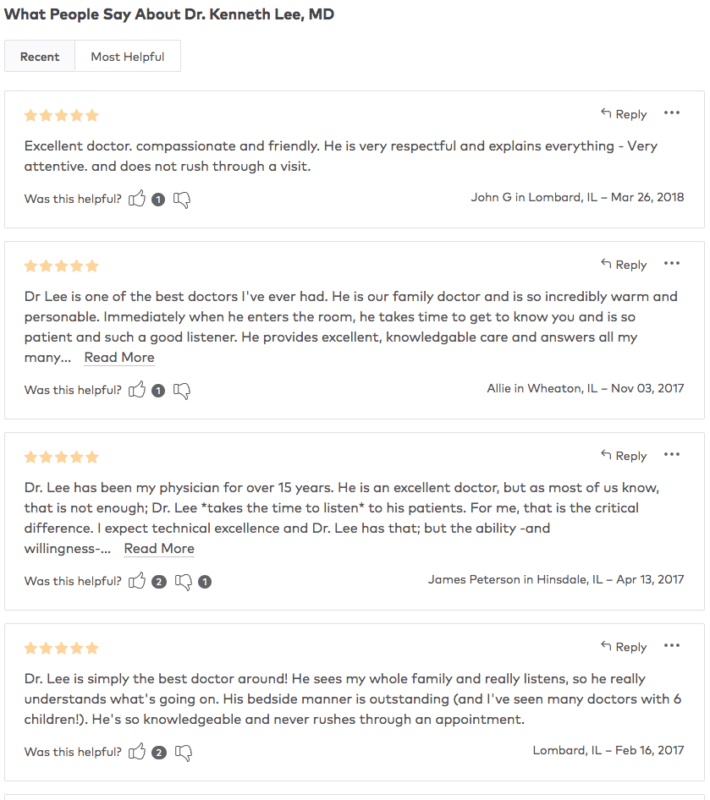 Patient Feedback Types
The Patient Satisfaction Survey will ask patients to give one to five stars on multiple topics about their experience such as the ease of scheduling urgent appointments, office environment, staff friendliness, and how well the provider explained medical conditions.
Those who want to write a brief review can do so in the text field, but they have a 500-character limit. They will also need to rate the likelihood that they would recommend the healthcare provider to family friends on a scale of one to five stars.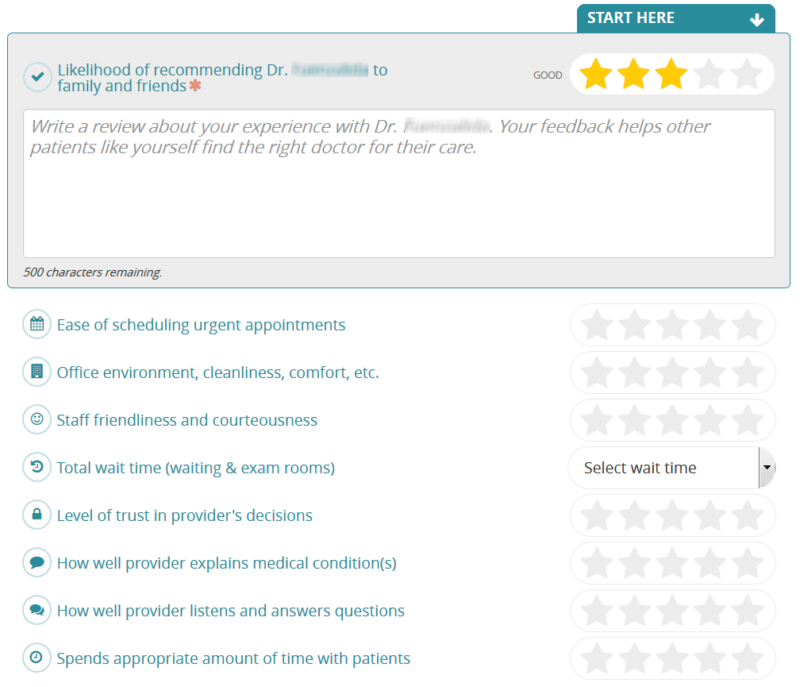 Patients will need to enter their email address in the review as part of Healthgrades' review verification process. They also have the option to leave additional information such as their name, location, and phone number.
Methods to Increase Patient Reviews
Healthgrades also includes a few ways to remind patients to leave reviews on their listings.
Survey Reminder Cards:

These are personalized cards that tell patients to review their visit on Healthgrades. The card can also include a reminder of the patient's next scheduled visit.

Patient Satisfaction Review Link:

There's also an option to send a direct link to a doctor's Healthgrades survey. You can send these in an email to multiple patients.

Star Rating Badge:

You can this badge to proudly display a physician's overall Healthgrades score on other locations such as a marketing email or landing page. The badge can also a link that takes patients directly to the Patient Satisfaction Survey.
Best Practices for Healthgrades Listings
Setting up a Healthgrades profile is easy, but managing it on a regular basis can be difficult. That's why we have some tips to make the process easier.
Add as Much Relevant Information as Possible
A quick look at any listing on Healthgrades shows an overwhelming amount of information, which is great for anyone looking for a new healthcare option. This gives the patient more information to use as a way to compare options on the site.
For instance, the "Biography" section is where you can give patients a quick summary of the physician and their expertise. However, Healthgrades also recommends that you put vital information in this section because of its massive 4,000-character limit.
This includes additional details such as a physician's expertise in specific conditions or procedures. You can also add in details on appointment times or services.
Frequently Monitor Patient Reviews
You'll need to set aside some time every day to check the Healthgrades profiles of each physician in the organization. This allows you to stay on top of any issues that pop up in each reviews and find new ways to improve the patient experience.
However, Healthgrades might not be the only review site worth monitoring on a regular basis. Medical groups can have listings on other important sites like Google and Yelp, and checking all of those listings and reviews will take up more than a few hours every day. Fortunately, there are review monitoring and reputation management solutions that are readily available.
Respond to Reviews
You should take time to respond to every piece of patient feedback whether it's full of praise or criticism. Responding in the right way shows patients that you care about every single piece of feedback in an effort to always improve the experience.
When it comes to negative reviews, make sure that your response is rational and empathetic. Don't escalate the situation. Instead, find a way to apologize and try to take further conversations with the reviewer offline.
But before any response is published, make sure that it meets HIPAA guidelines to avoid any legal issues that may arise. We also have a handy guide on HIPAA-compliant review responses if you want to brush up on the rules.
Images courtesy of Healthgrades