Large legal practices certainly have the advantage of a solid reputation that affords them top-tier clients seeking the crème de la crème in legal representation. In general terms, large clients connecting with large reputable firms is excellent news, but the reality for many law firms is quite different.
Oftentimes, they find themselves with peaks and valleys, with many entry-level associates not optimizing their time, causing a good number of billable hours to go to waste.
In a perfect world, a large law firm should be able to afford to say no to potential clients and pick and choose the best possible cases. But we don't live in a perfect world, and in order to have a case pool large enough to be able to be selective, a law firm must invest significant time and resources putting together a sound marketing strategy that expands their exposure and increases the number of leads coming in the door.
There are plenty of tried and true marketing approaches to increase your case pool, but most require significant monetary investment, with some firms allocating upwards of 15 percent of their budget to marketing efforts. Pointing your dollars to the right marketing channels is certainly a smart move, but on occasion there are ways that you can boost your client reach without investing a penny: through leveraging your online reputation by diversifying your client-facing persona.
Oftentimes, large legal practices make the mistake of promoting their "brand" and forgetting about the personal attributes of individual legal practitioners. By making their attorneys invisible, they often miss out on tremendous outreach opportunities and expanded online coverage.
Let's take a look at how featuring individual attorney profiles in addition to your firm's profile in popular review and directory sites can help you generate more and better business opportunities.
Individual Profiles Humanize Your Practice
One of the reasons potential clients might not approach your practice, even when they are able to afford your fees, relates to the lack of personal connection with your firm. Individuals often make their decisions at a very emotional level, where affinity matters.
By creating individual profiles for each of the attorneys working at your firm, you allow potential clients to become familiar with the skills, credentials, and background of individual practitioners. Through the use of videos, you can add dimension to your online content, making the attorney selection process significantly more approachable for the average client.
Individual Profiles Allow You to Highlight Subspecialties
Since 1993, the American Bar Association has approved 14 different types of certifications, covering specialties from immigration law to personal injury. In addition to certified specialties, there are many large law firms that have a great deal of experience with specific industries or legal processes, making it essential to highlight the best of the best by indicating their area of certification or uncertified area of concentration.
By associating the attorney's individual profile to a particular area of the law, he or she stands a better chance of being found when a client conducts a search with terms associated to their area of concentration. In some instances, larger practices might have smaller, dedicated groups for specialties that are well-known or recognized. Individual profiles can help in broadening awareness of specialized departments within a large firm.
Individual Profiles Reduce the Risk of a Firm-Wide Negative Review
Allowing each individual attorney to have a profile is a smart move when it comes to protecting the brand-wide reputation of your firm. Even the best of attorneys stands to upset a client who will do anything in his or her power to tarnish the reputation of the attorney.
A review specific to a single attorney is always easier to manage than a negative review associated with your firm's profile. Additionally, partner or associate-specific reviews allow senior partners the opportunity to evaluate client perception and customer satisfaction at an individual basis, without having to generate internal client surveys.
(Check out: "Lawyer or Legal Professional? Keep an Eye on These Lawyer Review Sites")
Individual Profiles Are Helpful for Traffic Generation 
By having multiple profiles highlighting each member of your firm, you are creating multiple points of entry for lead generation. Each time a potential client opens an individual attorney profile from your firm, the chances of engagement increase exponentially.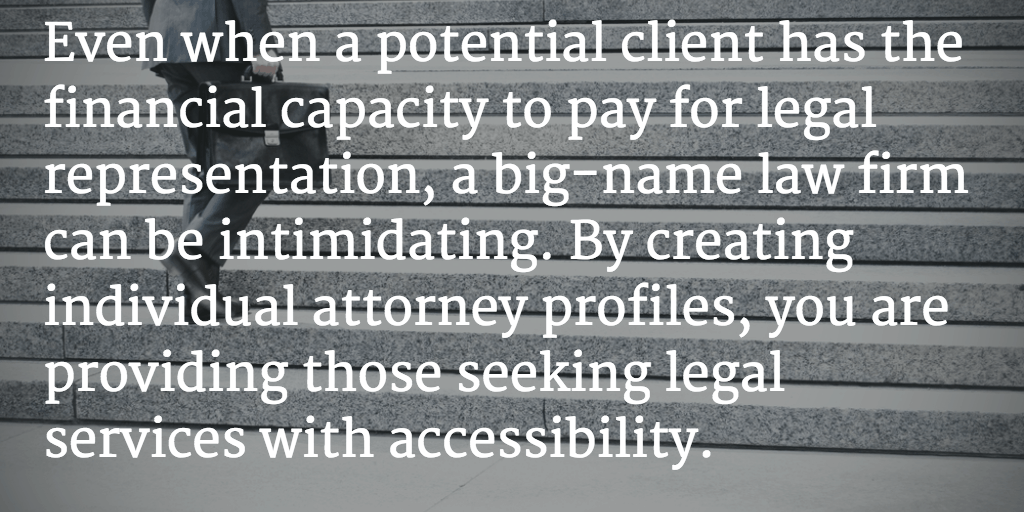 Individual Profiles Reduce the Intimidation Factor
Even when a potential client has the financial capacity to pay for legal representation, a big-name law firm can be intimidating. By creating individual attorney profiles, you are providing those seeking legal services with accessibility. Doing business with a man named John who attended the same university that you did is always easier than doing business with a big name without a face.
Individual Profiles Equip Junior Associates to Build and Measure Personal Reputations
Entry-level attorneys struggle during the first years of their practice due to lack of experience and lack of tried and true litigation results. By providing clients with a setting that allows for individual reviews specific to individual attorneys, the firm is setting the stage for a feedback loop that can help individual attorneys grow professionally, and can equip the firm to assess individual performance. In the long run, having an individual profile can help a young attorney transition, should he or she decide to open a private practice.
(Check out: "A Guide for Lawyers: Four Things That Make Clients Write Negative Online Reviews")
Individual Profiles Allow for Case-Specific Reviews That Might Help Your SEO
Quite often, those seeking legal help conduct their searches using keywords associated with particular legal issues such as DUI or adoption. By allowing individual profiles for attorneys within your law firm dedicated to specific specialties, you are setting the stage for text-rich reviews that include keyword strings that will be very useful when potential clients are conducting online searches and seeking answers specific to their legal issues.
Individual Profiles Might Just Trigger Top-Search Domination
Imagine if the top ten results for specific specialties or geographically based searches included only attorneys from your firm. This is absolutely achievable by having individual profiles for each of your attorneys, thus facilitating page domination. Potential clients will not only be exposed to more options within your firm, but they will also recognize your position as a leader in your field through the way your firm's exposure is amplified by each individual attorney's profile.
If your firm is not yet holistically managing your online reputation, request a demo of ReviewTrackers today. Our software platform lets you track, manage, analyze, and collect online reviews from all major review sites, including those specific to the legal services sector.