See customer feedback from over 100 review sites in one place
Request a demo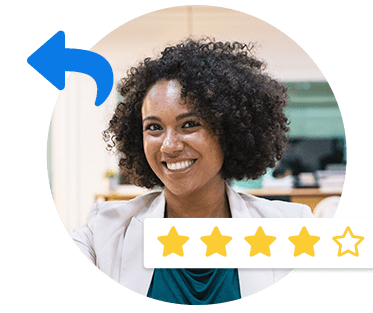 Law firms with a firm grasp of marketing strategy understand that online reputation management is an intrinsic part of their overall client acquisition strategy. It demands the highest levels of attention and prioritization over other facets of their marketing and outreach tactics. Well-managed management is essential to the healthy and sustainable growth of law firms of any size and age.
Online reputation management is made up of many aspects of the law firm's online presence, some under the firm's control, and others not so much. Today we will explore the root causes and repercussions of negative reviews.
Reviews and the sites aggregating them make up the bulk of reputation management activities outside the firm's control, and are the most likely to either help law firms grow, or steer away potential customers from firms displaying negative reviews from current and prior clients.
Understanding the principal triggers for negative online client reviews can help your law firm take the necessary steps to correct pain points and implement customer engagement policies tailored to increase client satisfaction, thus reducing the possibility of an online rant. In analyzing a sample of law firm reviews scoring three or less, or the equivalent on scales of one to five stars, we identified patterns likely to generate client angst, of sufficient intensity, to result in unsolicited feedback via popular review sites such as Yelp, Avvo, Best Lawyers, Lawyers.com, Yahoo Local, and Super Lawyers.
(Check out: "Lawyer or Legal Professional? Keep an Eye on These Lawyer Review Sites")
Proactive reputation management, at its very core, is setting the stage for superior client experiences with the potential to convert a client into a brand advocate who is able and ready to promote your practice via online channels as well as word of mouth. By becoming familiar with the patterns most likely to upset legal clients, and taking steps to avoid or correct the issues, your law firm will be off to a great start.
Let's explore four controllable client engagements likely to trigger a negative online review:
Indiscriminate Client Onboarding
Just like a client has the option to do business with you, you have the option to decline to represent potential clients. Taking every person that walks through your door is a risky move that can negatively impact your firm beyond revenue, and come back to bite you for years to come. There are many indicators of "trouble ahead," and if you are a lawyer or firm wanting to maintain a spotless online reputation, then you would do well to avoid these types of clients:
Clients with Anger Issues
If you detect angry behaviors on the part of a potential client from the first interview, then be very careful in making the decision to represent him or her. While initially their anger may not be directed at you, individuals with emotional control issues can turn for the worst, which can result in violent confrontations that are bad for business and often escalate into negative and untrue online reviews.
More Than a Client, an Avenger
If a potential client seeks out your legal services and expertise not as a tool for justice but as the means to exact revenge on another person, then think twice before engaging in a business relationship. The tables can quickly turn, and their desire for revenge may then be misdirected to you and your law firm.  Many negative reviews currently displayed on popular review sites are written in a vengeful, mean, and unnecessary style reflecting the attitude of the client instead of the performance of the firm. While smart shoppers can detect this type of behavior, the negative reviews will still pull down the overall score if you are affected by this type of client.
The examples above are just two of the possible scenarios that can impact your online reputation. There are many others, and each instance can best be handled by exercising discernment when it comes to accepting someone as a new client. Don't sacrifice your online reputation for just a few billable hours.
Failure to Set Clear Expectations
When it comes to legal processes, even the best lawyers run the risk of not yielding results that are advantageous to their clients. The truth is, if the legal system is out to deliver justice, then it is impossible to win all and to please all. A great number of negative reviews for attorneys with scores of three or less are not related to the legal competence of their attorney, but rather, the review is a reflection of a client that had unrealistic expectations. Clear and intentional communication that sets realistic expectations of the potential results of a litigation process will protect you and your law firm from best-case-scenario syndrome. This means that clients, due to lack of clearly defined expectations, feel let down by their legal representation, thus triggering a negative perception of the attorney's performance that is often conveyed via a poor review.
Respect for a Client's Time
A common grievance voiced on the most popular attorney and law firm review sites relates to client dissatisfaction with the way attorneys and their support staff deal with time management issues. Delays in scheduled appointments, long waits in waiting rooms, and failing to show up as agreed can significantly impact your law firm's online and offline reputation. Treating a client's time with the same respect and value that you expect your client to treat your time can go a long way in building strong and long-lasting relationships, and improving what client's have to say about your firm.
Clarity and Specificity in Financial Matters
For the average client, attorney's fees represent a big investment. Ensuring clients have a clear understanding of how, when, and why they will be billed helps reduce potential misunderstandings that can lead to a negative perception of the level of professionalism of your firm. When it comes to money, putting all the details in writing and allowing clients to ask questions from the beginning can be very useful in ensuring client satisfaction. Additionally, having a billing manager with empathy, good communication skills, and superior negotiation abilities can help your firm resolve issues before they become crises and the client feels compelled to resort to review sites and social media to convey their disappointment and frustration.
Monitoring your reviews as a part of your reputation management strategy will help you identify these issues and others that might be impacting your online reputation. Once issues have been identified, rolling out corrective strategies can be done with greater ease. If you are not yet conducting comprehensive review monitoring and interactive social engagement, now is a good time to start.