Increasing the online exposure of a law firm or individual lawyer can be difficult, but the process is getting easier with the help of online reviews.
Our own online review survey shows that the legal industry has the second-highest rated average star rating. These high ratings help other consumers who use the Internet to find their own lawyer. Specifically, about one-third of all legal consumers turn to online resources first to find information on attorneys.
This further emphasizes the fact that law firms and individual attorneys need to have an online listing presence and favorable customer reviews to attract more clients.
This guide will show you how to claim a firm's listing on major review sites and break down the many reasons why it's important to have individual lawyer profiles or websites.
Review Sites for Law Firms and Lawyers
We narrowed down the list to five major sites that are popular destinations for customers looking for legal help.
Google

Yelp

Facebook

Avvo

Lawyer.com
Google
A Google My Business (GMB) account isn't just for your local shops and restaurants. Many people use Google Search first to find a lawyer. In addition, An iLawyerMarketing study revealed that over 60 percent of the participants deemed Google reviews to be the most important source of third-party reviews.
If you don't have a GMB account, you can always claim one with the help of our handy how-to guide. You can also check out our primer to learn more about Google My Business.
Yelp
There's more to Yelp than just another restaurant for you to check out. The popular platform also hosts listings for numerous non-restaurant businesses. At one point, it was even the most trusted website for lawyer reviews.
By having a Yelp listing in place, you make it easier for those who are already using the app or site to find a business that fits their needs. Use our claim guide to get started on your Yelp Business page. We also have a massive guide available that tells you everything you need to know about Yelp.
Facebook
It's becoming more obvious every year that Facebook is more than just a social media platform. Many businesses use it to connect to current and potential customers, and the legal industry is no exception.
In recent years, Facebook became the second-most popular review site, which is all the evidence you need to create a Facebook Page for a firm or individual attorney.
Avvo
There are also lawyer-specific sites that are worth your time. Avvo is an obvious choice because of the fact that 97 percent of all lawyers in the U.s. are listed on the site. Clients can also use Avvo to ask and receive legal advice from of the many lawyers readily available on the site. Avvo itself says that there are a combined 12.9 million queries and answers on its site.
Learn more about the Avvo platform with our guide to claiming your own listing on the website.
Lawyer.com
Another useful website for lawyers and clients alike is Lawyer.com, which has over two million lawyer listings. The people and firms on this list aren't just from the United States; Lawyer.com features listings from different countries as well.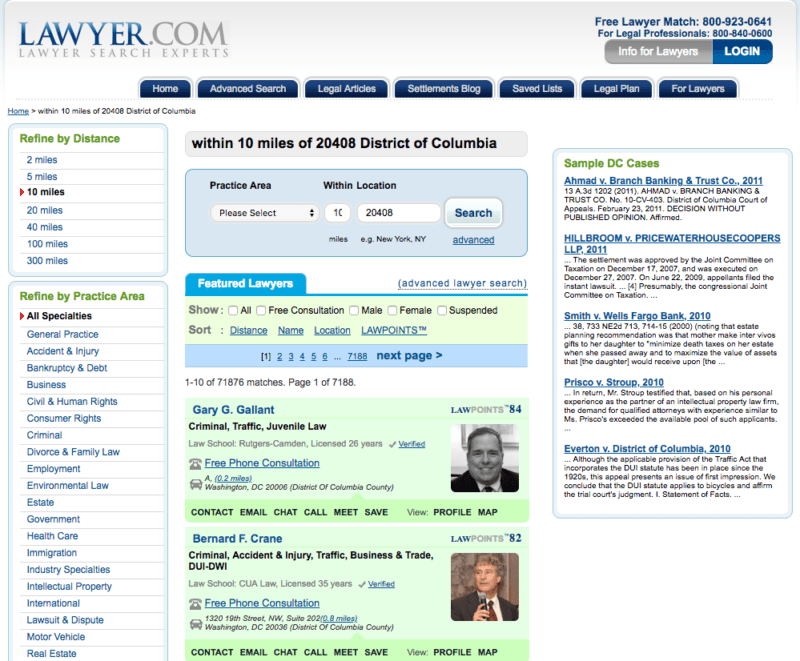 Those with information with a Lawyer.com partner will automatically get a listing on the site. Other firms or lawyers looking to claim a listing will need to pay for a Premium Lawyer Profile, which is featured above other general lawyer listings on the site. Other premium listing packages are also available.
The Importance of Reviews for Individual Lawyer Profiles or Websites
Chances are that most firms already have a presence in some or all of the sites above. However, any lawyer within a firm or one who has their own practice should also have their own individual profile for a number of reasons.
Highlight Your Specialties
In addition to name exposure, you should use your individual listing to showcase your specialties. This gives potential clients more information about the practice, but it also helps improve your SEO performance.
Each specialty acts as a specific keyword tied to your name. For instance, a probate attorney might want to highlight their expertise in wills and trusts. Incorporating those keywords and first-party reviews can bring higher rankings on search engine results pages (SERPs).
This can lead to…
Increased Traffic
Clients might not always look specifically for a firm's name, but there's a higher chance that they'll look for a specific lawyer or specialty. Creating individual profiles (with highlighted specialties, of course) make it easier for people to find a lawyer that fits their needs.
The profile also serves as another portal to a firm's site, which also helps the firm's online exposure. More avenues to the firm results in more leads from new clients.
Lawyers with their own websites can get more traffic if their specialties are highlighted, but they should also bring attention to any first-party ratings or reviews (any reviews written directly on the website). Tagging them with review schema markup helps Google identify those reviews, which helps the site rank higher in SERPs.
Accurate Reviews
In some cases, customers might write a review of a firm that is more about their experience with a specific lawyer rather than the firm as a whole. If it's a negative review, it can severely impact that business' reputation. You can avoid this issue with individual lawyer profiles on the site.
Specifically, you can install third-party widget or plugins on profiles that allow people to rate and review their specific attorney. This makes it easier for customers to target their praise (or displeasure) to the right people. Those with their own websites can use the same widgets to generate the first-party reviews needed for schema markup.
Better Exposure for Junior Lawyers
All of the reasons above are a great way for new attorneys stand out from the firm's influence or competing lawyers in the same field. A small clientele can grow with the right SEO implementation and junior lawyers with small reputations can increase their exposure with first-party reviews.
This eventually converts to increased site traffic and more exposure. From there, it's all about providing the best service and asking for more reviews to keep a favorable online reputation.