Part of attracting customers to a brand new Facebook business Page involves uploading photos, which makes the phrase "a picture is worth a thousand words" ring true, especially when it comes to social media.
Images are a crucial part of a business' marketing strategy on Facebook. You can use it to show off various parts of a business like a store's interior, a staff roster, or even the products on sale offered to customers.
With the right images on a Page, you can attract some of the 1.49 billion daily active users on Facebook.
Uploading Facebook Business Profile and Cover Photos
First impressions are crucial to success, which makes your profile and Facebook Business cover photos even more important. These are the first things that potential customers will see when they visit a business Page so it needs to be a high-quality and compelling image.
Facebook Business Profile Photos
Changing your business' profile picture only takes a few clicks:
Click on the camera icon on the bottom-right of the image. You can choose to add a photo from your existing gallery of images on your page or upload a photo from your computer. You can also take an impromptu photo.

You can then choose to make edits to the image, and check the cropping window to see that it fits both the square and circular frames. You can also add a brief description of the image.


When you're satisfied with the final product, you can click the "Save" button to finalize the process.
Facebook doesn't have a recommended size for profile photos. However, it says that the image is displayed at different dimensions if it's viewed on a computer, smartphones, or other mobile devices.
Computers: 170 x 170 pixels

Smartphones: 128 x 128 pixels

Most feature phones: 36 x 36 pixels
When uploading a profile image, you need to make sure that it's still clearly visible in all of these small dimensions. Even though the image is on a square frame on the Page, Facebook will crop it onto a circular frame for ads and posts. Make sure that your profile picture works for both shapes.
Facebook Business Cover Photos
Unlike profile pictures, Facebook actually gives out minimum dimensions for a business's cover images (400 pixels wide and 150 pixels tall). Fortunately, the process for adding the image is just as easy as the profile photo.
Click on the "Add a Cover" button on the top-left corner of the cover image frame. You can choose to upload a picture from your computer, choose from existing images on your Page, or even use the frame to create a slideshow (more on this later).


Your image then appears within the frame. You can drag it around so that it positioned correctly.

Hit the "Save" button when you're done.
Cover images appear in the dimensions of 820 x 312 pixels on computers and 640 x 360 pixels on smartphones. While it is important that cover images have a high enough quality to appear clear in these dimensions, you should remember that higher quality images can increase loading times on your Page.
For the fastest load times, Facebook recommends uploading an image that is 851 pixels wide and 315 pixels tall. It should also be in a JPG file format with sRGB color spacing, which should also reduce the file size. Facebook also mentions that the image should be less than 100 KB in size.
If you want to add a logo as a profile or cover photo, Facebook says that you should classify it as a PNG file, which should provide better results in overall quality.
Can I Use Facebook Business Manager to Upload Photos?
Facebook Business Manager (FBM) can help you create Pages for businesses with multiple locations. Unfortunately, it doesn't have an easy way to upload photos because you still have to go to each individual page to add a new photo.
However, you can set up a parent-child Page system within FBM to upload the same profile and cover photos to each Page at once.
You can upload the pictures to the parent, or main, Page, which will also affect the location, or child, Pages. You can also choose to change the cover and profile photos for specific Pages to reflect special events or upcoming deals.
However, any future changes to the main Page's profile or cover images might override the custom photos picked for location Pages.


Uploading General Photos to Your Facebook Business Page
Cover and profile pictures aren't enough to attract customers to your Page. You'll need to keep a steady stream of images on your timeline. These can be photos of your products, services, or involvement in a special event.
Clicking on the Photo/Video button underneath a Post template reveals the many ways you can add photos to your Page. Just click on your preferred method to immediately add the image to your Page.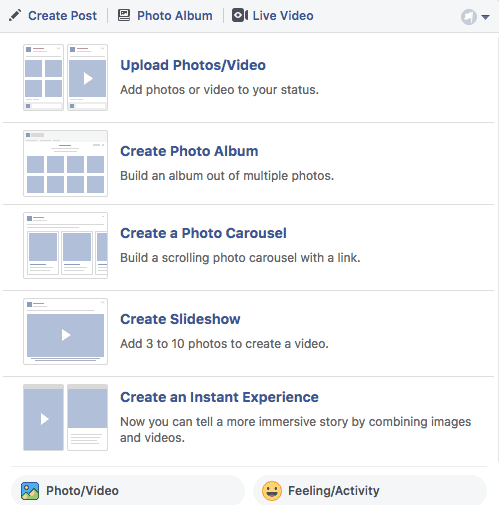 Upload Individual Photos
This option allows you to upload a single image onto your timeline. You can upload the picture by itself or add a description to attract Page visitors. Any photos uploaded this way appears in your Page's "Photos" section under the Timeline Photos album. Speaking of which…
Photo Albums
You can upload an album that consists of multiple photos that were uploaded at the same time. Make sure that you also give the album a title to give more information to your viewers.
Slideshows
Another way to show off multiple photos is with a slideshow. You can select between 3 – 10 images and customize the presentation with background music. You can also use slideshows as an update to an existing post.
Photo Carousel
Utilizing a carousel allows a business to not only show off its products and services but to also provide a direct link to a product page. You can upload up to 10 images with each one having its own link.
Facebook recommends a minimum image dimension of 1,080 pixels wide and 1,080 pixels tall.
Instant Experiences
Another way to showcase the business' offerings is with Instant Experience. Clicking on the image will take users to a presentation where you can add additional photos, videos, image carousels, and forms.
Even though you can use your Page to create Carousels and Instant Experiences, Facebook also lets you create these customer-focused presentations through its Ads Manager platform.