There's a growing number of marketing certification courses for today's professionals. Not only do these give marketers the career boost and credibility they're looking for; the best courses for marketing professionals can also bring real benefits to organizations across a wide range of industries, especially at a time when the entire marketing discipline is in the middle of an evolutionary change.
To get an idea of the best courses for marketing certification, we sought the opinions and experiences of industry thought leaders. Here are their top picks, along with course descriptions and pricing information:
The inbound marketing certification course is one of HubSpot Academy's most popular courses. It covers the fundamentals of the inbound marketing methodology, and includes topics such as SEO, blogging, landing pages, lead nurturing, conversion analysis, and reporting.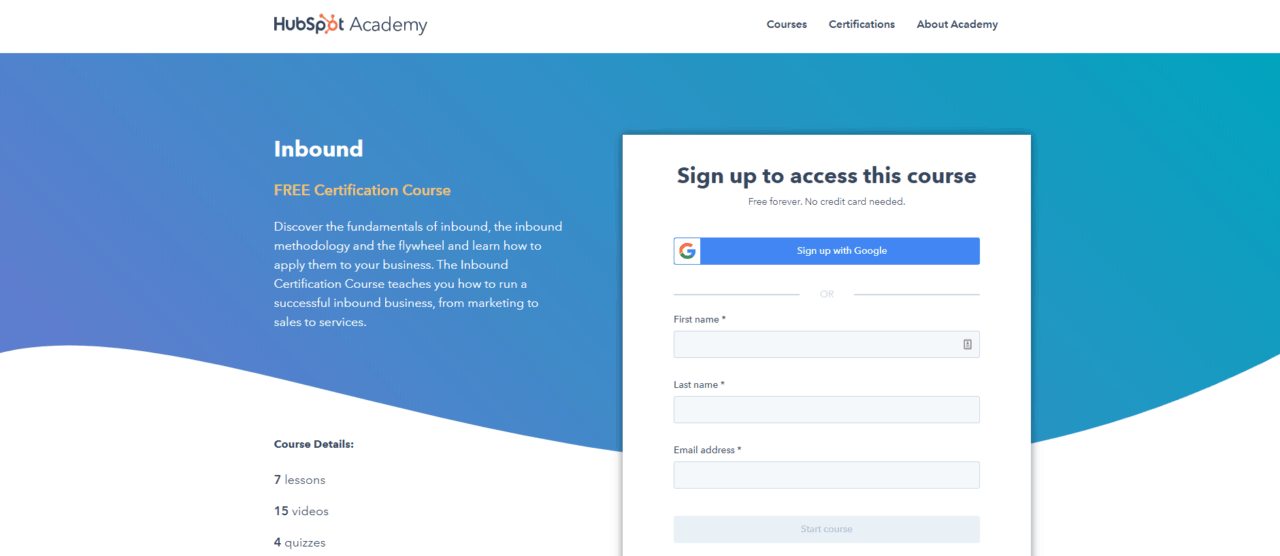 Don Halbert, CEO, The Real Estate SEO: My vote goes to HubSpot's inbound marketing certification.
As a pioneer in online marketing, I've never seen a strategy more all encompassing that produces results like inbound marketing does. Technical SEO is what we are most known for; however, whenever anyone asks about what our methods are for achieving sustainable success for our clients, I always respond with: have a GREAT inbound marketing strategy and you'll never worry again about getting leads.
Hannah Ash, Marketing Communications Specialist, Graphical Networks: If you're looking for free but robust, I recommend HubSpot's inbound marketing certification. I used it and it helped me land the job I wanted and continue to excel at it.
Why did I use HubSpot's certification? It's free, first and foremost. Second: it's respected by potential employers. A bonus is that it's cross-industry compatible. I think every marketer should obtain this level of certification, as inbound marketing is so important right now and stands to carry even more weight in the next few years.
Adam Miller, Director of Digital Marketing, LRG Marketing: HubSpot came up with inbound marketing so their course regarding the certification is extremely thorough and helps you understand the ins and outs of the craft.
Not only does it have informative lectures, it also contains a bunch of study guides and allows you to print the notes out so you can truly study before the certification course.
Alisa Meredith, Alisa Meredith and co-owner and chief strategist of Scalable Social Media: I would start with inbound and make sure to do the free content marketing course as well. I've taken both and they provide a lot of great information.
Jessica Gagner, Communications & Events Strategy, BioConnect: HubSpot's inbound certification is a great course. I took it when I was transitioning from advertising to marketing career and found it to be incredibly helpful. It teaches any marketer how they can work well with their sales team, which I think is such a powerful skill to have — and also how to create really strong content, keeping your customer, SEO, and the buying funnel in mind.
Mindi Rosser, Mindi Rosser Marketing: I recommend this course especially to beginning customer-focused marketers because the training covers the full inbound methodology and is updated as industry trends change.
The course is easy to follow, tests your knowledge, encourages you to practice your skills in the real world and identifies areas you need to strengthen.
The Professional Academy has a full set of marketing courses by the Chartered Institute of Marketing (CIM). These courses offer varying levels of professional marketing and digital marketing qualifications, allowing you to progress through the stages as you develop your skills and career. 
The digital marketing courses cover all major components, including: social media marketing, SEO, mobile marketing, email marketing, digital display advertising, web analytics, and strategy and planning.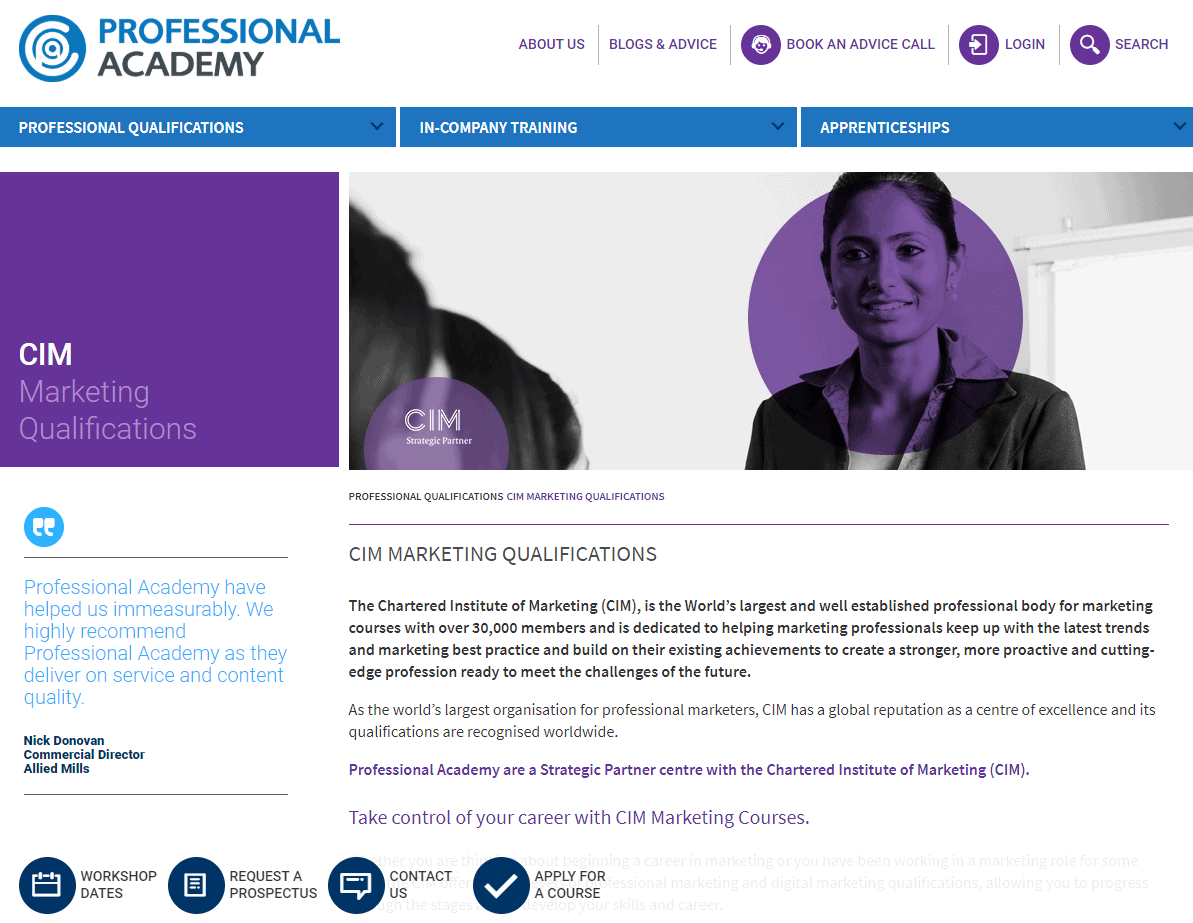 Ryan Hathaway, PR and Media Manager, Brighter Directions: Why should it make the list? This diploma covers every major aspect of the digital marketing profession and gives everybody taking the course an internationally recognized and fully accredited diploma.
At a time where we are still struggling to deal with a huge digital skills gap, diplomas such as these are vital in helping to upskill existing workers and provide new entrants to the industry with the additional skill base to succeed.
This isn't technically a marketing certification course, but the GMB Basics course empowers business owners with fundamental knowledge in using Google My Business and creating listings that stand out when customers search online. 
Josh Galecki, Director of Strategic Partnerships, ReviewTrackers: Google introduced me to some really cool certifications and educational links. There was one on GMB that I thought was really thorough and done well. The website is really interactive and you don't just stare at a YouTube video for 20 mins. It's extremely useful for business owners to understand the features of GMB.
Google AdWords Certification (via Google Partners)
The Google AdWords certification is a professional accreditation awarded to individuals who demonstrate proficiency in basic and advanced aspects of AdWords. An AdWords certification allows individuals to demonstrate that Google recognizes them as an expert in online advertising.
There are two AdWords certification exams, the AdWords Fundamentals exam and one of the following: Search Advertising, Display Advertising, Mobile Advertising, Video Advertising, or Shopping Advertising.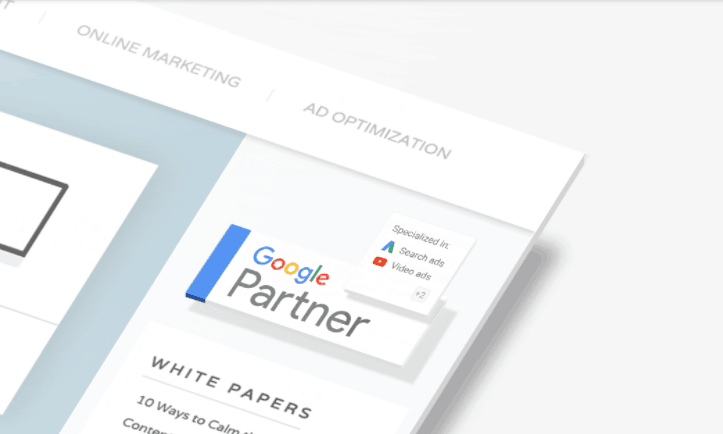 James Meincke, Marketing Manager, CloserIQ: Google AdWords is one of the most important PPC platforms, but it can be overwhelming at first. This certification will help you get a feel for the platform and lay a foundation for successful search and display campaigns.
Lori Appleman, Co-founder, RedlineMinds.com: The study materials and tests are free. These are the most recognized by customers; thus, they are very valuable. The certification is a must for any generalist online marketer as well as those who specialize in paid advertising.
The Society for Marketing Professional Services (SMPS) offers a credential designed to elevate the professional standards in marketing. The CPSM designation also serves as a mark of distinction for service professionals and business developers who have met a rigorous standard of experience and expertise in marketing professional services.
Perryn Olson, CPSM, Marketing Director, My IT: I completed my certification and it requires 50 credits every three years to renew.
The training covers the six domains in depth: marketing research, marketing planning, client and business development, proposals, promotional activity, and management.
HubSpot Academy's email marketing certification, complete with 11 lessons and 28 videos over a span of 3.5 hours, includes advanced lessons on managing a sustainable email marketing strategy. The course covers lifecycle marketing, segmentation, email design, deliverability, analytics and optimization.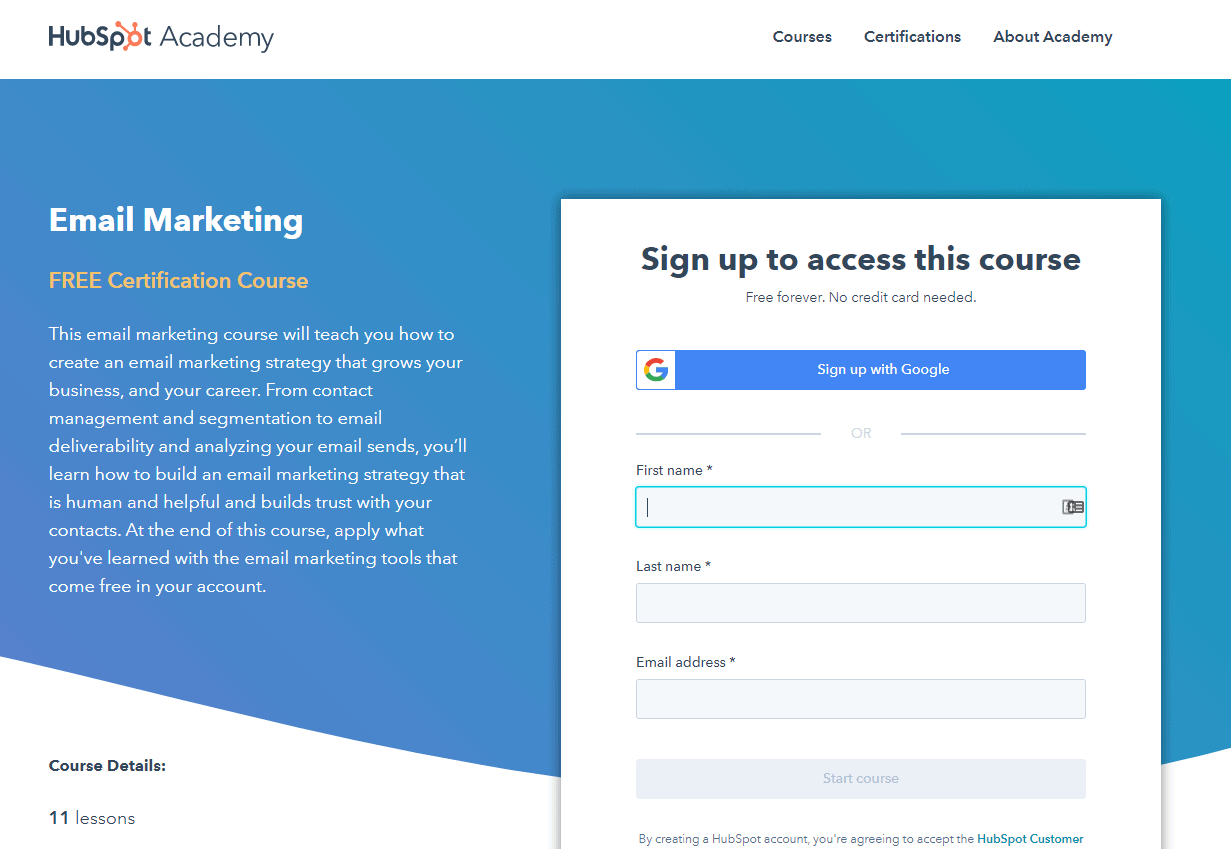 Shayla Price, B2B Content Marketer: HubSpot's inbound email marketing certification is an in-depth resource for digital marketers seeking to gain knowledge about how to run successful campaigns. From segmentation to design to analytics, the course will transform how you think about email marketing.
OMCP (Online Marketing Certified Professional) maintains the industry standards for online marketing certifications, exams, and competencies through partnerships with hiring managers, educators, and recognized thought leaders. 
It awards two levels of certification: 
Online Marketing Certified Associate: This verifies knowledge of digital marketing concepts and demonstrates understanding of practices across multiple digital marketing disciplines. It is often used as a minimum requirement for marketing teams at agencies who train or hire to OMCA standards.

Online Marketing Certified Professional: The OMCP certification verifies deeper skills, experience, and education required to implement digital marketing practices as a specialist. OMCP certified professionals are in demand as subject matter experts, consultants, and are often asked to teach or lead initiatives within larger organizations.
Michael Stebbins, President, OMCP: You may agree that marketing certifications fall into three categories: 1.) Course completion certificates (Example: Market Motive, my former company), 2.) Platform or tool certificates (Examples: HubSpot and AdWords certification), and 3.) Industry certification (Example: OMCP).
As far as we know, OMCP is the only independent certification serving the industry that is not tied to a platform or course provider.
Educators and course providers use OMCP Competency Standards to ensure courses adhere and prepare students for the exams. Hiring Managers use OMCP certification, exams, and readiness testing to verify hard skills before and after employment. Current and aspiring professionals use OMCP certification to ensure skills are up-to-date and prove hard skills to clients and employers.
Market Motive's digital marketing training courses and certification provide authoritative cross training in SEO, web analytics, social media marketing, conversion optimization, mobile marketing, PPC advertising, and content marketing.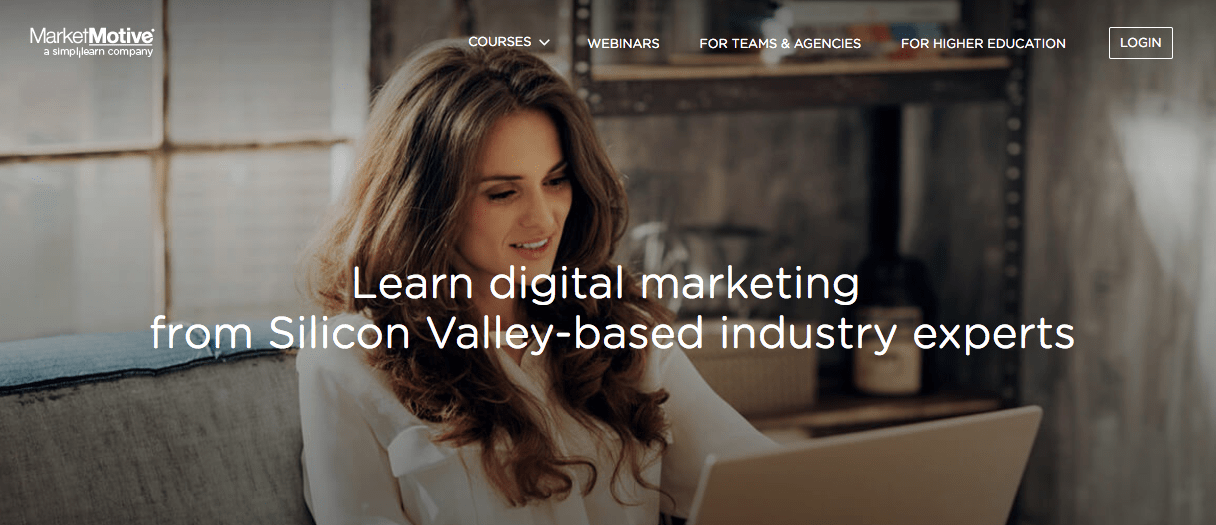 Lori Appleman, Co-founder, RedlineMinds.com: One lesser known study and certification program is the Market Motive program.
Certifications are available in most areas of online marketing. What makes this program really special and useful is that the courses are taught by some of the most prominent experts in the world of online marketing. I took analytics courses from Avinash Kaushik, conversion optimization from Brian Eisenberg, and PPC from Brad Geddes.
These are just three of the experts they have teaching the courses. Unlike many certifications that are based on just the framework of a topic, the Market Motive courses go into details and really prepare you for expertise in the subject area. Their courses also qualify for OMCP Certification, an advanced marketing certification. The money I invested here was well spent.
The Google Analytics Academy offers free lessons and certification from Google measurement experts. Not all courses are open for certification, but all of the lesson and assessment content is available for marketers looking to use digital analytics for their business.
James Meincke, Director of Marketing, CloserIQ: Analytics is the backbone of good marketing, and the Google Analytics certification gives a great intro to marketing analytics. Especially for new marketers with little experience with data and analytics, this is a must.
Social media management platform Hootsuite offers some of the best courses for marketing professionals looking to succeed with social media.
Certifications cover topics like social media advertising, social media strategy, ROI and value analysis, and foundations of social advocacy.
This course is part of the CurtinX MicroMasters Credential in Marketing in a Digital World. It teaches marketers how to increase brand engagement through the creation and distribution of content using a digital channel approach.

Chris Pontine, Creating A Website Today: I took a great course titled Digital Branding and Engagement through Curtin University on edX.
It's a very nice class for anyone looking to learn more and better their knowledge on digital branding. Classes do close down and tend to reopen again at a later date. The course in general is free, but you can pay for a certificate.
MECLABS Institute Online Learning offers an online curriculum of certification courses derived directly from 15 years of testing experience and marketing research. Its patented methodology is based on real-world research about customer behavior.
The available curriculum covers: 
Value proposition development

Landing page optimization

Online testing

Email messaging.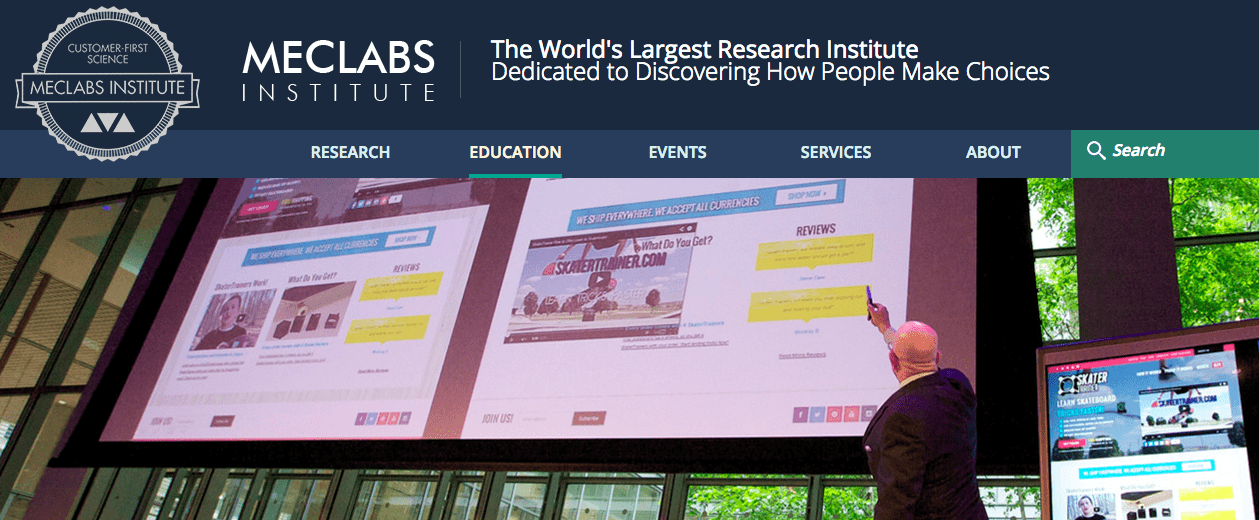 Gene Caballero, Co-founder, GreenPal: I went through MECLABS Institute's Online Learning and got certified in Landing Page Optimization and Value Proposition Development.
Both of these online courses help me learn methodologies for testing various landing pages, emails, and copy. It also helped us with our conversation rate by improving our page efficiency. All of this was backed by years of research conducted by the MECLABS Institute team.
This program was created to provide intense professional education to writers who offer content marketing services and offers enrollees the opportunity to submit their content for review by a member of the Copyblogger editorial team.
Adam Fifield, Content Marketing Manager, Big Leap: Copyblogger's Content Marketing Certification course is a great example of a customer-focused program that offers real benefits upon completion.
The course itself consists of highly detailed webinars, podcasts, articles, and worksheets that cover not only content marketing specifically, but overall marketing strategies as well. You go through the course at your own pace, and at the end you submit an authoritative article, a landing page, and a promotional email for critique.
A member of Copyblogger's team gives detailed feedback, and they award you certification if your content passes muster. You get a cool badge to throw on your site, and they create a unique profile on Copyblogger.com for you with a link back to your website.
Essentially, they'll recommend you to their audience, and you'll get the prestige of having passed their certification. Also included in the cost of the certification course is a year-long subscription to their Authority library of content marketing resources, which is massive and chock full of educational podcasts, articles, webinars, and more for you to continue your education.
Created by the University of Illinois at Urbana-Champaign, this program explores several aspects of the new digital marketing environment, including topics such as digital marketing analytics, search engine optimization, social media marketing, and 3D printing.
Danyal Effendi, Digital Marketing Team Lead, PureVPN: One of the best courses for marketing professionals and certificate programs that I have gone through is Digital Marketing Specialization program by University of Illinois, Urbana-Champaign on Coursera.
This specialization certificates helps in mastering strategic marketing concepts and tools to address brand communication in a digital world. It is included in the top 10 specialization courses in terms of enrollment. Students and professionals from around the world participate and share learning through it, which expands the perspective through different views.
The program is divided into 6 courses of 4 weeks each with expected investment 8-10 hours per week. The sixth course is a Capstone Project with real-world business case, in which students need to practice and apply the knowledge and skills learned in all the courses. Financial aid is also available as per Coursera's policy.
Facebook's Blueprint Certification offers valuable credentials to help you further your business and career goals. It's been designed to measure advanced-level competency in understanding and applying the skills required for Facebook advertisers. 
Certifications are available for digital marketing associate, marketing science, creative strategy, media planning, media buying, and ads product development.
Dmytro Moroz, Kanbanize: Many claim to be Facebook experts and social media marketing gurus, but no guru can teach you more about Facebook than the social media giant themselves.
The certifications address the most common questions and issues marketers have when it comes to Facebook ads, organic reach and impressions, targeting audiences for maximum impact, and making the most out of the audience insights.
Pratik Shah, Director of Marketing, Grin: In the digital world where social media, and especially Facebook, is wielding such a huge influence and demonstrating efficiency in reaching out to customers, a new Facebook certification is a welcome move. This is strongly advised for social media marketers.
Apart from staying on top of marketing trends, it's also useful to keep your skills current in the constantly changing marketing landscape. With the right certifications and credentials, you can advance your marketing career and create more value for your company.