App reviews play a major role in shaping user behavior. Not only are they a crucial source of information for smartphone and tablet users looking to download their next app; they're also one of the key factors determining where a developer or an app ranks in app marketplace search results.
Most importantly, app reviews offer one of the best ways for developers to gain valuable insight into the user experience. If you're actively trying to strategically increase your app reviews, take the time to carefully read user feedback and gain a better understanding of how you can deliver a better app experience for your user community. 
Funny App Reviews: Try Not to Laugh
Not everything users write can be taken seriously, though. Using our app store monitoring technology, we combed through online reviews of apps on the iOS App Store, Google Play, and other similar sites and digital marketplaces to find some funny app reviews that, for their sheer entertainment value, made us laugh out loud.  
"I've thrown my cat out the window"
Remember Flappy Bird, the hit mobile video game that took the App Store and Google Play by storm in 2013?
It was removed from app marketplaces by its Vietnamese developer, Dong Nguyen, due to his guilt over what he considered to be the addictive nature and overuse of the app. It was so addictive that, in a 5-star review, a user took to describing Flappy Bird as the Devil's Game:
I used to be like you. I, a young man, once played online with friends. I once attended a school. I once talked to my friends. I never wanted to go down this road.

It started when my brother downloaded the Devil's game. I never let him beat me in anything, so naturally, I downloaded it too. It seemed easy at first, tap the screen to get the bird/fish/whateveryouwanttocallit through the big Mario tubes. Then I died. I tapped between the tubes and died. I laughed at first. I'm far from laughing right now.

I beat my brother's high score, but kept going. I wanted to get to 100, I've already created this addiction, I've already made it to 70, so why not? Don't set a goal. I got 99. 99. My mother has stopped feeding me. I don't talk to anyone. I sit here and play. I've wet myself countless times not wanting to go to the bathroom and ruin my game. I've threatened to cut the fingers of my relatives off. I've thrown my cat out the window. I've created this addiction. I need help.

I locked myself in the bathroom. I'm sitting in the bathtub writing this review, warning you NOT to download it. My family doesn't dare to enter. My brother hasn't taken a shower in a month.

I'm cutting my fingers on the sharp edges of my cracked screen, but it's worth it. A person reading this that doesn't download this game is a life saved. Don't end up like me. 
"Karen, at least let me see my kids on Christmas"
iBeer is an app that has been voted "Best of iTunes" and downloaded over 90 million times. It turns your screen into a glass of beer, which you can drink from and even pour into other devices.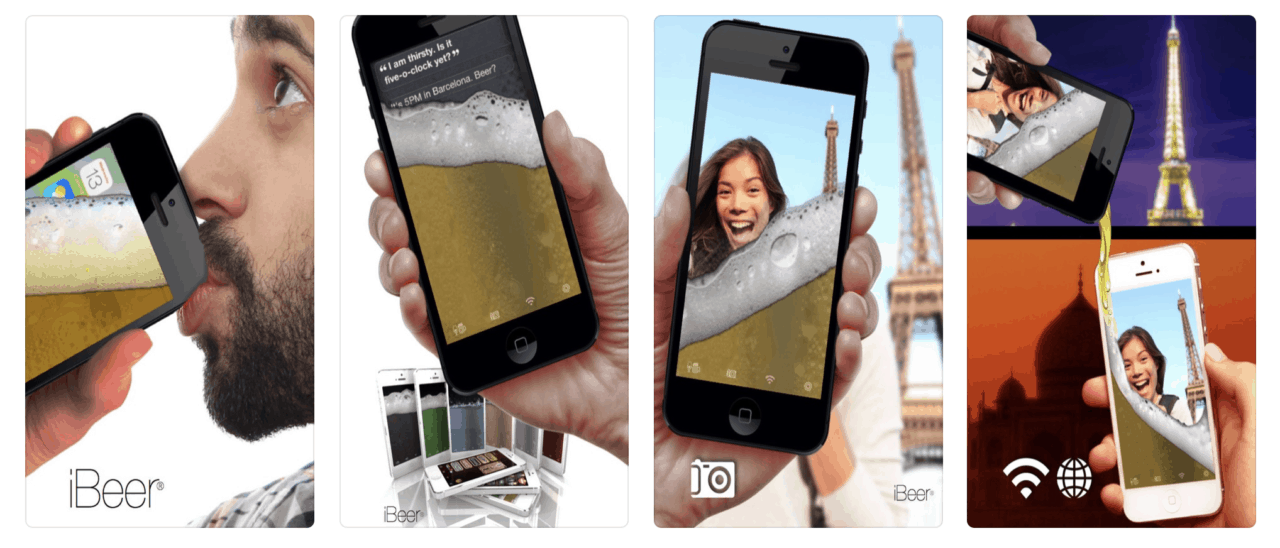 The app has an impressive rating of 4.4 stars out of 5 on the App Store, and it has its fair share of funny app reviews, including this one: 
I downloaded this app a while back. It was nothing bad at first until I began to enjoy it too much. I became obsessed. My wife, Karen, hated my obsession. She said I yelled too much. My own children were scared of me. She sent me to rehab, and it worked! I felt like a new man! Everything was great until the app… it seemed it lurked in my dreams. There was no escape, I couldn't help myself. It was worse than ever. Constantly I was using this app, everything I did was about this app, all I did was use this app. Overall it's a great app, but Karen, if you see this, please come back, and at least let me see my kids on Christmas.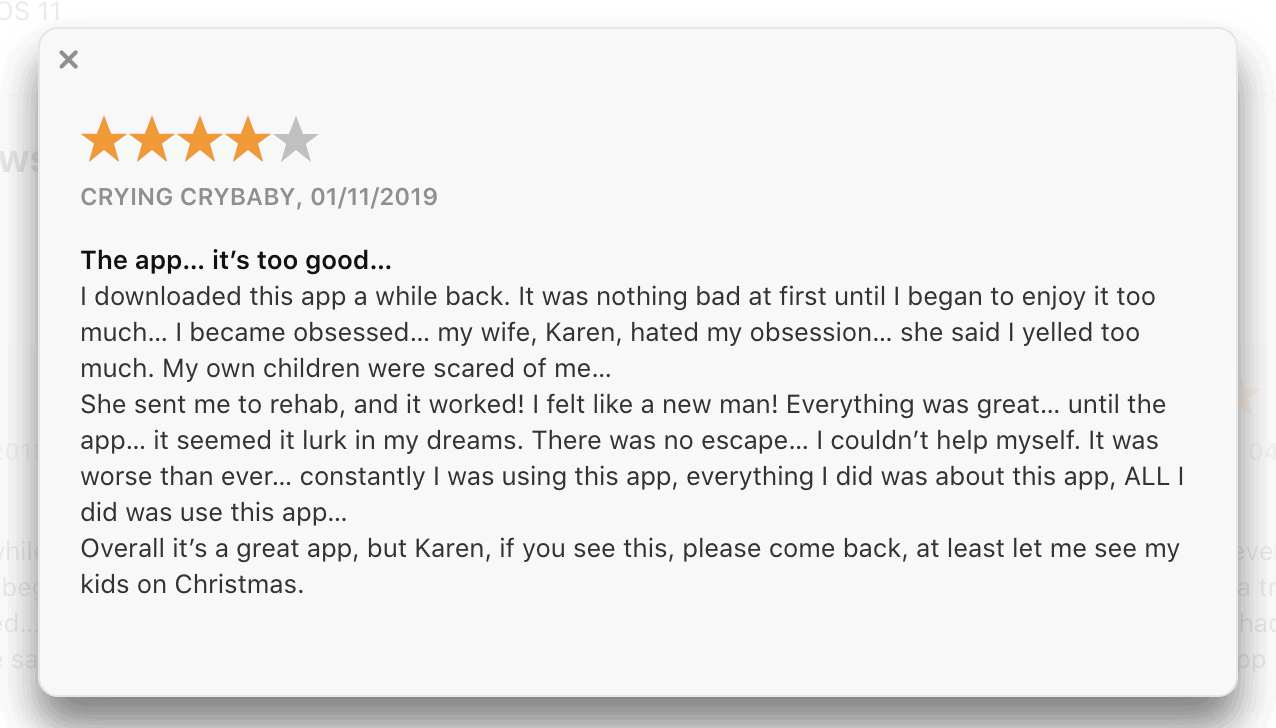 "My phone isn't bread"
For the sake of our sanity, we'll stay out of the Apple versus Android debate (FYI: the free ReviewTrackers app is available on both platforms), but don't blame us for bursting into laughter after reading funny app reviews of Move to iOS, an app for Android users switching to iOS devices.
I like oranges better to be honest, (and) I'm surprised that they didn't try to (patent) transferring data since it's been 7 years and this finally (exists), but they are saying it's the best thing since sliced bread. Well, my phone isn't bread so I'm gonna stay with Android.
"My best friend just got married to a dolphin"
Ever heard of a social networking app called Yo? If you haven't, here's a succinct description of what it does: Yo lets users send their friends the word "yo" as a text and audio notification; users can also attach links and location to their Yos.
The truth is: Yo was intended as an April Fool's Day joke. But this hasn't stopped users from heaping disproportionate amounts of praise on the app. Here's one of Yo's many 5-star reviews:
Science has proven that dolphins are one of the most intelligent mammals out there. Humans teach dolphins how to communicate and train them how to speak. But we never have been able to speak back. Until now. Yo has made it possible to finally communicate with dolphins. All you have to do is "yo" them. They "yo" back. Now my best friend just got married to a 9-year-old male dolphin because of Yo. They are very happy together. Thank you, Yo. God bless.
"New icon is the ultimate betrayal"
Consumers are more vocal than ever — and they share their user experiences of apps as brutally and frankly as Twitter users post mean tweets of celebrities. Even something as seemingly trivial as a new logo can lead to a negative app review.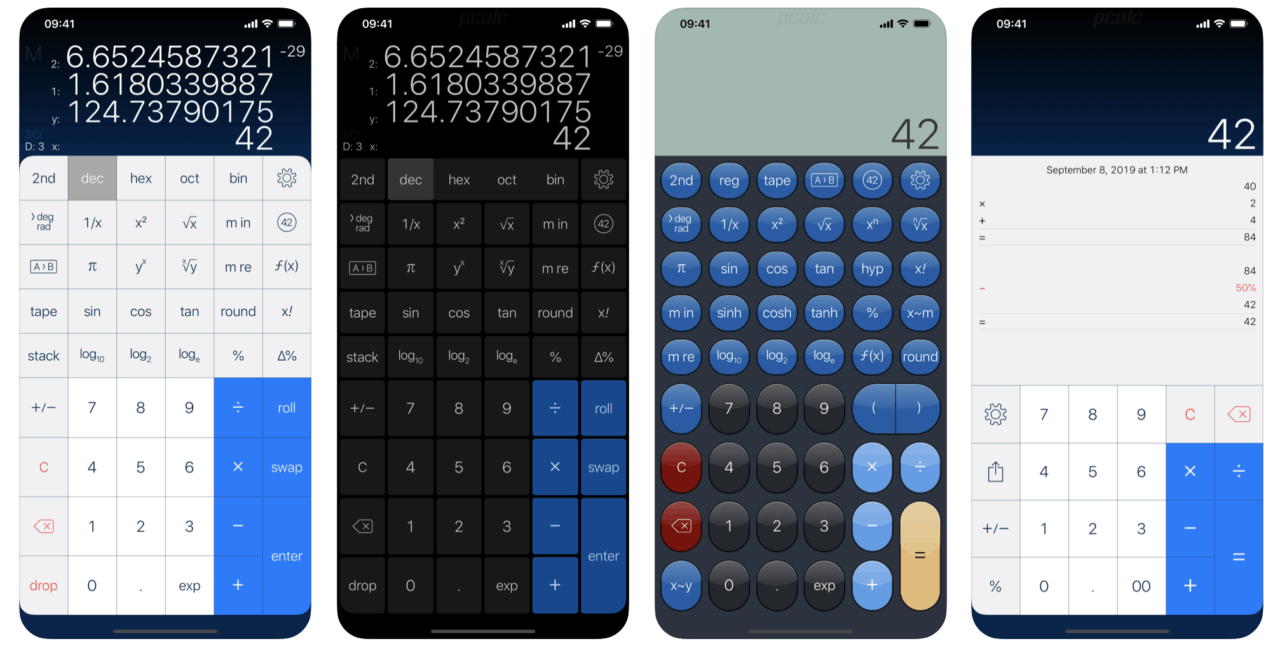 Here's a one-star review of PCalc, a calculator app on iOS:
App is very functional, well-designed, and the developer has been supporting it steadfastly for a long time. Unfortunately, without warning, the icon has been replaced with a hideous carbuncle that I cannot abide on my home screen.
"I got involved in a Jamaican dog fighting circle, but I soon learned that that was bad news. I was lost."
Last but certainly not least, we have more funny app reviews of Yo, which, if you read majority of the reviews on the App store, is apparently game-changing. And according to user "Henry_Bankshaft24," the app has even taught him to be a good father.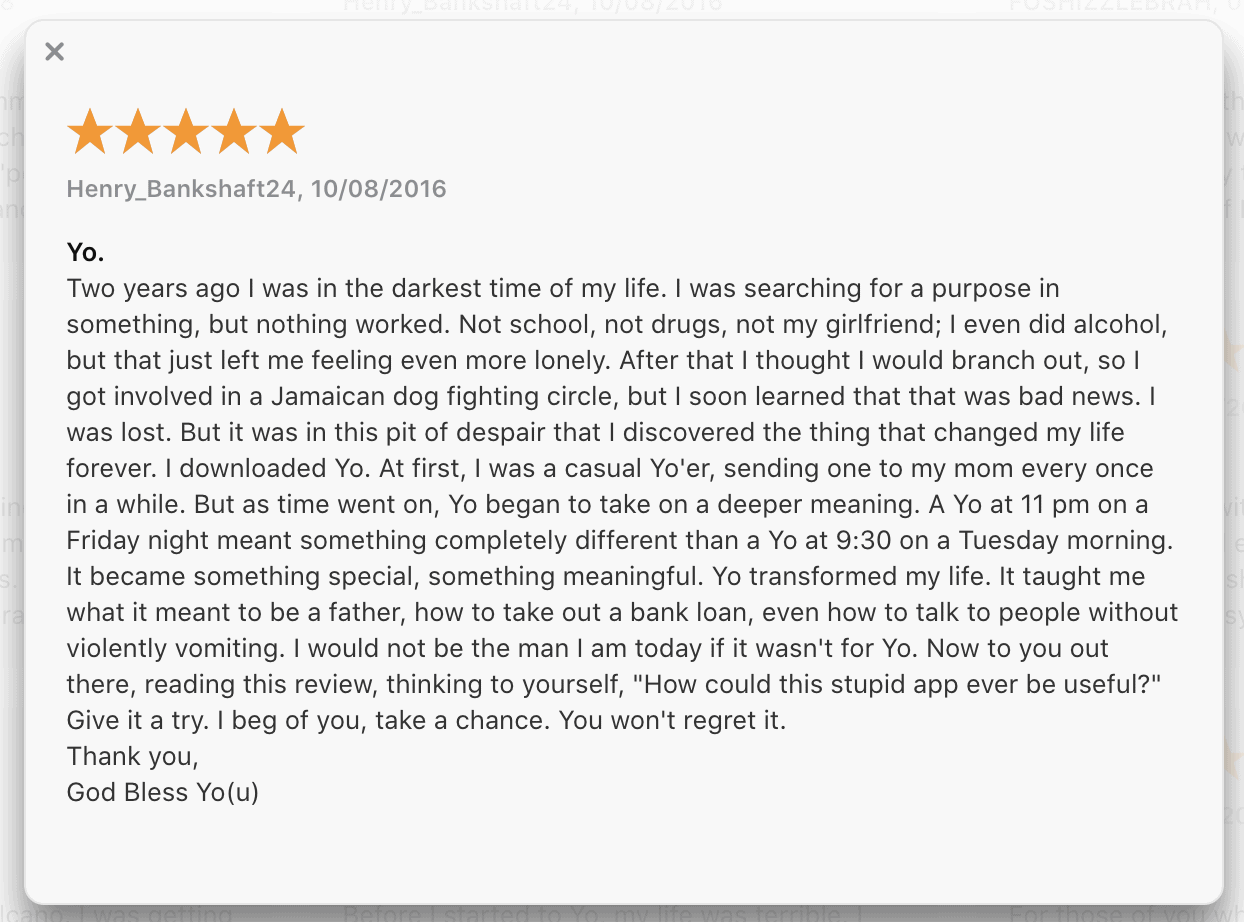 Two years ago I was in the darkest time of my life. I was searching for a purpose in something, but nothing worked. Not school, not drugs, not my girlfriend; I even did alcohol, but that just left me feeling even more lonely. After that I thought I would branch out, so I got involved in a Jamaican dog fighting circle, but I soon learned that that was bad news. I was lost. But it was in this pit of despair that I discovered the thing that changed my life forever. I downloaded Yo. At first, I was a casual Yo'er, sending one to my mom every once in awhile. But as time went on, Yo began to take on a deeper meaning. A Yo at 11 pm on a Friday night meant something completely different than a Yo at 9:30 on a Tuesday morning. It became something special, something meaningful. Yo transformed my life. It taught me what it meant to be a father, how to take out a bank loan, even how to talk to people without violently vomiting. I would not be the man I am today if it wasn't for Yo. Now to you out there, reading this review, thinking to yourself, "How could this stupid app ever be useful?" Give it a try. I beg of you, take a chance. You won't regret it. Thank you, God Bless Yo(u).
Here's another one of many funny app reviews of Yo:
Yo saved my life. I was driving through the Sahara Desert alone when my Matte Black Nissan 370 Z ran out of gas. I was stranded, I was hot and I was in desperate need of water. My phone was at 3%, giving me enough time to Yo at my best friend that was 963.5 miles away. I opened the app stated Yo-ing at her rapidly. Within 37 seconds of my intense yo-ing, I finally got a response. "Yo." I've never been so grateful in my life. She found my locations and brought me a bottle of water and left. Ever since then I've been so dependent on Yo. I now have an entire city in the middle of the Sahara Desert called "YoManiaCity" dedicated to all of the faithful Yo-ers out there. I've also legally changed my name to Yozmin. Thank you, Yo. You saved my life and gave me a city. From your faithful Yo-er, Yozmin and her City, YoManiaCity. Thank you.
(Sources: Buzzfeed, Switchback App Store, Dice, MSIGeek, AppFigures, Business Insider)