Download 43 free review response templates for negative and positive reviews
Get the templates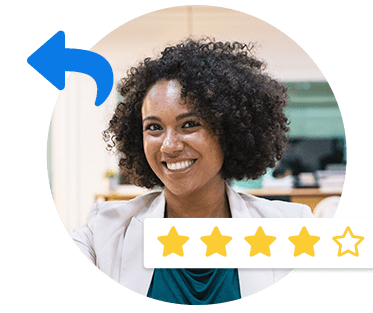 Thanks to social media and online review websites, consumers are more active than ever in sharing their experiences with and opinions of brands.
According to market research firm YouGov

, nearly half of consumers in the U.S. (44 percent) actively contribute online reviews, if only occasionally.

45 percent spend 1 to 5 minutes to write their review, while 35 percent take more than 5 minutes.

62 percent claim that their motivation for writing and sharing reviews is to help fellow consumers make better purchase decisions, while only 12 percent admit writing reviews for the purpose of exposing businesses with poor service.
With the amount (and diversity) of online reviews, ratings, social media comments, and customer feedback being generated by today's consumers, it's a challenge for companies — especially enterprise-level organizations with hundreds or even thousands of locations — to analyze all the feedback data they have collected and understand what their customers really think.
What do Your Customers Really Think?
Findings from a study published recently by Cornell University's Center for Hospitality Research offer a glimpse into how companies can address this challenge.
Entitled "What Guests Really Think of Your Hotel: Text Analytics of Online Customer Reviews" and authored by a group of researchers led by Hyun Jeong "Spring" Han and Shawn Mankad, the study suggests that online reviews and ratings, on the surface, do not tell the full story of how customers view a business.
Focusing specifically on the usefulness of reviews and ratings on businesses in the hotel and hospitality industry, the researchers collected over 5,000 online customer reviews from travel website TripAdvisor and applied text analytics and sentiment analysis methods to share a number of interesting findings:
Review content and textual information vary greatly — in sentiment, quality of writing, and themes — from numerical ratings given by customers.

Reviews with higher ratings tend to be shorter (in terms of word count) and discuss customer experiences and issues more broadly. Reviews with lower ratings, meanwhile, tend to be longer and more detailed in the discussion of specific issues and experiences.

Negative feedback carries more weight and provides a more detailed view of the customer experience than positive feedback. According to the researchers, "This uneven weighting means that a simple average of positive and negative scores may not provide a clear view of guests' opinion of the hotel."
The study offers valuable new insights for companies hoping to leverage customer feedback in order to improve operations.
It takes more than collecting reviews or calculating average ratings to truly understand your customers.
Making the commitment to tune into what your customers are saying on social media and online review sites is a fundamental step to managing customer feedback.
However, to truly understand your customers — what they think, how they feel, what their needs and expectations are, and how you can meet them — you must develop the capability to analyze feedback data and extract actionable insights from it.
Solutions vary, but the Cornell University study points to an emerging practice being adopted increasingly by companies across multiple industries: text analytics and sentiment analysis.
"A simplistic approach that only calculates an 'overall' sentiment by taking the difference of positive and negative sentiment does not adequately capture the nonlinear impact of these components," the researchers wrote. "The ability to analyze text contained in online reviews presents an opportunity for greater clarity."
Simply put: text analytics and sentiment analysis methods provide a clearer picture of the customer experience than does a collection of raw data or average numerical ratings.
Indeed, as far as today's data-driven market realities go, it's not about how much information you collect; it is what you do with the information that will be key to fostering improvements and gaining a competitive advantage.
Read MORE: The Customer Experience Manager's Getting Started Guide to Text Analytics
Strive for operational consistency — it's a key driver of the customer experience.
The findings of the study suggest that overall sentiment is distinct from sentiment data associated with ratings, and one of the reasons why is because negative comments carry more weight than positive ones.
Companies must therefore strive for operational consistency and commit to delivering customer experiences that aren't superior one day and terrible on the next.
Maintaining their focus on the hospitality industry, the researchers wrote, "It is better for hotels to provide guests with a moderately good overall experience than an experience that is extremely good in some regards and terrible in other ways."
"In terms of ratings the weight of the terrible service will swamp the good feelings from the stay's excellent aspects. Therefore, in addition to the overall quality of service, the consistency with which this service is delivered to a guest is itself an important driver of guest satisfaction."
Not only is consistency a key driver of the customer experience; it also engenders positive word of mouth and helps your business gain valuable referrals.
"With the best companies, customers know what to expect every time they deal with them," wrote Michael Hess for CBS News. "Assuming those expectations and experiences are positive, meeting them consistently will keep customers happy and loyal."
Gain insights from — instead of be tormented by — negative feedback.
The emergence of text analysis and sentiment analytics methods means that companies can now more effectively capture and interpret the voice of the customer across multiple feedback channels. When customers talk and share their thoughts in their own words, you can understand, in seconds and at scale, what they really mean.
The Cornell University study calls particular attention to the importance of managing and analyzing negative feedback. "Reviews can be a valuable resource… (and can be) complementary to the insights obtained from traditional guest satisfaction surveys. Our results indicate that operators should act on the negative feedback to improve their offerings."
Low ratings and bad reviews need not fill your organization with torment. Take advantage of and gain insights from negative feedback, which tends to be longer and more detailed and offer a more accurate and complete view of the customer experience.
Han and Mankad's group went on to name top review management and customer feedback companies offering text analytics and sentiment analysis — a list that included ReviewTrackers.
"Information from the text can potentially yield insights not indicated in the ratings for how hotels can improve their operations and better meet customer expectations," the researchers wrote. "It's clear that the industry should go beyond numerical ratings and pay attention to the text found in reviews. Guests' true feelings are found in those comments."