Executive Summary
Fans are more optimistic about their teams in the spring. When baseball fans talk about their team in stadium reviews, they express 6 percent higher sentiment in spring training compared to the regular season. Mets fans have the largest gap between spring optimism and regular season reality.
Spring training brings fans closer to the game. Fans are more likely to talk highly of access, sightlines, and being close to the action — even mentioning how the sounds of the ballpark are more audible.
Florida beats out Arizona. Grapefruit League stadiums (Florida spring training) rank higher than Cactus League (Arizona) for three of four categories we tracked.
Spring training stadiums ranked. The top overall stadium is the Orioles' Ed Smith Stadium, which ranks in the top three for Food, Family, and Fan Experience.
More access to autographs. Camelback Ranch (home of the Dodgers and White Sox) has the most fans talking about autographs.
Cheesesteaks are really great. The cheesesteaks offered at Spectrum Field were the highest-rated menu item in spring training. Eat one.
What Makes Spring Training Different for Fans?
Baseball fans who've made the trek to the Grapefruit and Cactus leagues know that spring training baseball is a different experience.
Autograph hunters line up to catch players coming and going from the facilities. Kids lean across the dugout, waving down their favorite players after batting practice. Families spread out blankets and watch the game beyond the outfield fence. It's major league baseball, just a whole lot less formal. And with a whole lot more sunscreen.
To understand how spring training differs from regular season and what it offers fans, we looked at 36,000 reviews of spring training stadiums and analyzed 130,000 keywords fans used to describe their experience. We compared these results to MLB stadiums in our database. Here's what we found.
Hope Springs Eternal, Right?
It's a cliche — hope springs eternal — that gets bandied about as pitchers and catchers report to spring training.
So we wanted to look to see if fans actually feel different about their teams in the spring. As it turns out, they do. For the most part.
Before we get to the numbers, a word about the method.
To gauge how fans are talking about their teams, we tracked 64,000 instances where a fan mentioned their team's name in an online review. We used our natural language understanding algorithm to score each of these as a positive or negative mention.
Here are the results:
Fans are more optimistic about their teams in the spring — about 6 percent higher. That's not a whole lot, but here's what's interesting. We can look and see which which fans have the biggest difference between how they feel in March and how they feel during the regular season:
On average, Mets fans talk about their team 75 percent more positively in the spring than they do during the regular season. Which shouldn't really surprise anyone. Especially not Mets fans.
Mets approach each year with cautious optimism, only to find they're reliving the same season — weird ownership, occasional ponzi schemes, injuries to key players, and a tight-fisted budget despite playing in the largest media market in the country. Spring Training is the time before those realities set in.
Padres fans have also been cheerfully optimistic heading into the spring. This may be a result of San Diego frequently "winning" the offseason — making more roster moves than other teams and drumming up excitement — but ultimately delivering mediocre results on the field. The Padres have had exactly one winning season in the last decade.
Overall Spring Training Rankings: Top Spring Training Stadiums
To score each spring training stadium, we track what fans say about four parts of their experience: the facility, family friendliness, food, and fan experience.
Here are the overall spring training rankings: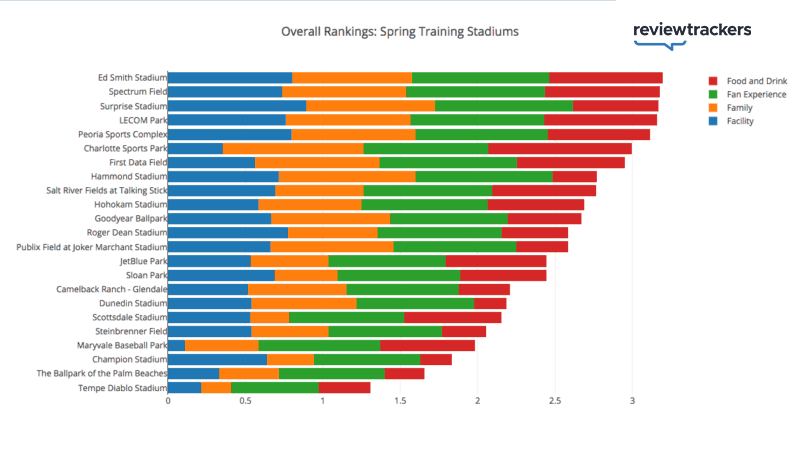 Renovated in 2011, Ed Smith Stadium has been around for since the 80's and operated as the home for a number of teams before becoming the long-term spring training home of the Orioles (who coincidentally also top our MLB stadium ranking).
Much like Camden Yards, Ed Smith Stadium does a lot of things well, ranking in the top 3 for facility, fan experience, and food and drink.
One fan explained the allure:
This stadium is all redone. The spring training home to the Baltimore Orioles has everything a baseball fan wants in a newer stadium…. The field looked especially beautiful … Ticket prices are competitive … the food is good and there's plenty of parking.
In other words, it checks all the boxes.
The Phillies' Spectrum Field comes second. With cheesesteaks, lots of free parking, a tiki bar, seats close to the action, and staff who might give your mother in law a golf-cart ride from the parking lot to the stadium if you ask nicely (yes, this happened in one review), Spectrum Field offers a lot of the "extras" that fans enjoy about the modern baseball experience.
Speaking of cheesesteaks….
The Best Food at Spring Training Stadiums
Pineapple fried rice, Oreo churros, Chick-fil-A, and pork nachos can all be found on the menus at Charlotte Sports Park. The stadium offers a lot of variety as well as the ballpark basics, so it's easy to see why fans like it so much.
Charlotte Sports Park is the home of the Rays' spring training and their Class A Advanced minor league team the Stone Crabs. The fact that it shares its location with a minor league team may help the food options. The stadium crew has access to the same kitchen facility it would for minor league games, so they're able to serve more robust options.
The Phillies' Spectrum Field comes in second (again) and the main reason why is the cheesesteaks.
If we look across all stadiums and look at the most popular food items, we can rank them by how positively or negative fans talk about them: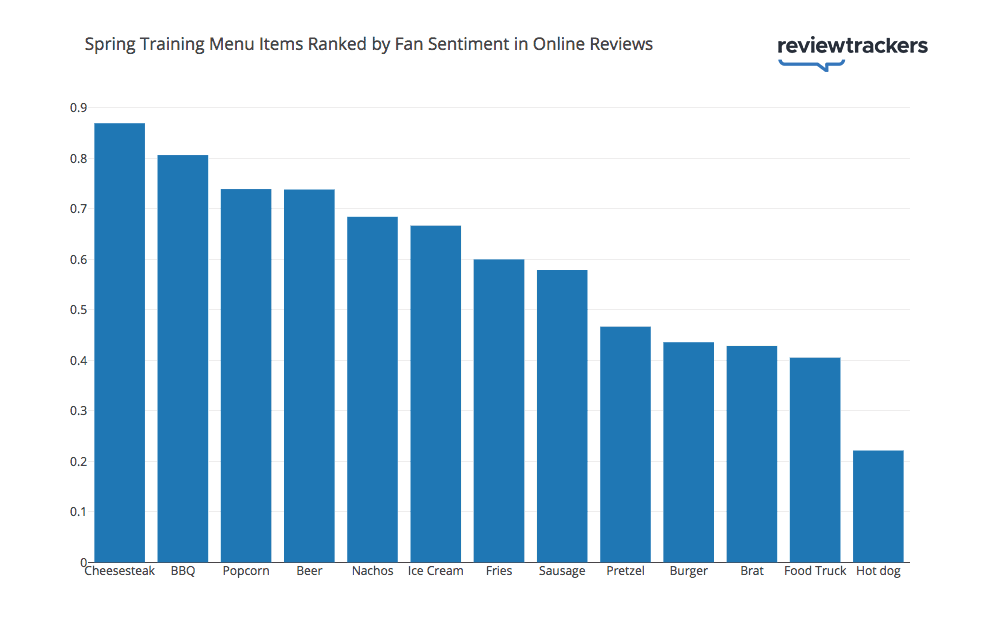 And cheesesteaks really win out. Despite being 1,067 miles from Philadelphia, Spectrum Field's  spring training cheesesteaks are right out of Philly. Delco's Original Steaks & Hoagies is run by Philadelphia-area natives who relocated to Florida and brought the secrets of grilled meats and cheese with them.
Spring Training Food Insights: BBQ, Food Trucks
This summer when we looked at food trends in MLB, we spotted something interesting about BBQ. Fans rate it as one of the best food options at the ballpark (if not the very best). But it's much less popular than hot dogs.
At spring training, we see the same thing in our data. According to our Customer Experience Analytics data, BBQ ranks second behind cheesesteaks. At the same time, just like at MLB stadiums, we see that fans don't actually like their hot dogs all that much.
There's a clear lesson. Hot dogs are great for nostalgia, but in reality, other menu options are probably much better.
One more interesting spring training note: food trucks. A few stadiums invite food trucks to set up shop and fans generally enjoy this. Most notably, Sloan Park (spring training home of the Cubs) has a food truck area in center field. Given how many teams use center field as a picnic area, having a food truck spot right there makes a whole lot of sense. This is an innovation we hope to see spreading.
Spring Training and Craft Beer
Craft beer has us all in its hoppy clutches. That's especially true in baseball.
Spring Training has seen an increasing number of fans talking about craft beers and beer selection at their facilities. Here's how those trends look over the last 8 years:
No surprise, right? Craft beer is an obsession. More and more teams are building craft beer sections at MLB stadiums, so it only makes sense that this trend would filter down to spring training, where teams offer beers local to Florida or Arizona, as well as microbrews from where the major league franchise is located.
Best Fan Experience in Spring Training
Let's face it: spring training isn't do-or-die baseball. It has to offer something different to resonate with fans. So what it offers is access, closeness, the sights and sounds of the game — without charging MLB prices.
At Surprise Stadium, one fan wrote, "You can see the players without binoculars and hear the action on the field." That's really striking for many fans. For many fans, it feels weird to be that close to the action on the diamond.
Like many smaller parks, the seats at spring training games are clustered behind the infield and along the foul lines. In many of these stadiums, the only outfield seating is picnicing on the grass. Without upper deck seats, every seat is a premium seat. So for a 10 or 15 dollar spring training ticket at Spectrum Field (second best fan experience), you get a view that would normally cost $75 if you saw the Phillies in the regular season.
A reviewer at Ed Smith stadium pointed out this exact phenomenon:
Great food, up close to the Orioles.  Saw A-Rod here about three years ago sitting in my $13 dollar seat.  Great place to spend an afternoon.
To put it in its simplest terms: fans are closer to the game at spring training. Let's try to quantify that "closeness" and see where it shows up in how fans talk about the experience.
Spring Training Brings Fans Much Closer to the Action
Fans in spring training and MLB games talk about the closeness of the game at the exact same rate (1.07 percent of reviews mention it in both sets of venues), but when fans talk about it at spring training, they do so in glowing terms:
We see this increase in positive sentiment in the way fans describe spring training stadiums. They talk about the "intimate setting," getting a "close-up look" at their favorite players, and sitting in "foul ball heaven."
Let's break that down even further and look at a few areas related to feeling close to the action:
As we compare the sentiment around closeness, sight lines, autographs, and pictures, we see that fans feel more positively about these things at a spring training games. Because autographs have such a difference (and are a big part of spring training), let's look more closely at which spring training facilities fans enjoy getting autographs at.
The Best Stadiums for Autographs in Spring Training
One fan demographic that spring training resonates with: autograph hunters.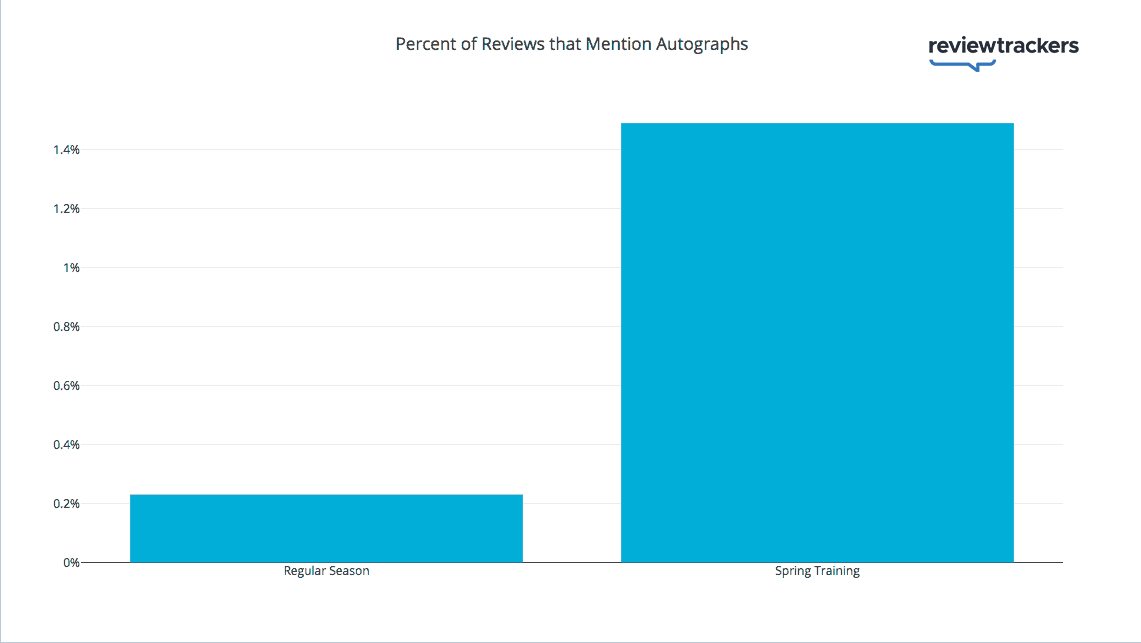 Fans are 6 times more likely to talk about getting autographs at spring training than they are at MLB games.
We can also look at which stadiums offer the best access by seeing which fans talk about getting autographs most frequently:
As you can see, the top three are:
Camelback Ranch (White Sox and Dodgers).

Dundein Stadium (Toronto Blue Jays).

Goodyear Ballpark (Cincinnati Reds and Cleveland Indians).
And it's not just current players that fans look to for autographs. Surprise stadium often has a table of former Royals players who will sign autographs for charitable donations.
Best Spring Training Stadium Facilities According to the Fans
In their reviews fans often point out that Maryvale Baseball Park has one of the "older" facilities, which is a polite way of saying it could use a face lift or maybe an entire overhaul, which the Brewers are planning on doing after this upcoming spring training.
In addition to its aging facility issues, Maryvale can have traffic jams, crowded parking (on a dusty Arizona field), and a hit or miss shade for the seats.
Fans still generally enjoy their time at the stadium (it's middle of the pack in the overall ranking), but these small shortcomings highlight what fans want from their facility:
Good parking.

Shade.

Clean and new-ish buildings.

Accessibility.
Surprise Stadium, home of the Royals' and Rangers' spring training, ranks number one for its facility and provides a perfect counterpoint for Maryvale. At Surprise Stadium, parking is close and free. Much of the seating is in the shade. It's easy to drive in and out of the parking lots and be on the highway in minutes. A number of fans mention the volunteer ushers, who get high marks for being friendly and helpful.
We've mentioned parking a few times—and there's a reason for that. Driving and parking may be a bigger issue during spring training than the regular season. Fewer spring training stadiums are located in the heart of cities or accessible by public transit.
Many fans also travel down to Arizona and Florida to catch games and have a limited vacation schedule, making the time they sit in traffic a loss and a pain point in the overall experience.
Most Family Friendly Stadiums at Spring Training
The teams that successfully cater to families do a great job having activities lined up for the kiddies.
Charlotte Sports Park has a "Kid Clubhouse" playground, affordable tickets prices, and spring training souvenirs kids can take home.
Hammond Stadium is second on the list and may have the coolest promotion for kids. At Hammond Stadium, the Twins host one *free* youth baseball clinic in February, where young fans take the field immediately after a Twins practice and get baseball tips. As one reviewer put it, "Spring training workouts on the fields make you feel like you are part of the team."
Florida vs. Arizona Spring Training
It only makes sense to compare Florida and Arizona spring trainings against each other.
Cactus and Grapefruit league games match up fairly evenly — there's only a 5 percent difference in fan sentiment between.
Florida just edges Arizona out. It has higher ratings for facility, family friendliness, and fan experience. While Arizona offers a better food experience on average.
The biggest gap between Florida and Arizona is the family friendliness score. We're splitting hairs (there really isn't a giant gap for any of these scores), but one factor that may affect the family score is that reviewers of Florida spring training facilities are much like to talk about going to the game with their grandparents or grandchildren, presumably due to a higher concentration of retirees and snowbirds in Florida.
With the demographics of the states somewhat different, Florida spring training may be catering to a slightly different audience and delivering a more family friendly experience.
Stadium by Stadium Spring Training Ratings
If you're curious how your team's spring training facility measures up against the typical spring training stadium, scroll through the graphs below.
1. Ed Smith Stadium

2. Spectrum Field

3. Surprise Stadium

4. LECOM Park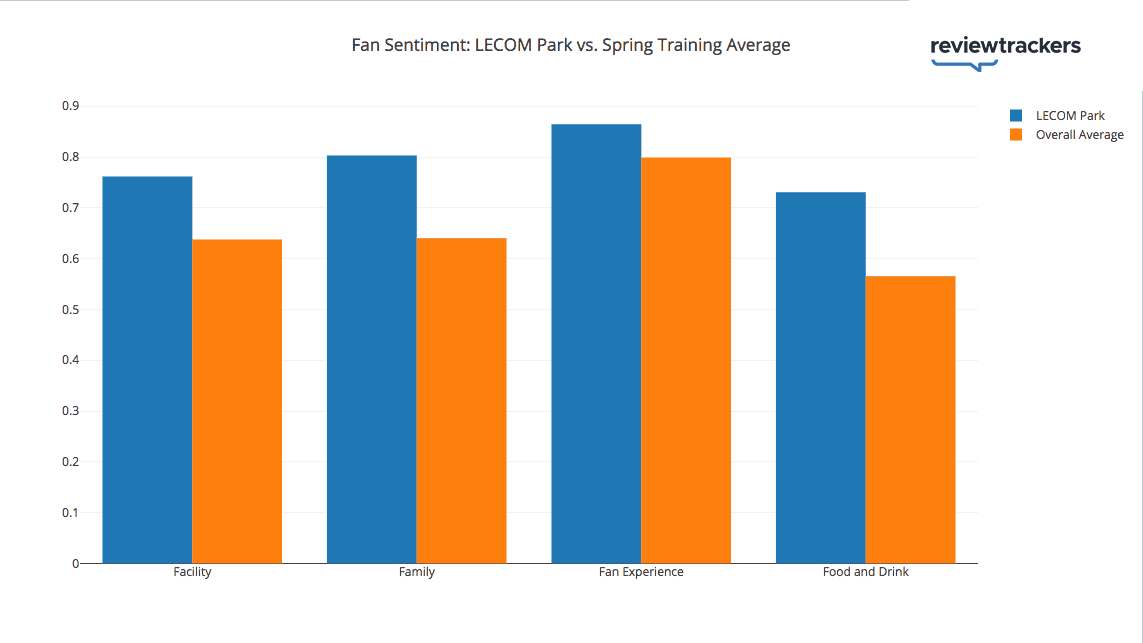 5. Peoria Sports Complex

6. Charlotte Sports Park

7. First Data Field
8. Hammond Stadium

9. Salt River Fields at Talking Stick

10. Hohokam Stadium

11. Goodyear Ballpark

12. Roger Dean Stadium

13. Publix Field at Joker Marchant Stadium

14. JetBlue Park

15. Sloan Park

16. Camelback Ranch – Glendale

17. Dunedin Stadium

18. Scottsdale Stadium

19. Steinbrenner Field
20. Maryvale Baseball Park
21. Champion Stadium

22. The Ballpark of the Palm Beaches
The Ballpark of the Palm Beaches is a brand new stadium. It's an impressive, clean modern stadium, there are still some operational issues that haven't been worked out. And these are driving down the stadium's scores for the time being. Parking is a big problem area. Here's what one reviewer described:
When we got close, 30 minutes later, the police told us that the lot was full and sent us a half mile down the road to the next one. Another endless line……….we decided to pass and never went to the game. I SHALL NOT RETURN
In addition to traffic and parking problems, fans have complained about warm sodas and concession staff that weren't fully clued in. These are the sorts of issues we often see in reviews of a new venue. The kinks haven't all been worked out, so fans get an imperfect experience the first time through.
23. Tempe Diablo Stadium