Reputation Management Companies
As a software company, we are often asked to manage or reply to the reviews we are helping collect every day for our customers. Given our database of over 10 Million reviews, this is a task better handled by individual companies that specialize in online customer engagement.
"Do you respond to the reviews, too?"

The answer? Yes.
We pride ourselves on being software-focused, but we also offer Managed Services for reviews.
Finding the Best Online Reputation Management Companies
Managing an online reputation is a lot of work. The internet is a big place (over 4.5 billion pages) and any negative mention of a business can be detrimental to the marketing, operations, or public relations of an organization, big or small.
To aid in the selection process of current (and future) customers who may be seeking a more hands-on solution, we've reached out to a few select marketing agencies whom we feel accurately represent the customer-centric approach our customers expect and deserve.
They are listed below.
This list is maintained as a free resource for our customers, and we receive no monetary kickbacks of any kind.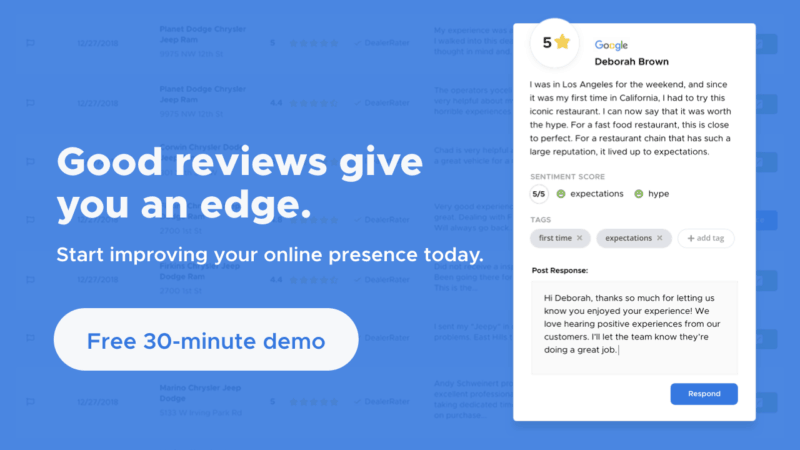 Recommended List of Companies
This list is not ranked in any particular order. ReviewTrackers suggests evaluating a potential agency based on your own business needs. If you have any questions, please reach out to the contact listed.
---
Mondo Mediaworks
http://www.mondomediaworks.com
Mondo Mediaworks is a Vermont-based digital marketing agency focused on creating high quality content for the web that engages and converts. We produce award-winning content that is both useful and entertaining and serve it directly to a qualified audience — your future customers.
Types of Clients:
We work well and often with the hospitality industry, but also have worked with restaurants and in the education, local tourism and development, and retail sectors.
Services Offered:
Anything digital, we can handle. We build and manage websites, write crushing SEO copy for blogs and the web, create converting digital ad campaigns, and take care of all aspects of email marketing, as well as handling social media management, video production, public relations, revenue tracking and Analytics setup, and online reputation management and review responses.
For More Information:
Meryl Robinson
[email protected]
802-451-0431 ext 1
Located in Brattleboro, Vermont. Serves most of the Northeast United States.
---

BlinkJar Media
BlinkJar Media specializes in syncing offline and online communications through Inbound Marketing. We strive to make marketing easier for businesses.
Types of Clients:
Small to medium sized businesses. Healthcare is our specialty.
Services Offered:
Inbound Marketing – blogging, SEO, SEM, PPC, Social Media, and Marketing Analytics.
For More Information:
Rikki Broussard
[email protected]
225-300-4759
Located in Baton Rouge. Serves the entire USA.
---

Connect Agency
At the Connect Agency, we aren't satisfied with typical work or cookie-cutter strategies. We push for the best strategy, constantly refine our efforts based on the data, and lead the charge in making sure your businesses gets the best return on your investment.
Types of Clients:
We actually serve a very wide range of industries, including Law Firms, Construction Companies, Insurance Agencies, Custom Luxury Home Builders, Tourism Development Counsels, Manufacturing Companies, Financial Planners, etc.
Services Offered:
Email Marketing, Content Creation, Rebranding Services, Reputation Management, Social Media Management, Digital Advertising, Website Development and Management, Strategy Development and Implementation, Market Research and Reporting.
For More Information:
John Ream
[email protected]
(800) 398-9298
Located in Jacksonville, FL. Serves companies all over the world.
---
 Localmize
Localmize has been proudly providing customers with outstanding web services since 2010. We understand that every small business is different, and we focus on providing the web services that will be most effective for your unique operation at a fair, affordable price.
Types of Clients:
Localmize is capable of working with absolutely any business owner. We currently have clients that specialize in everything from landscaping to private jet services to silo repair. Whatever your business, our experienced staff can greatly improve your web presence.
Services Offered:
Website Design and Creation
Website Maintenance
Search Engine Optimization
Reputation Management
Google Adwords Campaign Design and Creation (Official Google Partners)
Online Marketing Strategy
For More Information:
Troy Peterson (Co-Founder)
402-793-9491
[email protected]
Located in Omaha, NE. Serves companies all over the country.
---

BitBranding
Our passion is helping small business succeed in the digital world. From social media ad campaigns to dynamic websites and eye-catching design to engaging content and training, we bring every aspect of the process under one roof.
Types of Clients:
We serve small businesses, but are not industry specific.
Services Offered:
We offer website design, social media marketing advertising campaigns, logo design, email marketing, and reputation management.
For More Information:
Aaron Pearson
[email protected]
214-238-9837
Located in Allen, Texas. Serves companies all over the country.
---

Know, Like + Ignite
knowlikeandignite.com
A boutique Relationship Development agency focused on helping small businesses make relationships profitable. We provide real-time relationship building, real-time marketing and reputation management to help people speak positively on your behalf to their friends and family. We make sure that you are getting a profitable return on your relationships.
Types of Clients:
Realtors: From individual independent Realtors* to Real Estate Brokers and Individual Franchise offices *Realtors is a term specific to Real Estate Agents that are members of their state Real Estate Association and the National Association of Realtors (not all Real Estate agents are Realtors). We work with Realtors.
Rejuvenators: Spas, Local Hotels and Small Franchise Hotels with 25 locations or less, Bed & Breakfast Inns, Salons, Massage Therapists, Chiropractors, Fitness Trainers and Facilities
Restaurants: Independent Restaurant Owners or Small Restaurant Chains (25 locations or less); Restaurant and Bar combinations
Renegades: Inventors, Authors, Freelancers, Independent Business Owners, Independent Representatives, Direct Sellers
Services Offered:
Marketing Coaching
Marketing Services

Social Marketing, Social Reports (Analysis and Strategy)
Email Marketing
Social WiFi Marketing
Social WiFi Analytics and Strategy

Appreciation at Work Coaching
Appreciation at Work Trainer Coaching
Review Profile Development
Reviews and Recommendations Management
Personal Branding Coaching
Personal Branding Services
Webinars and On-Site Training
For More Information:
Maria Elena Duron
[email protected]
432-978-2009 x2
Located in Midland, TX. Serves companies all over the country.
---

Revital Agency
Revital Agency is full-service digital marketing agency in St. Petersburg, Florida. Our in-house team of experts focus on helping businesses grow and achieve industry leader status with one total marketing package. The key to success? Going the extra mile with Real People, Real Results, and Genuine Give a Damn.
Types of Clients:
Revital works with local clients or any client who is open to meeting with us at a distance.
Services Offered:
Revital Agency offers expanding businesses a complete marketing package equipped with everything a company needs to succeed in the digital world — website design, content marketing, social media management, and ecommerce web development.
Website Design Packages
Marketing & Sales Integration
Inbound Marketing & Social Media Presence
Content Writing & Search Engine Optimization (SEO)
Ecommerce Stores & Services Order Forms
Hubspot Certified Partner
Email Marketing
Print Designs
Revital Agency is your complete outsourced marketing department and professional partner to gain online presence and make an impact. Start growing your company and customer base today. Because more business for your business is our business.
For More Information:
Contact Revital Agency by phone at (727) 289-6549 or email us at [email protected]
---
 
Vanover Marketing
At Vanover Marketing, we treat each business as if it were our own and work hard to deliver innovative marketing solutions to achieve specific business goals. We give you peace of mind, so you can get back to doing what you love most – running your business.
Types of Clients:
Small to medium sized businesses in healthcare, hospitality, and real estate.
Services Offered:
In addition to online reputation management, Vanover Marketing also offers social media management, website design & development, SEO (search engine optimization) services, paid search management, and general marketing strategy and graphic design.
For More Information:
Suzanne Machos
[email protected]
808-354-3383
Located in Texas. Serving all areas of the U.S.
---

Sumwot Social
Sumwot Social is based outside London in the UK, we help our clients to integrate their traditional marketing with digital marketing.
Types of Clients:
We work with small to medium sized businesses – we predominately work with the food & drink manufacturers, restaurants and cafes.
Services Offered:
We specialise in the digital field – including Online Marketing Strategy, Online concepts and campaigns,  Social media, Reputation management, email marketing and ideas that engage with the end user.
For More Information:
Chris Nicholas
[email protected]
07833 948 269
Located in the UK.
---
 
GameDay Productions
GameDay Productions has been connecting companies to their target audiences since 1991 through TV & digital marketing services.
Types of Clients:
In business, every day is gameday! GameDay Productions is a marketing company that works to get you found, whether that is on TV or online. The full-service television production and interactive marketing departments specialize in helping you compete in the sport of business.
Services Offered:
Interactive Services including search marketing, web development, reputation management as well as full Video Production for online & TV.
For More Information:
Kyle Bresette
[email protected]
8174308860
Located in Euless, TX. Serving all areas of the U.S.
---