See customer feedback from over 100 review sites in one place
Request a demo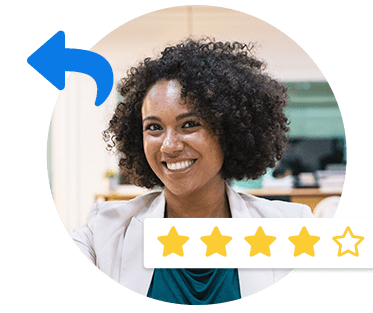 If you're looking to improve your business performance on social media, it's important to know how your competitors are doing and how you're measuring up against them.
Conducting competitor analysis doesn't have to be hard. This post will talk about how you can monitor the competition based on their activity on Facebook Business Manager.
Why Do Competitor Analysis on Facebook?
Facebook has grown to become far more than a platform where people upload cute dog pictures, share random quiz results, like their friends' vacation photos, and announce the arrival of their new babies. It's a powerful bridge between businesses and consumers, exerting its influence in every stage of the modern consumer's path to purchase.
According to advocacy activation company Social Media Link:
Awareness:

55 percent of consumers consider Facebook – along with retail websites – as the most common place to learn about new brands and products.

Consideration:

71 percent say that they "somewhat" or "completely" trust the content they see on Facebook – slightly more than those who say they trust retail websites (68 percent) and online communities for product / service reviews (66 percent).

Post-purchase:

Approximately 66 percent of consumers are most likely to share on Facebook their thoughts, experiences, and opinions on their purchases; meanwhile, after purchasing, one-third will connect or engage with a brand on Facebook (while only 2 in 10 will connect via the brand's website or community).
(Read more 2018 social media marketing statistics here.)
How to Gather Intelligence
What factors should you take into consideration when conducting competitor analysis on Facebook? What kind of numbers and metrics should you be looking for? Here are some ideas:
Audience growth. One of the most effective ways to measure your performance on Facebook is to compare the growth of your audience versus that of your competitors.
If you notice that they're growing faster on Facebook than you are, try to understand what they're doing right: did they recently run a successful campaign? Are they more responsive to and engaged with their audience? What are their reviews and ratings on Facebook like?
Your ability to ask and answer these questions about your competition will go a long way in helping you refine your social media marketing strategy.
Reach and engagement. One of the most obvious ways to determine whether or not your competitors have a successful social presence is to look at their reach and engagement metrics. How many likes, reactions, and shares are they getting on their Facebook posts? How many comments? By measuring these, you can achieve a better understanding of what your audience loves, and what they like to share with their networks of friends.
Content. Go beyond metrics when running a competitive analysis on Facebook; be sure to keep an eye on the types of content your competitors are posting, too. Actually read what they're sharing. How many posts do they publish in a week? Do they simply share links, or are they also active in uploading new photos and videos? Which ones receive the most engagement?
Gathering intelligence on your competitors' posts activity will help you refine your content strategy, leading to more valuable, engaging pieces of content worthy of your audience's time (and likes).
Reviews. Online reviews and ratings are one of the most accurate indicators of customer experience and sentiment. Facebook, in particular, has become a major player in the review space: according to our online reviews survey, the site ranks second (behind Google) in terms of review growth rate. Analyze your competitors' reviews, read what their customers are saying about them, and see how well you're doing against them.
Facebook Competitive Analysis Tools
Facebook Pages to Watch Feature: If you own a Facebook Page for business or have been assigned to manage one, you have instant access to a basic Facebook competitor analysis tool called "Pages to Watch".
Here are step-by-step instructions to enabling "Pages to Watch":
While logged in, visit your Facebook Page and click on the "Insights" tab.

By default, the "Insights" tab displays an overview of your insights activity and data.

Scroll down and look for "Pages to Watch".

Pages to Watch helps you compare the performance of your Facebook Page and posts with similar Pages on Facebook.

Add the Facebook Pages of your top competitors to get started. Type the names of their Pages on the search box, and click "Watch" once you see the desired search result.
"Pages to Watch" helps you keep track of your competitors' Facebook Page likes, as well as basic engagement metrics like post reactions, comments, and shares.
Hootsuite: One of our favorite social media marketing dashboards is Hootsuite. We've even worked with Hootsuite to bring the best customer feedback management experience to the world's most widely used social relationship platform. (Check out the ReviewTrackers app for Hootsuite.)
It's fairly easy to set up Facebook competitor analysis on Hootsuite. Just create new streams to follow your rivals' Facebook activity. And don't forget to look for specific keywords and hashtags, too.
The data will be displayed in the streams in real time, allowing you to see what your competitors are up to, as well as how their audience engages with them.
Likealyzer: One free third-party tool that we like for conducting Facebook competitor analysis is Likealyzer. Simple and straightforward, Likealyzer works by converting raw Facebook analytics into instant recommendations.
On the homepage, you can choose to enter your Facebook Page or that of your competitors, after which Likealyzer collects data and lists down, bullet by bullet, a set of recommendations.
Here's an example of what Likealyzer can tell your social media marketing executive:
Likealyzer can also analyze the contents of your Facebook Page front page (your photos, username, company description, and calls-to-action), About page, social media posts activity, and even response and engagement rates.
Looking to track the performance of your top competitors? All you have to do is go back to Likealyzer's homepage and enter their Facebook Page name.
While the tool doesn't display a side-by-side or visual comparison of yourself and your competition, it presents the data and recommendations in a way that's easy to understand (and take screenshots of).