Do you own or manage a travel-related business, like a hotel, resort, travel agency, vacation rental, or restaurant? Well, chances are that you'll have heard of TripAdvisor, one of the world's largest travel sites, with more than 50 million unique visitors a month and over 60 million reviews and opinions.
If you haven't claimed your business yet on TripAdvisor, now is the time to do it. With the site, you'll be able to connect with customers and travelers from all over the world, and generate unique new opportunities to build your brand and grow your business.
Here's the ReviewTrackers guide on how to claim your business listing on TripAdvisor.
(Stay tuned for more guides by regularly checking in on the ReviewTrackers blog.)
Step 1: Go to the TripAdvisor for Business page and choose the kind of business that you own or manage: hotel / accommodation, vacation rental, restaurant, or attraction.
Step 2: Enter your business name and city in the search box. Then select your business from the results that appear.
Step 3: Once your official business page appears, click "Register now".
Step 4: Choose from the "Management Center" to select which task you would like to perform. Among others, there's an option there for monitoring travel reviews. (This will allow you to read and respond to reviews, but of course you can simplify everything by just signing up for ReviewTrackers.)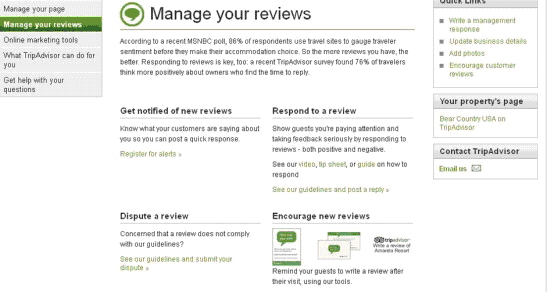 Once you've claimed and set up your page, you can go about optimizing it. Link your TripAdvisor and Facebook, share your reviews, get a TripAdvisor review sticker for your business's storefronts.
Monitor what customers are saying online on TripAdvisor (plus 70 other review sites) and respond to reviews, comments, and questions nearly in real-time!