The Australian-based packing and shipping company Pack & Send sees no limits to customer service.
While the courier, freight, and logistics solution company has over 100 service centers, each Pack & Send location strives to maintain the feeling of a local business with exceptional customer service.
What's different about the Pack & Send approach? Tim Robinson, digital communications manager for Pack & Send, explains, "What makes us really stand out is personalization of service and the high level of service we're willing and able to provide to our customers. We have so many different service options. We never say no to a customer. We'll always find a solution."
And the results speak for themselves. Pack & Send has won multiple awards as the top-rated delivery and courier service in Australia—most recently from ProductReview.com.au, where its rating of 4.5 stars places it ahead of any other courier service in the country.
We sat down with Robinson to discuss Pack & Send's experience using ReviewTrackers and the success they've had building a customer-focused organization.
Finding a solution: Instant review alerts
In 2016, before they discovered ReviewTrackers, Pack & Send had no way of knowing when a Google review was posted for any of their locations unless they logged into Google My Business location and checked manually.
Robinson says that knowing when a review — especially a negative review — is posted on Google or another review site, was the main reason his team searched for a solution.
The service team at Pack & Send wanted to address any issues as soon as possible. Instant review alerts helped them stay on top of any issues that came up. "ReviewTrackers solves that problem for us," Robinson says.
Knowing what's possible
Once Pack & Send started monitoring their customer feedback more closely, they took advantage of all of the ways they could connect with their customers through online reviews.
"We find that there are so many benefits in the whole ReviewTrackers product," Robinson says
"We can go into one platform and quickly see all the reviews and comments in one place and narrow it down to look at specific review sites," Robinson says.
In addition to review alerts, Pack & Send's team responds to 100 percent of reviews, incorporates the net promoter score with their review requests, and empowers individual franchise owners to monitor their store's reviews.
"We never imagined what was possible until we got ReviewTrackers."
"Massive" time saving
Pack & Send's team responds to each location's online reviews every day, which means that the Smart Response feature has helped them save time on a daily basis.
Smart Response allows corporate managers to upload their brand-approved response templates and respond to reviews with a couple of clicks. The templates sync in the ReviewTrackers platform, the mobile app, and the chrome extension.
Robinson says having a platform where reviews are all in one place and then being able to quickly respond to those reviews has cut down so much time it used to take to read and respond to reviews manually.
"The time-saving is massive," he says.
45 percent of customers say they're more likely to visit businesses that respond to their reviews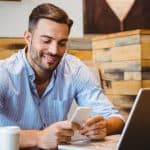 Franchise owners earn more reviews and deliver a better customer experience
The team at Pack & Send is able to set up different levels of access to the ReviewTrackers platform and customize their setup for their franchise structure. This allows Pack & Send to optimize the platform to encourage franchisees to engage with their customers.
Franchisees get email alerts so that they know when a review is posted. Franchisees can then read positive and negative reviews in their inbox, so that they know when there's an issue that needs to be addressed.
After receiving a negative review alert, franchisees work quickly to resolve the issue.
"At the end of the day, the customer resolution is paramount," Robinson says.
The service centers that truly embrace their reviews end up earning more reviews, and at a faster rate.
"Our top performing franchisee, in terms of getting reviews, grew his Google reviews by 130 5-­star reviews in just 18 months," says Robinson.
"This franchisee took over an existing store that had no reviews, and suddenly — just because of his customer service and the way he dealt with customers — he received 130 five-­star reviews, and not even a single 4, 3, 2 or 1-star review."
Local franchisees improve customer satisfaction ratings  
Franchisees enjoy using the Ask Tool, a feature that directs customers to a page that asks about their experience.
The Ask Tool allows franchisees to use the Net Promoter Score to collect an initial feedback score (and written feedback) before sending the customer to a review site to leave a public-facing review.
"While the vast majority of times the feedback is overwhelmingly positive," Robinson says, "franchisees were able to respond and resolve the issue at an earlier stage.  The net result we've seen is an improved NPS score and an increase to our overall customer satisfaction ratings."
Working with the ReviewTrackers' customer happiness team
"Working with Zach has been great," Robinson says.  
Zach Cox, director of customer success at ReviewTrackers, is part of an award-winning customer success team that is dedicated to providing the best customer service possible.
"Whatever questions we had, Zach always answered them promptly, and he gets in touch with us on a monthly basis to see how things are going. He lets us know of changes and improvements within the platform. We are happy with how Zach supports us."
At all levels, the Pack & Send team puts the customer first
One of Pack & Send's core values is putting the customer first, which is evident in the 5-star customer experience Pack & Send franchisees provide.
Pack & Send truly invests in the voice of the customer. From the main corporate service team to individual franchises, the team at Pack & Send listens to what customers are saying online. Pack & Send partners with market-leading customer experience solutions like ReviewTrackers to make sure they're doing everything they can track customer feedback and improve the customer experience.