Expanding the value of franchisee services offered
Harris Research is the parent company of the Chem-Dry franchise brand, the world's leading carpet and upholstery cleaning service. Harris Research operates at the Chem-Dry corporate headquarters and supports the growth of Chem-Dry franchisees (present in over 42 countries) by providing in-house sales, service, and marketing support.
"We help franchisees manage their online marketing, SEO, and pay-per-click performance," says Zachery Jenks, Harris Research's Team Manager of Web Marketing Services. "We also have an online reputation management program, which we offer our clients at a competitive price."
Online reviews were not being tracked or managed
Harris' initial program didn't include the tracking and management of franchisees' online reviews. "Reviews weren't really on our radar," Jenks says, referring to what is perhaps today's most important factor in shaping business reputation. According to the latest research, nearly 8 out of 10 consumers check online reviews before purchasing a product or service, and 26 percent check reviews every time they make a buying decision.
Harris Research and Chem-Dry recognized the need to expand its reputation management program and offer more value to its franchisees. "Franchise owners would be in the program for about 6 months, then they'd cancel," Jenks says. "Only about 25 percent would stay on."
In early 2014, Jenks' team signed up for ReviewTrackers and quickly realized how the company could improve customer retention and provide greater support to Chem-Dry franchisees.
"We had been missing out on the opportunity not only to listen to existing customers, but also to get out in front of potential customers," he says. "Now, we're able to get a top-level overview of where the brand is at: what's being said, how we are being positioned, and what the current sentiment is. Franchisees are also able to see where they're doing well and where there is room for improvement."
Leveraging the word-of-mouth power of reviews to help franchisees
Harris Research began offering ReviewTrackers to franchisees as part of the company's Local Search Directory program package. "We are educating franchisees," says Jenks, "and telling them that the power of online reviews is extremely important for word-of-mouth marketing."
Getting their hands on valuable review data is easier and more efficient than ever. Since August 2014, Harris Research and Chem-Dry have collected more than 4,950 online reviews from several major review sites, including Customer Lobby, Google, and Yelp.
Jenks says company execs at the corporate level are also looking at their reviews to generate new conversations and answer questions like, "Where are we struggling, and what do we need to do to get to the five-star level?"
45 percent of customers say they're more likely to visit businesses that respond to their reviews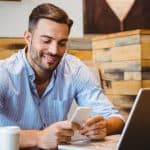 Superior value leads to better retention
Harris Research uses ReviewTrackers technology to bolster its reputation management offering and create superior value for franchisees, who, according to Jenks, love the ability to monitor, respond to, and ask for feedback using one platform. "This was a powerful selling point that pushed them to a premium package at the annual Chem-Dry convention."
The premium package now includes the ability for franchisees to choose specific reviews and publish these on their personal landing pages on the Chem-Dry website.
With ReviewTrackers, Harris Research has been able to increase revenue and the number of franchisees signing up for the premium marketing package instead of the basic package. The company has also been able to improve its retention rate and keep franchise owners from canceling.
"Review monitoring is an ongoing service," Jenks says, "and we've learned that franchisees don't want to cancel once they are set up."
Promoting entrepreneurial success with review data
Committed as ever to the entrepreneurial success of Chem-Dry franchisees, Harris Research is making sure that the rich feature set of ReviewTrackers is fully maximized, so franchisees can gain greater awareness of customer issues and opinions that need to be managed and resolved.
Jenks says, "They love the feedback and review request tool*, as well as the timely alerts that enable franchisees to respond and help customers ASAP whenever a review is posted."
Harris Research also pairs Chem-Dry franchisees with businesses coaches, who can also receive notifications of online reviews. The data allows them to meet compliance standards, identify operational shortcomings, and implement strategic improvements.
"The level of insight we get from ReviewTrackers is powerful," says Jenks. "It has helped Harris Research understand, at both the national and local level, the Chem-Dry brand message in the eye of the consumer."