Get started instantly. ReviewTrackers is the online review management solution for multiple-location businesses. It's designed to meet the needs of any business with multiple locations, who have an interest in managing reviews from websites such as Yelp, Google, Facebook, Opentable, Foursquare and 50 other websites that customers can publicly review. Sign up today, and get started instantly tracking all your locations across all major review websites.
Centralize all your reviews.  Find out what your customers have to say about you – and have 'em all in one place: the simple, fast, and easy-to-use ReviewTrackers dashboard. Powered by proprietary review monitoring technology, you are alerted via email every time a new review about your brand is posted online. ReviewTrackers also includes a client dashboard, so you can listen and respond to all online reviews about your business. Every location, every time.
There's more to a review than a star rating. ReviewTrackers' software uses natural-language processing technology to analyze the most valuable information within the review: customer sentiment. The Trending Topics feature will help your brand quickly process customer feedback — so you can focus on improving loyalty, increasing CLV, and change the conversation at every location of your business. All derived from qualitative data, making your customer feedback actionable.
Increase the amount of positive reviews by 400%. We finally found a way to improve your average ratings. By increasing the amount of positive reviews, we've made sure your average reviews will carry enough weight to drown out the negative reviews. This makes sure that your online reviews are positive, and you still get the vital feedback you need from customers. Bottom line? Your brand looks better, and you are still managing all your reviews.
Keep an eye on all major review sites. Do you have multiple review sites to monitor? Let ReviewTrackers do the job for you. Our app alerts you every time a new review is found on sites like Facebook, TripAdvisor and Google+, as well as niche review sites for restaurants, cafes, bars, car dealerships, law and medical offices, and others.
Organize data and evaluate your performance. Use ReviewTrackers to search and sort your reviews according to source website, business location, and date, so you'll be able to really understand how well your business is doing. On your dashboard, you'll also see who's writing what, or how many stars a customer has rated you. Get to know your customers, and their needs, all in place.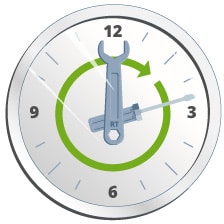 Listen and respond – On the Go! Get timely notifications & online review alerts – anytime, anywhere. We designed your ReviewTrackers dashboard so you can access it with any Web-enabled device: desktop, laptop, smartphone, tablet. You can also choose to be notified by e-mail, and we'll even send you a direct link that you can click to respond instantly to new reviews.