Family law attorneys face many challenges when it comes to growing their law practice.
As a sub-specialty, family law can be highly competitive and not necessarily high-revenue. Depending on your tenure as a family law attorney, you may be looking for ways to grow a new practice from scratch, or secure new clients to replace long-term relationships that have come to an end due to death or relocation.
When it comes to bringing new cases in the door, one of the most effective and least costly rainmaking strategies is to ensure your online reputation is strong, supported by a large number of client reviews, and conducive to local word-of-mouth referrals.
It is easy and tempting to assume that securing additional client reviews is out of your control, but this passive approach will work against your practice and affect your long-term online reputation strategy.
We spoke to several family law attorneys at various stages of their career and captured some of the most effective techniques to improve the level of online engagement on the part of your clients and, consequently, improve the likelihood of securing new referrals through popular review sites.
Already Have a Base to Work From? Consider Promoting Your Online Profiles Offline
If you are fortunate enough to already have a few highly rated online reviews, then consider incorporating mentions of your reviews in the context of offline advertising and via review widgets on your own site.
Include visual marketing aimed at increased recall, such as a small plaque indicating that you are both listed and reviewed on well-known review sites such as Yelp and Lawyers.com. Keep in mind that in the case of a law professional, the official collateral provided by review sites may not be a good aesthetic match to the ambiance of your practice. Consider creating your own collateral using higher quality materials such as metal, or by framing the collateral on wood or metal frames that match the décor of your professional office.
Do Some Pro Bono Family Law Work
There is no better way to build goodwill among your local community and secure excellent online reviews than to do a little pro bono work. 9 out of 10 clients benefitting from pro bono services are likely to leave a highly positive review.
In their eyes, leaving a review is a great way to acknowledge your generosity and, in a small way, give something back to express their gratitude. Consider doing work with local battered women shelters or donating your time and knowledge to adoption procedures.
As a side note, if you do offer pro bono work, then do it in association with a charitable or local organization as the only means of referral. By handling it this way, you avoid having private parties asking for free services and finding yourself in the awkward position of having to decline. Declining pro bono has the potential to backfire as a negative review, even when you have not provided any legal services at all.
Request and Acknowledge Word-of-Mouth Referrals
Build upon your existing relationships by cultivating advocacy. If you have clients that have given you word-of-mouth referrals, then take time to personally express gratitude. A client who feels appreciated and who has already given a word-of-mouth referral will, with little prompting, give you an excellent online referral.
Keep in mind that some review sites permit and encourage your reaching out to clients, while others like Yelp frown upon it.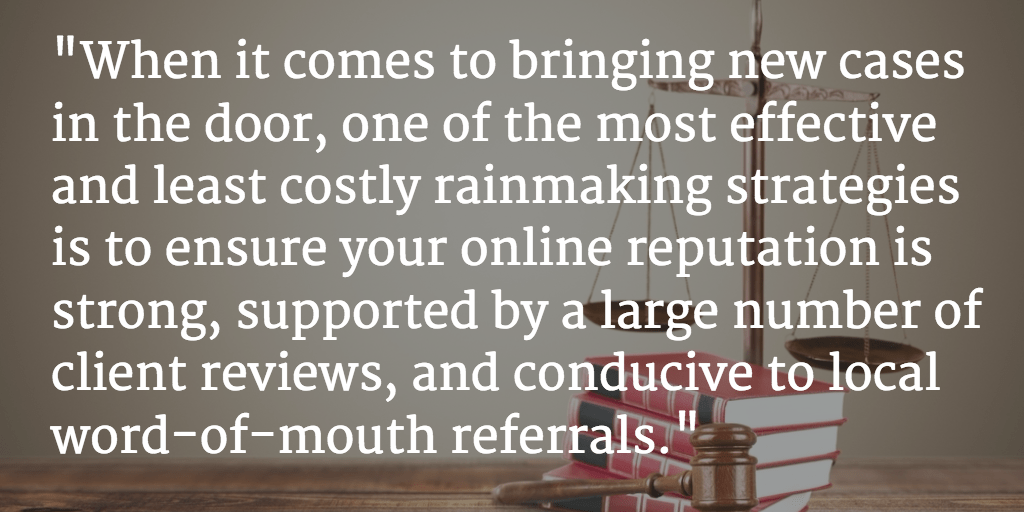 Expand the Nature of Your Practice to Include Positive Life Events
Chances are you won't score a glowing review in association with a negative event, such as a highly contended divorce or a custody battle gone wrong. In order to maintain a constant flow of reviews and increase the likelihood of scoring positive reviews, include areas of family practice that individuals are willing to share with their social network, such as adoption and family immigration.
If your family practice has had significant positive impact on a crucial life event, then you stand a good chance of securing a glowing review. Evaluate your current areas of expertise and expand as opportunities arise. Referrals can oftentimes be great triggers to secure cases that might not necessarily be part of your core practice but lend a good opportunity for increased visibility. 
Provide Expanded Responses to Positive and Negative Reviews
One of the best ways to allow potential clients to take a closer look at your level of expertise in a particular legal area is by providing rich review responses. Responding to reviews is a highly beneficial habit that can significantly impact your marketing efforts in more ways than one. A detail-rich response will allow for those reading your reviews to get a better picture as to your perspectives and approaches in handling legal matters.
When giving responses, however, keep in mind that you are bound by the rules of your state bar as it relates to marketing efforts. Respect client confidentiality and provide either alternate anonymous scenarios or fictitious cases to illustrate examples on your review responses.
Create Enhanced Profiles That List Specific Legal Scenarios
Nothing increases pre- and post-transaction engagement like a well-written, highly informative, up-to-date professional profile.
Take time to draft copy aimed at answering past questions as presented by current and past clients. Make sure shoppers have sufficient information to feel both comfortable and familiar with your family-law practice. Having a great profile can instill confidence and improve recall, resulting in increased ratio of reviews to clients.
Provide Private Final Surveys
Consider gathering your own data while encouraging reviews on popular review sites. Many successful practices send out exit surveys that include language suggesting the possibility of leaving a review at will, and provide a non-linked list of the most popular review sites for attorneys.
An exit survey serves a dual purpose. It allows you to identify issues and correct them with promptitude, and equips your family practice with a way to remind prior clients of your Web presence on a variety of review sites. Having an exit survey is a game changer when it comes to ensuring customer satisfaction and increasing review participation.
If you are at the early stages of your practice and reputation management is starting to take priority you may want to review the top moves to improve your online reputation and consider integrating a review management platform as part of your overall marketing strategy.