Facebook is a great tool for businesses to reach people. But to achieve marketing success on the site, you have to do more than just set up or claim your Facebook business Page.
It also involves more than just posting promotional content or uploading photos, then blasting your personal network of Facebook friends with a request to like your Page.
If one of your goals on Facebook is to raise awareness of your business among people close to your business locations, Facebook local awareness ads can be one of your marketing strategy's biggest drivers.
Facebook local awareness ads are ads shown to people on Facebook or Instagram when they're near one of your locations.
If you have a restaurant, a cafe, a store, a bar, or any kind of brick-and-mortar business with a physical address, Facebook local awareness ads help you reach the people who are literally around your business.
With local context such as the map card and "Call Now" and "Get Direction" buttons, Facebook local awareness ads can be very effective in driving foot traffic, customers, and sales to your business.
What You Can Share in Facebook Local Awareness Ads
With Facebook local awareness ads, you can:
Highlight promotions: Tell people about a promotion or an offer, such as a happy hour or sale. You can also promote local products and give people an incentive to visit your business.
Show the ways you're part of the local community: You can even use Facebook local awareness ads to tell a story about your business roots, or how it all started out. How is your location connected to your business?
Build buzz around your business: Use Facebook local awareness ads to tell your customers in your area about time-sensitive events or promotions, and make your content shareable.
Call-to-Action Buttons: Facebook Local Awareness Ads
There are also multiple types of call-to-action (CTA) buttons you can use in your Facebook local awareness ads.
Get directions. Help people find your business from their phone. This is an ideal CTA button for businesses hoping to increase foot traffic.
Call now. This CTA lets people call your business by simply tapping the ad. It's a great way to engage immediately and directly with potential customers in your area.
Send message. Looking to generate leads? The "Send message" CTA button allows you to get private messages from potential customers directly from your local awareness ad.
Learn more. With this local awareness ad CTA button, you can send people to your website or blog for more information.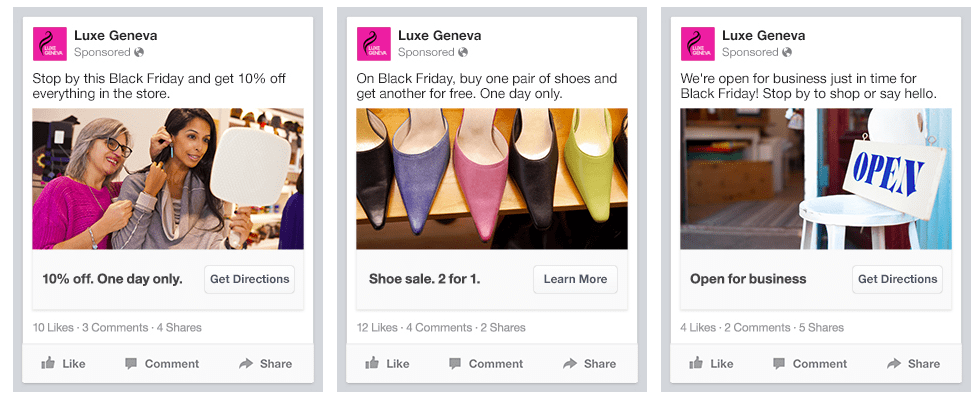 How to Create Facebook Local Awareness Ads
Creating a local awareness ad on Facebook takes just a few steps.
To get started:
Visit your Facebook business Page and look for the option to "Reach People Nearby."
Alternatively, you may head to the

Ads Create tool

on your

Facebook Business Manager

and select "Reach" or "Local Awareness" as your objective. Then select the Page of the business you want to promote. (Advanced advertisers can also access this feature in the API.)
A pop-up box will appear, displaying options for promoting your business locally. Now, it's time to select the audience for your ad and find people in your neighborhood who fit your customer profile:
Radius:

Choose the distance around your business where you'd like to reach people.

Demographics:

Select the age range and gender of your target audience.
Keep in mind that you won't be able to target specific individuals; you can only select locations. At any rate, choosing the right targeting is key. You can target the right people at the right time by experimenting with different audiences and schedules for your ads.
After selecting your audience, you can toggle the "automatic placements" option on or off. Automatic placements allow you to maximize your budget and help show your ads to more people. Facebook's delivery system will allocate your ad budget across multiple placements based on where they're likely to perform best.
After setting this, you can begin to design your Facebook local awareness ad in ways that capture the attention of nearby potential customers.
Select one or more

images

that showcase what you're advertising. You can upload the image, choose one from your Facebook business Page gallery, or get a high-quality one from Facebook's own collection of free stock images.
Add your

text and headline.

Maximum count for your headline is 25 characters, while the maximum is 90 characters for your ad text. Don't exceed the limit; otherwise, your ad's full message may not appear properly on smaller screen sizes.
Finally, choose your

Call-to-Action

. This will help get people to take action as soon as they see your local awareness ad.
Once you have your ad creative all set, you can decide how much you want to spend on Facebook local awareness ads and for how long:
Budget:

Enter a daily budget or a lifetime limit for your ad.
Schedule:

Run your ad continuously or select start and end dates.
When you're ready, click the Place Order button. Your Facebook local awareness ad will start running after it's approved, which typically happens within 24 hours.
Facebook Local Awareness Ad Metrics
After running a local awareness ad, make sure you track its performance and take a look at key ad metrics. This will help you reach more people around your business in future local awareness ads.
Reach and frequency. In Ads Manager, select "People reached" in the chart to see how many people saw your ad and how many times they saw it.
Cost per 1,000 people reached. This allows you to measure the ROI of your Facebook local awareness ad. How do the costs compare with previous campaigns? And how can you refine your targeting and location in ways that maximize the value of your spend?
Button clicks. Once your campaign ends, you'll be able to see button clicks on your Page. Like with audience targeting, remember to test different buttons to see which ones are driving the most engagement for your Facebook local awareness ads.