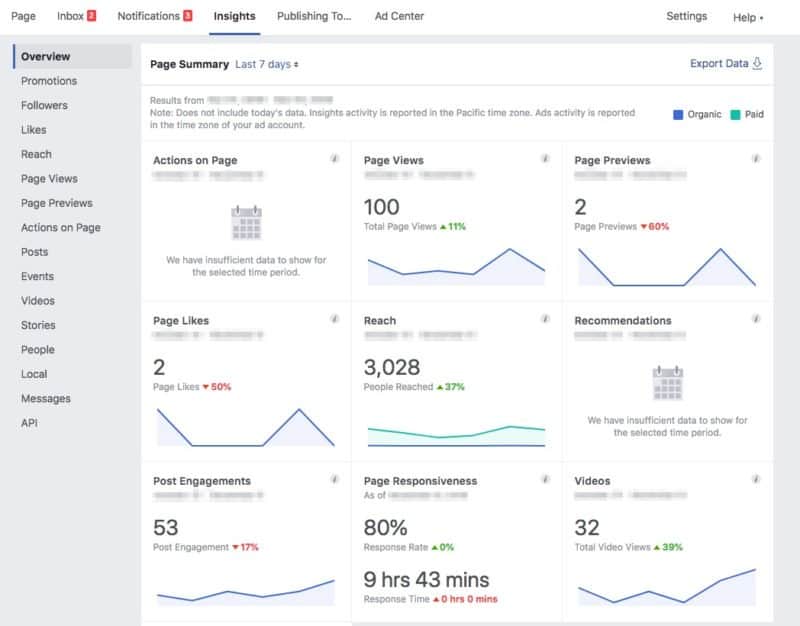 Taking advantage of the analytics available for your Facebook business Page is necessary for a business to succeed in today's digital landscape.
Without it, a business can't gauge the full effect of its content. Analytics also provides a closer look at a business's customer base, which can determine the type of content appropriate for that audience.
Every one of Facebook's 1.49 billion daily active users is unique in some way, and the data they leave behind on a Page can dictate the way you engage with customers. However, the plethora of information can be overwhelming. Here's how to navigate through the noise and decipher the useful data.
Using Facebook Page Insights Analytics
By default, every Facebook business Page includes an Insights tab at the top of the screen. However, Facebook says that it provides the best results for Pages with over 100 likes. As far as we can tell, Facebook gave this number because it's minimum sample size required to provide a bare minimum of accurate analytical data.
Clicking on the Insights tab will take you to another screen. This features multiple sections that correspond to a different set of data that is gathered from people who interact with the Page.
Overview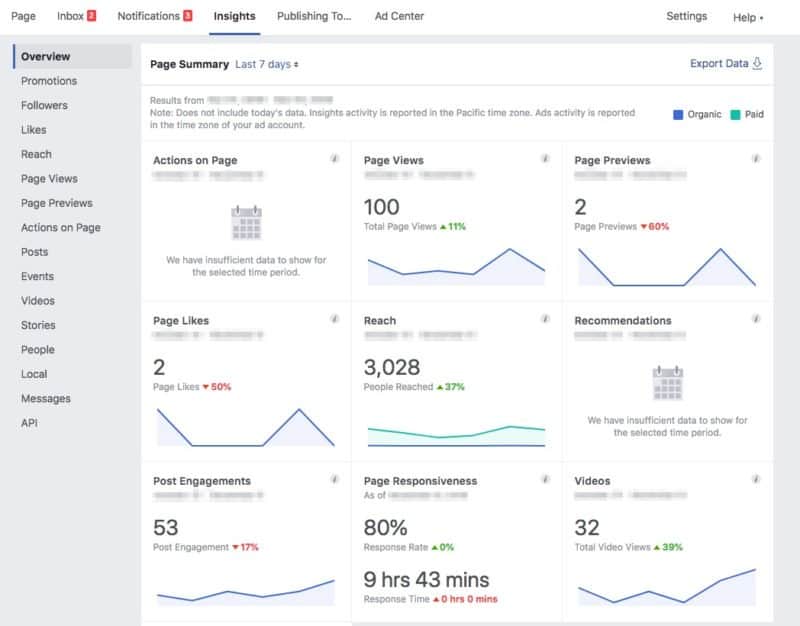 This will be the first section visible to you when you click on the Insights tab. It shows valuable data at a glance such as Page views, Likes, Recommendations, and overall engagement.
You can see all of this data for over the past day, week, or month. You can even see the data gathered for the current day.
There's also an option to export Page-, post-, or video-specific data over a custom date range. You can export this report as a .csv or Excel file.
Promotions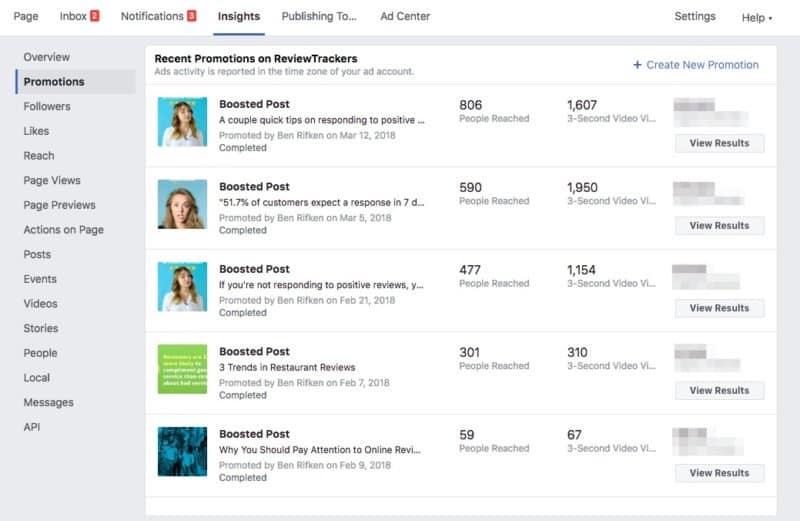 You can put money behind the content on a Page to boost its exposure. The reports from these promotions are gathered in this section. In addition to showing the money spent on Facebook advertising and number of people reached, a more detailed report is also available.
This results page includes a breakdown of demographics, actions taken on the post, and where people found the content on Facebook.
Followers
Most people associate Followers with the number of Likes a Page receives, but they're actually two different metrics. People that Like a Page will automatically follow it, but you can also choose unfollow a Page and still Like it and vice versa.
Those who Like a Page will automatically see new content from that Page. There are also some benefits to following a Page instead of liking it; users can choose to get notifications if the Page publishes new content and where that content appears in their News Feed.
Not only does this section show the current follower count, but it also net follower data (the number of new followers minus the number of unfollows) as well as where you received new followers. You can view this data across one week, month, quarter, or a custom date range.
Likes
Similar to Followers, the Likes page will show the total count of likes to-date as well as net likes and where users liked the Page on Facebook. You can view the data as is or compare it over the previous week, month, quarter, or a custom date range.
Reach
The Reach section shows how many people saw and interacted with your Page. This is measured through Posts, Recommendations, Likes, and Shares. The Post and Total Reach graphs shows your impact in terms of paid and organic content.
You can also see the fluctuation of Recommendations, Likes, Comments and Shares over a custom period of time, and see if people hid or reported your content as spam.
Page Views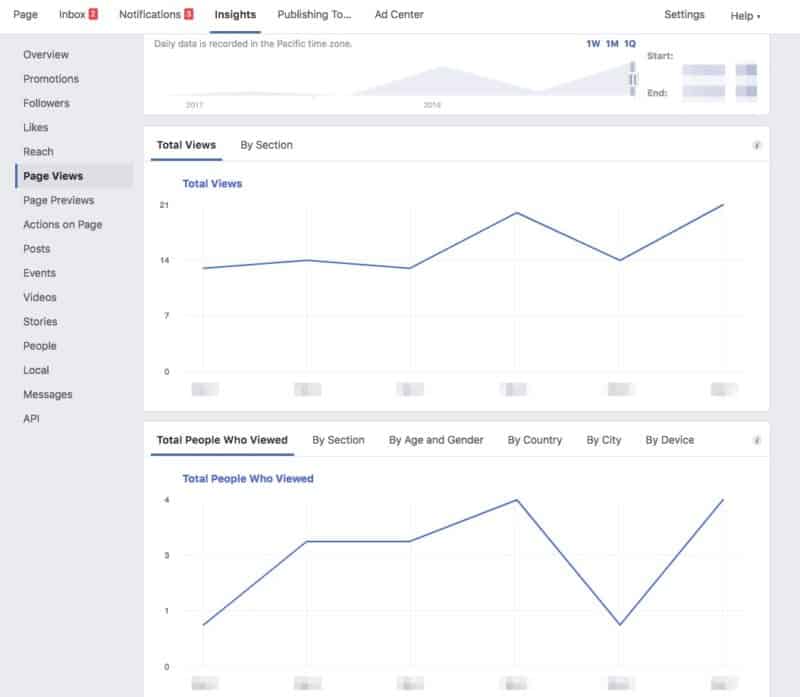 This section's name is deceptively straightforward — it actually provides a wealth of valuable data into the most popular portions of your Page.
At a glance, you can see the total number of Page views and their source. However, clicking on other tabs on the graphs reveals more detailed data. You can see which sections of your Page were viewed the most, and you can find out demographic information on your recent visitors.
Page Previews
While Page views come from those who actually visit your Page, Previews are generated by people hovering over the Page name or profile picture to see a preview of your content.
In addition to seeing the total number of previews, you can also additional demographic data (age and gender) of the people who previewed the Page.   
Actions on Page
Facebook can also track some of the more important clicks from users on Page. This includes clicks on the business phone number, external website, or even directions to the location.
Additional graphs on the page also show the breakdown by age and gender, country of origin, and the device used to click on those links.
Posts
The Page's entire history of Posts is shown here, but more importantly it shows when those who Like your Page are online. This is helpful data when it comes to scheduling new content.
Other tabs include additional data on the type of posts created and their overall engagement. You can also check on the top Posts from other Pages you watch, which should help you create better content that can beat the competition.
Events
Businesses that host events will find this section useful. With every event created, you can see its current impact by looking at the number of people reached and views of the event page. You can also get data on who responded to the invite or took an action on the event page.
There are also demographic data available on your current audience, which should help with creating a better event that caters to your main audience.
Videos
Like the Posts section, Facebook will show the full list of videos on your Page, which puts the most successful video at the top of the list. However, that isn't enough to see if your videos are successful.
Additional graphs on the page reveal the total number of minutes viewed across a custom data range, and Facebook automatically compares that data over the previous period of time.
Stories
Facebook added its Stories feature as a quick way of showing photos and videos to users  (although it's another way of competing with Snapchat's own Stories feature).
Even though the Stories you add disappear after 24 hours, you can view the analytics data on them for the next 14 days. You'll see data on factors like its overall distribution, positive or negative engagement, and demographic information on the audience reached.
People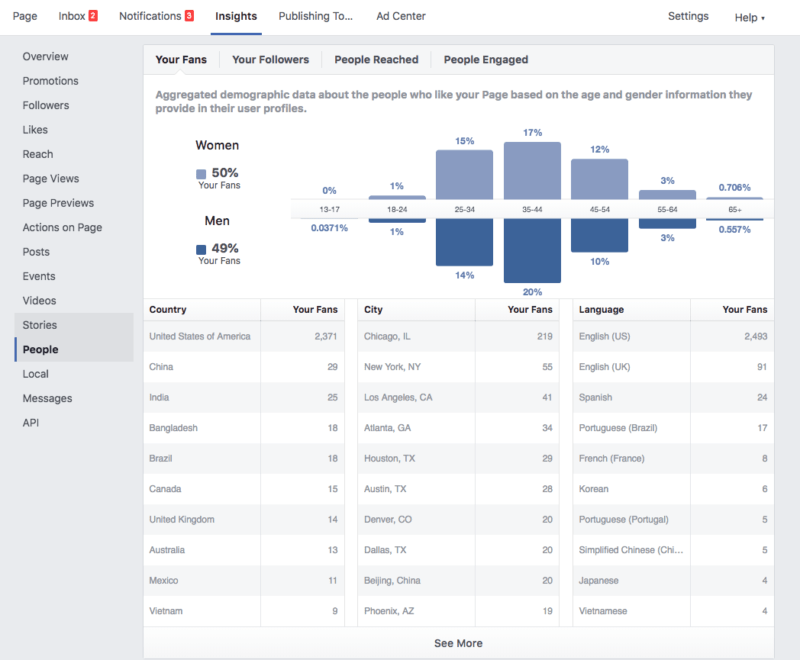 We keep mentioning demographic data across different analytics sections, but the People section is where you'll get the most insight into who is looking at your Page.
The data presented shows a percentage breakdown of fans, followers, and other people reached based on gender and age range. You'll also see their country and city of origin as well as their primary language. All of this data can help you create content that attracts your main audience while also casting a wide net to increase awareness of your Page.
Local
Businesses focusing on local exposure can use this section to better target those in close proximity to their location. You'll see valuable user data such as age, gender, and their general home location, which should help you create content that specifically caters to these people when they're just a few feet away from the business.
Messages
Some users might use Facebook's Messenger feature to reach you because they expect a faster and more direct interaction. With Messaging Insights, you can see how many people were contacted through Messenger.
You can also see the "blocked" or "reported" connections, which could indicate that some people prefer not to use Messenger to interact with the business.


Using Analytics for Multiple Pages within Facebook Business Manager
Page Insights are all about user engagement on a specific Page, but those using Facebook Business Manager (FBM) can also look at another set of valuable data. In the "Analytics" page, which is under the "Measure & Report" section of the main menu, FBM users can see data that pertains to the overall customer experience.
Those managing multiple location Pages will benefit the most from FBM's analytics because you can view analytics data from multiple Pages at once by creating an Event Source Group. Just click the button of the same name on the top-right corner of the Analytics page and select the Pages you want to view as a group.
By default you'll see data from a predetermined time period that encompasses all of the people that interact with those Pages. However, you can tell Facebook to show data from a custom date range and segment of people such as information on the top 10 percent of users of the Pages selected based on Reactions over the past month.
You can make these custom filters by clicking on the various dropdown options available on the top of the Page. We'll go into detail about each of the major sections of the FBM Analytics page below.
Overview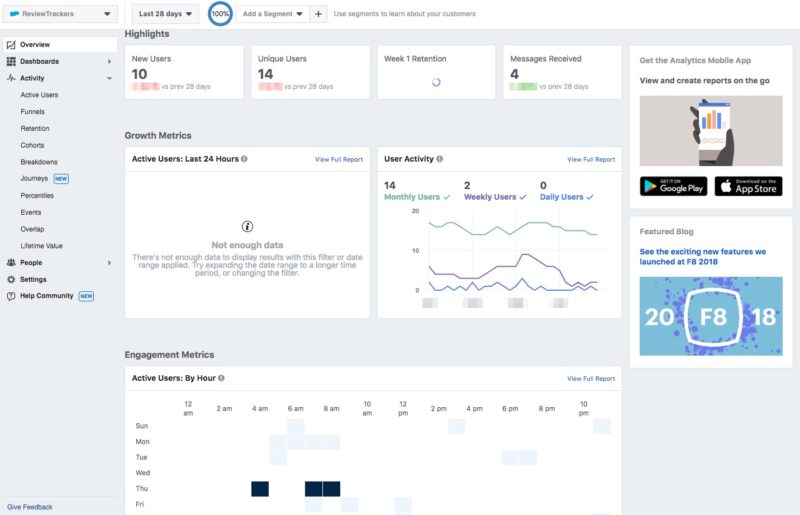 You'll be greeted by this section every time you visit the Analytics page. It provides a general overview of various metrics that heavily impact each Page's performance.
This includes data on the number of new and unique users, overall activity, and engagement. There's also Page-specific metrics available for Reactions, comments, and Shares on posts as well as the number of messages sent by you to users.
Dashboards
There's plenty of information available through FBM Analytics, but you can focus on the important metrics by creating a custom dashboard. You'll need to give a dashboard a name before choosing the data points to monitor.
Activity
A majority of the metrics you want to see is found in this section, which includes data on user activity, the customer journey, and even their projected lifetime value to the business.
Active Users
As the name suggests, this sections focuses on user interaction on your Pages.  You'll also see the number of unique users and filter the data based on the device used, mobile carrier, and even the size of the screen. Basic demographic data (age and gender) is also displayed here.
Funnels
The customer journey from discovery to purchase is best described as a funnel, and you can view that data in this section. However, you'll need to create and manage the funnel data yourself.
With a structure in place, you can track a user's conversion rates and completion times across multiple actions on a Page. You can choose to create a funnel that encompasses all visitors to  a Page, but it's best to create a funnel that tracks specific segments of people.
Retention
Customer retention is important because it shows that people continue to like and support your product. With this data set, you can monitor user behavior and see if any new changes or updates to your offerings affect the overall retention rate. With the data available, you can make informed decisions that can bring in more loyal customers.
Cohorts
Monitoring Cohorts – a.k.a. groups of people performing the same action on your Page – can help you enhance or change the customer journey through the funnel. For instance, you can create a cohort data set that tracks users on your Page who interact with a specific post or video.
By tracking this particular group, you can track what other actions they perform on your Page that could potentially lead to a purchase. Keep in mind that you have to create a custom Cohort group, but you can always edit its parameters or delete it entirely.
Breakdowns
You can use this section to get a detailed summary of how specific people interact with your Pages. You can choose up to three data points to monitor in one Breakdown sheet. Similar to Cohorts, you will need to create each Breakdown, but you can also edit and delete it in the future.
Journeys
Funnels focus on the customer path from discovery to purchase, but you can use Journeys data to monitor specific conversion events. Facebook measures the data over the past 30 days,  which can take a few hours to compile.
When it's done, you can view multiple metrics such as the total number of converting and non-converting events, the number of sessions in each Journey, and the percentage of converted Journeys.
Facebook says that the metric is still in beta, which means that the way Journeys are measured can change over time.
Percentiles

This section focuses on the percentage breakdown of user activity across different actions such as Post Reactions or Messages sent.  You can select a specific action to track within the dropdown menu. However, you can only view data for one action at a time.
Events
The Events section tracks specific actions taken by users on your Page. It could be anything from starting a new conversation to posting a Reaction emoji.
All of the data is displayed on a table, which shows the overall count of each action, the percentage difference month-over-month and the number of unique users that performed that action. This type of data can help you create content that involves a popular user action on your Page.
Overlap
Facebook created this metric to help you track customer actions on your Page across multiple platforms and devices. The data gathered is then displayed in a Venn diagram. By creating opportunities for engagement for an area of the diagram that is heavily favored by users, you can entice them to spend more time on your Page.
Lifetime Value
Here you can see the revenue gained from those who used your offerings after they viewed your Page. You can view this value for all customers across your entire customer base, but you can also create segments to see the value of a customer based on criteria such as gender or age.
In order to track this, you'll need to activate Purchase events on your product page or another online location where you sell the product. You can track this event with Facebook's Pixel, which is a piece of code that helps you track metrics on other websites.
Demographics

This contains similar data to the People section within Page Insights, but it's still worth a look from time to time. Knowing a Page's audience is important because the content needs to cater to those in a specific demographic.
Without this data and all the other ones above, it will be difficult to find a specific audience that is a fan of the business and products or services it provides. By analyzing numerous metrics, and staying on top of reviews, a Facebook business Page can become a well-known brand with a loyal group of followers.