Data from Crayon's 2019 State of Competitive Intelligence Report reveal that 41% of respondents "strongly agree" on the integral part competitive intelligence plays in the success of their organization.
Implementing the right competitive intelligence strategy can do wonders for your brand. Not only does a sound strategy help identify new opportunities to differentiate your company from rivals, it provides better customer insights, which can improve customer acquisition efforts.
Regardless of the specifics of your company's competitive intelligence plan, your team can simplify the entire process in three steps.
Competitive Intelligence Step 1:‌ Identify the Competition and Gather the Right Data
Gathering actionable information from rivals first requires identifying the right competitors. In some cases, this might be a local company offering similar products or a corporation with a larger customer base. Your list of competitors will fall into one of the following categories (we suggest finding between 5-10 companies for each category):
Direct Competitors
The easiest way to figure out the competition is to create a list of companies in your industry that attract the same customers as you.
On a daily basis, your brand is up against these direct competitors offering similar products or services at varying prices and quality. The information you gather from your competitive intelligence strategy can help you find major differentiators to stand out in your market.
Indirect Competitors
Sometimes you'll have businesses in the same industry as yours but you both attract different clientele. One example of this is fast-food chains and Michelin-star establishments. They're both in the restaurant industry but serve different types of diners.
Despite the different types of customers it's important to keep tabs on these indirect competitors. Their tactics for maintaining a great online reputation and a successful customer acquisition strategy can vary in scale and scope yet still work for your company. Taking note of their methodology and finding the foundational key to their success can work wonders for your organization.
Competitive Intelligence Step 2:‌ Gather the Right Data
Now that you have an idea of your competition, you can begin to conduct competitive intelligence research to analyze and present to stakeholders.
There are plenty of sources that contain information about your competitors, but you'll need to narrow your scope to filter the noise and extract the pertinent data. Specifically, there are three major sources that are easily accessible and provide plenty of valuable information.
Social Media
Being on social media is one of the easiest ways to gain knowledge on your competitor's strategies. Findings from Hootsuite show that more than 40% of consumers use social media to conduct research on new brands, and companies are using these platforms to meet demands. Specifically, businesses utilize between four to ten social media accounts, and 77% of brands foresee their use of social media to increase in the future.
Look out for posts on upcoming products or features, or watch how brands engage with customers on various platforms. Monitoring these trends can provide insights on an organization's overall direction and the current state of their social media reputation management efforts, both of which can dictate the current customer sentiment.
Company Website
In some situations, a company's own website contains a treasure trove of information. Make sure your team is asking the following questions during research:
What is the type of audience your competitors want to attract?‌
Which products or services are they highly promoting and why?
Do they have any major differentiators that help them stand out from other companies in the same industry?
Specifically, have your team look at competing product pages. Read the copy to see how they position their product or service to customers. Pages with pricing information are also worth investigating to see if your company can provide a better product or service at a lower cost.
Customer Reviews
Perhaps one of the best ways to learn about your competitors is through their own customers, specifically their reviews in place like their Google business listing. Customer reviews research shows that 63% of customers check Google before visiting a business.
Find out what customers liked about their experience with the competing brand and see if you can find ways to emulate or improve it for your own strategy. It's also worth noting to see if the company engages with customers through reviews. Taking the time to properly address issues or thanking customers for their feedback is a factor in customer acquisition and retention.
Competitive Intelligence Step 3:‌ Analyze the Data and Present to Stakeholders
With enough competitive intelligence data at your disposal, your team needs to properly analyze and present it in a way that everyone who sees it gets the most out of your research. When analyzing data, keep these questions in the back of your mind to make your findings more meaningful to key stakeholders:
How can this competitive intelligence research influence my marketing and sales strategies?
What insights can our product team gain from the way our competitors position their own offerings?
Do customer reviews reveal different ways for us to better stand out from the competition?
Before presenting, make sure that decision-makers walk away with a clear idea of the research data and how to use it to improve the company's offerings, exposure, and online reputation. The worst thing to happen in these presentations is that your stakeholders are confused about the findings and don't leverage it to improve the brand.
Make sure to also update the competitive intelligence research on a regular basis. The data gathered today might not be relevant in a few weeks or months, and outdated information could derail your efforts. The time spent can yield revenue benefits. Crayon's 2020 State of Competitive Intelligence Report shows that 71% of teams that shared competitive intelligence daily saw an increase in revenue as a result of their efforts.
7 Essential Competitor Analysis Tools For Your Team
Manually monitoring and analyzing competitors' reviews can take up valuable time and resources, but your team can utilize specific competitor analysis tools to make the entire process easier.
Competitor Insights and Analytics by ReviewTrackers: Analyze Competitors' Reviews
The competitive data and insights tools by ReviewTrackers can evaluate the performance of top competitors on websites showing online reviews, which your team can use to gain insight on a rival's shortcomings while also improving the customer experience for your brand.
The tool also allows you to track your brand reputation, compare your latest or historical activity on online reviews with that of your competitors, and create custom reports for stakeholders and decision-makers in your organization.
The tool also includes a visual chart, which can help track the company's average ratings and amount of reviews against the competition. Organizations with multiple business locations can also use the charts to see which locations are performing well or need more attention.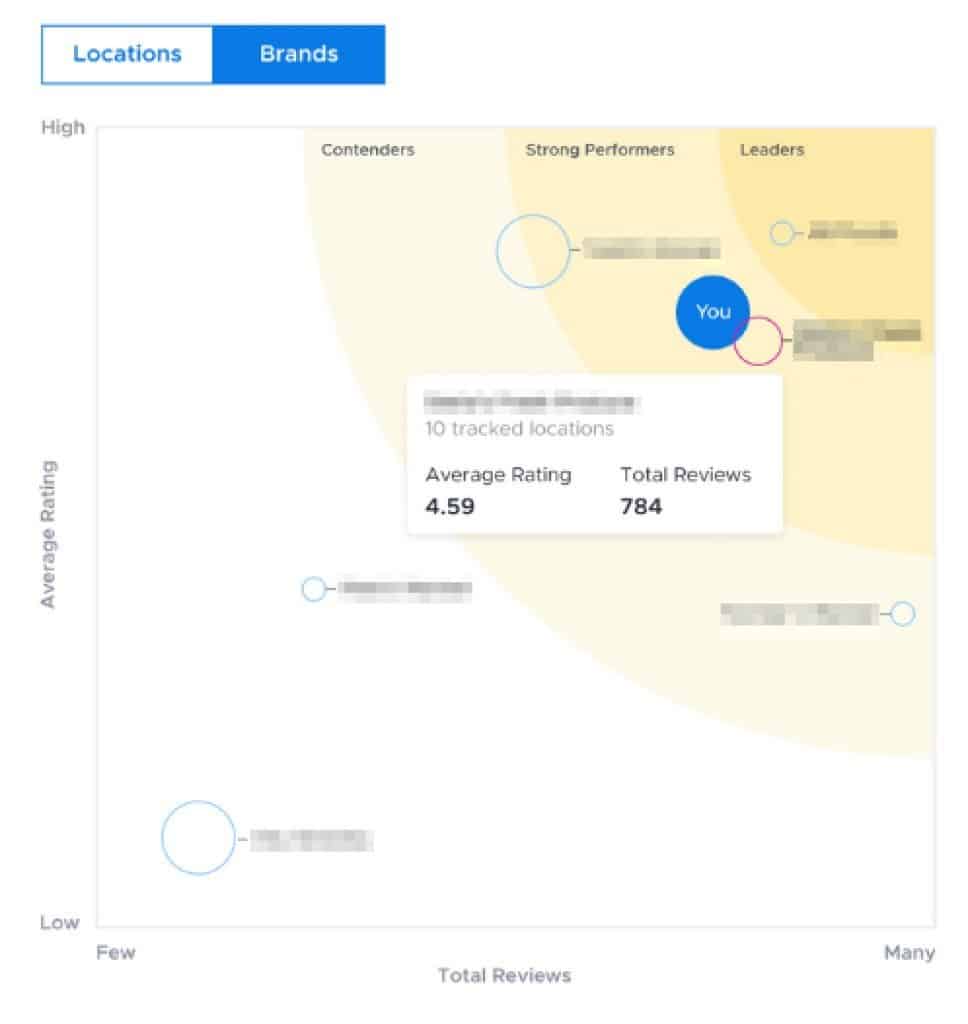 VIsit this page to request a demo of ReviewTrackers.
Owler: Analyze Competitors' Business Information
Owler is an all-in-one competitive analysis tool that provides a "Daily Snapshot" or update of your competitors based on multiple online sources.
The platform specializes in delivering accurate, real-time community-driven business information, which helps your team uncover the latest industry news and alerts. It also provides a profile of competitors with details such as their changes in funding, leadership, and acquisitions.
Sign up for Owler with a basic free plan or paid Plus or Pro plans.
Google Alerts: Analyze Competitors' Brand Mentions
While not necessarily built for competitive intelligence, Google Alerts can be valuable when it comes to staying top of competing trends and insights. This is extremely useful when you want to easily track product changes, new content, and major news about an organization.
Google Alerts can also work alongside Google Trends, which lets you access real-time data in order to gauge consumer search interest in your brand and your competition.
WooRank: Analyze Competitors' Website Performance
Apart from visiting rival core web properties, you can gather more data on their websites' performance by using a tool like WooRank.
This digital marketing and competitive analysis tool shows how your company stack up against competitors in terms of technical SEO, site performance, usability, keyword usage, backlink quality, and even social media engagement. You can sign up for a 14-day free trial of WooRank, and then opt into its various monthly plans.
Talkwalker: Analyze Competitors' Social Media Performance
Talkwalker is a competitive intelligence tool that keeps a close eye on specific social media trends, identify valuable content to use for blogs, and monitor your brand's popularity through image recognition.
It even includes a free social search tool for tracking campaigns and hashtags (as well as that of your rivals). If you need a more comprehensive data intelligence and social media analytics tool, you can sign up for the paid versions of Talkwalker.
Visualping: Analyze Competitors' Website Updates
What changes are competitors making on their websites and digital properties? Visualping is your tool for finding out.
It takes periodic screenshots of websites then compares them for any changes. If any drastic changes are noticed, Visualping will send you email alerts or notifications through its mobile app. That way, you can track if your competitor updates its seasonal promotions, product inventory, prices, or availability so you won't have to keep track of these yourself.
MailCharts: Analyze Competitors' Emails
It's even possible to gather competitive intelligence on the competitions email marketing efforts through MailCharts, which saves time by secretly subscribing to a competing company's emails. This tool not only grabs subject lines; it also pulls data such as send frequency and helps compare your team's campaigns versus that of your rivals to see how your customer-facing emails perform.
You can visit this page to sign up and create your MailCharts account.
Optimize Your Competitive Intelligence Strategy
Competitive intelligence and analysis is an essential step to making a company truly unique.
By following the steps above, your team can easily start developing and implementing an effective strategy. Identifying a short list of competitors and narrowing your competitive intelligence focus to specific elements of rival brands can make research shorter and more meaningful.
Over time, your competitive intelligence strategy will evolve to include new competitors, new competitor analysis tools, and different areas of focus. However, you should still focus on making your findings relevant and impactful so your team can find ways to make the company stand out in the industry.