See customer feedback from over 100 review sites in one place
Request a demo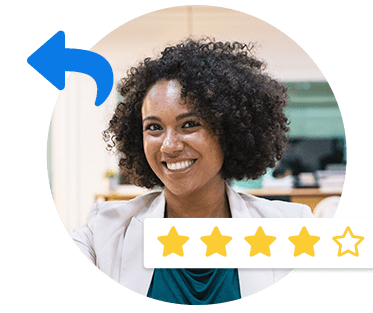 The practice of competitive intelligence continues to be a strong initiative for businesses of varying sizes. Data from Crayon's 2019 State of Competitive Intelligence Report revealed 41 percent of the people surveyed for the report "strongly agree" on the integral part competitive intelligence plays in the success of their organization.
At first glance, conducting your own competitive intelligence strategy might be a daunting task. However, you can simplify the entire process in three steps.
What is Competitive Intelligence?
According to Fuld and Company competitive intelligence is the:
"…collection and analysis of information to anticipate competitive activity, see past market disruptions and dispassionately interpret events."
When done correctly, the competitive intelligence gathered can help you plan a better marketing strategy, make you more appealing to prospects, and improve your online reputation.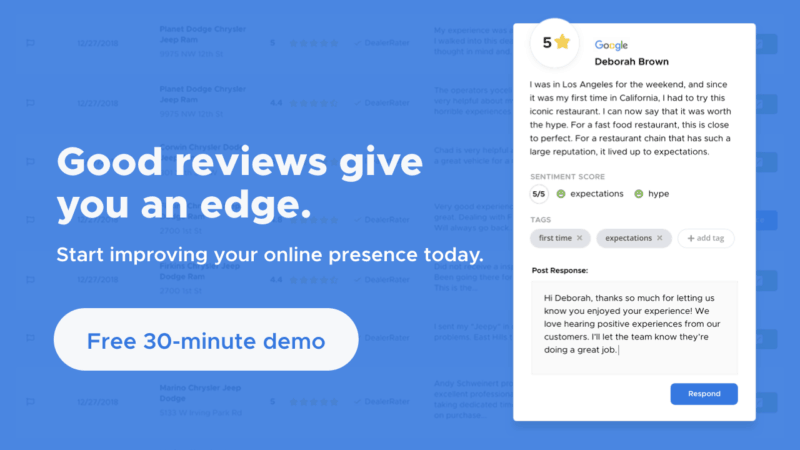 Competitive Intelligence Step 1:‌ Identify the Competition and Gather the Right Data
Gathering actionable information from rival businesses requires you to look at the right competitors. In some cases, this might be the store next to you or a specific company based on the other side of the planet. Your list of competitors will contain plenty of businesses, all of which fall into one of the following categories (we suggest finding between 5-10 business for each category):
Direct Competitors
The easiest way to figure out the competition is to create a list of businesses in your industry who attract the same customers as you. On a daily basis, your brand is up against these direct competitors who offer similar products or services at varying prices and quality. The information you gather from your competitive intelligence strategy can help you find major differentiators to stand out in your market.
Indirect Competitors
Sometimes you'll have businesses in the same industry as yours but you both attract different clientele. One example of this are fast-food chains and Michelin-star establishments. They're both in the restaurant industry but serve different sets of diners. However, it's still important to identify and keep tabs on these indirect competitors. Their tactics for maintaining a great online reputation and attracting new customers can vary in scale and scope yet still work for your brand.
Aspirational Competitors
Learning from the best can help your business grow in the long run, which makes it imperative for you to track these aspirational competitors. These are businesses that you aspire to compete with in the future (hence the name), but you're currently not at their level of in terms of revenue, audience, or even exposure. These businesses built a roadmap for their success, and you can take a few initiatives from their playbook to grow your business's exposure and reputation.
Competitive Intelligence Step 2:‌ Gather the Right Data
Now that you have an idea of your competition you can begin to conduct competitive intelligence research to analyze and present to stakeholders. There are plenty of sources that contain information about your competitors, but you'll need to narrow your scope of inquiry to filter out the noise and extract the pertinent data. Specifically, there are three major sources that are easily accessible and provide plenty of valuable information.
Social Media
Findings from Hootsuite show more than 40 percent of consumers use social media to conduct research on new brands, and companies are using these platforms to meet those demands. Specifically, businesses utilize between 4-10 social media accounts, and 77 percent of brands foresee their use of social media to increase in the future.
The need for brands to be on social media is one of the easiest ways to gain knowledge on your competitor's strategies. Specifically, be on the lookout for posts on upcoming products or features, new partnerships, and the way they conduct customer engagement. Keeping an eye on these changes can give you insights on the company's overall direction, areas where they might lean on partners to make up for weaknesses in their product, and the current state of their customer sentiment towards the brand.
Company Website
In some situations, a competitor's own website contains a treasure trove of information. A company's website aims to inform and attract prospective customers so approach your research as if you're the customer. What is the type of audience they want to attract?‌ Which products or services are they highly promoting and why? Do they have any major differentiators that help them stand out from other businesses in the same industry?
A great place to start on a competitor's website are the product pages. Read their copy to see how they are positioning their product or service to customers. Pages with pricing information are also worth investigating to see if you can provide a better product or service at a lower cost to customers.
Customer Reviews
Perhaps one of the best ways to learn about your competitors is through their own customers, specifically their reviews. A great place to check for customer reviews is on a competing brand's Google My Business listing. Research shows 63 percent of customers check Google before visiting a business and it's because of Google's reputation as the top online review site.
It might be easy to just look at your competition's negative reviews because it can show flaws in their offerings (and 94 percent of consumers avoided a business because of a negative review), but it's also worth looking at their positive feedback. Find out what customers liked about their experience with the brand and see if you can find ways to emulate or improve it for your own strategy.
Manually monitoring and analyzing competitors' reviews can take up valuable time and resources. However, there are competitive intelligence tools available that make the entire process easy to view and analyze. Specifically, ReviewTrackers' Competitors feature includes a visual graph to show the change in your competition's overall rating and number of reviews over time. You can also use the tool to narrow your focus and choose specific competitors to track. 
Utilizing Competitive Intelligence Tools
The entire research step can be the most time-consuming part of your competitive intelligence strategy. However, research shows the time spent on research decreased by five percent between 2018 and 2019, and it's due to the rise of new competitive intelligence tools that make the workload easier for you. Here are a few tools to get you started on your strategy:
Once you have the data you need, you can easily export it in a PDF‌ or CSV‌ file to make it ready for presentation. Speaking of which…
Competitive Intelligence Step 3:‌ Analyze the Data and Present to Stakeholders
At this point you should have plenty of competitive intelligence data at your disposal, but you'll need to properly analyze and present it in a way that everyone who sees it gets the most out of your research. When analyzing the data keep these questions in the back of your mind to make your findings more meaningful to key stakeholders.
How can this competitive intelligence research influence my marketing and sales strategies?

What insights can our product team gain from the way our competitors position their own offerings?

Do customer reviews reveal different ways for us to better stand out from the competition?

Presenting Understandable, Meaningful, and Actionable Data
When the time comes to present you can do so in multiple ways. Crayon's 2018 State of Market Intelligence Report showed an overwhelming majority (84 percent) prefer to share competitive intelligence via email. Additional data shows meetings (61 percent) and internal chat services (32 percent) like Slack, are also popular options for sharing your research.
Regardless of the method you choose make sure the people you present to walk away with a clear idea of your research data and how to use it to improve your brand's offerings, exposure, and online reputation. The worst thing to happen in these presentations is if your stakeholders are confused about your findings and don't leverage it to improve the business.
You should also update your research on a regular basis. The data gathered today might not be relevant in a few weeks or months, and outdated information can easily derail your efforts. Crayon's findings show 28 percent of competitive intelligence researchers will update data when they have the time to do so. However, 36 percent wish they could update their research information on a weekly basis.
Optimizing Your Competitive Intelligence Strategy
By following the steps above your first steps in competitive intelligence won't be as difficult as it seems. Identifying a short list of competitors and narrowing your competitive intelligence focus to specific elements of rival brands can make research shorter and more meaningful.
Over time, your competitive intelligence strategy will evolve to include new competitors and different areas of focus. However, you should still focus on making your findings relevant and impactful so your team can find ways to make the brand stand out in your industry.