Download 43 free review response templates for negative and positive reviews
Get the templates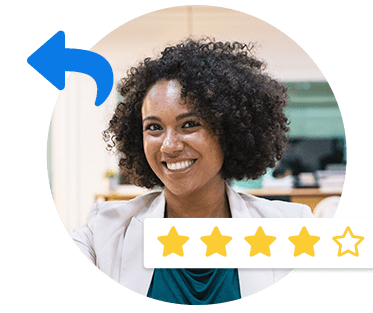 Do you know what the most popular mobile game of all time is?
Here's a clue: it was released last Tuesday. Need more clues? It was first a video game for Game Boy in 1996. Then, a trading card game. Then it was brought to life… in the form of a cartoon.
Now, Pokémon is back, reimagined in a way that is making waves for local marketers across the country. At its current rate of growth, Pokémon GO is on track to pass Snapchat. Now, every marketer in the know is scrambling, asking the question: how do I use Pokémon Go for my marketing?
If you haven't heard of Pokémon Go, here is a quick primer:
Pokemon Go is a location-based game available for Android and iPhone. Using the Google Maps API, players traverse an augmented map with an avatar, powered by GPS. Specific points and recognizable locations are either "Gyms," where users go to fight or "Pokestops" where users go to find more resources. The main point of the game is to catch Pokémon, which is done using the phone's camera and projected creature. Users then toss poke balls at the creature, hoping to capture it and use it later in battle against other users. Pokestops and Gyms can be anything from a church to a park bench. 
Pokemania is Here
Pokémon Go is going to help you attract and keep customers this summer. Its popularity has reached levels never before seen, overtaking Twitter in users after just three days. Still only released in the United States and a few select other countries, the initial roll-out this week has been plagued by technical issues for the new game. Servers continue to crash under the heavy stress of potential Pokémon masters trying to "catch 'em all." 
Other issues over safety, privacy concerns and battery life are also noteworthy, but the overall feeling of the game's popularity can only be described as a "fever." It seems no one can stop it. Some employers have taken issue with the game's use in the office, as well as government locations such as Arlington National Cemetery and the U.S. Holocaust Museum. 
Pokémon Go for Local Marketing
As local marketing professionals, we're now tasked with the unthinkable: how can I use Pokémon to improve my local marketing? As much as you can't believe you're reading this, I can't believe I'm writing it.
Here are 3 ways to do it:
Use It as a Community Building Event
Matt Ham, marketing specialist at Computer Repair Doctor is using Pokémon Go events for local exposure.
"We have stores in Tallahassee, Raleigh, and Orlando and all of them are running Pokémon Go events to give our business some local exposure."
In Tallahassee, Computer Repair Doctor is co-sponsoring a Pokémon bar crawl, where Pokémon players go from lure to lure along a popular bar strip and stop in at local bars along the way. 
"We're providing a mobile charging station at each bar, so Pokémon players can charge their phones while they get a drink," Ham said. "In Raleigh, we've created a double lure at a Pokestop in our retail shopping complex, and set up a tent with snacks and giveaways in the parking lot (see picture attached)."
They are also promoting the event through social media and word of mouth.
"In Orlando, we're working to set up a Pokémon event this weekend where we will setup lures at different local businesses every 30 minutes, and partner with those businesses to participate in the event with us. The whole idea is to give Pokémon players a place to go, while we raise our brand exposure among the players."
Other ideas for branding your business as a Pokémon-friendly community location is to give away Pokémon-themed swag like stickers or t-shirts, discounts for purchasing, or pushing social shares and user-generated content.
2. Use a Lure to attract customers (and Pokémon)
A critical monetization feature of the game involves buying "lures" to attract Pokémon near in an effort to catch them. These Lures can be used at a pokestop (select location on the map) and ironically tend to lure Pokémon masters as well. 
Daniel Klotz, senior strategist at marketing agency YDOP, said it's best if businesses use Pokémon Go as an opportunity to connect with customers.
"Lure Modules are designed to attract Pokémon, but we've found that they're even more effective at attracting people, by a ratio of better than 3 to 1."
To identify whether your business is a gym or Pokestop, you can use the map here after a quick sign-up process. (You first must install the Ingress app on your phone and sign in using a Google account.) A better solution may be to simply signup and login to Pokémon Go and see if there a structure on your business. There are only two structures (so far) on the map, and either one will likely attract new customers. 
Purchasing a Lure Module is, to put it bluntly, cheap. For $100 you're able to buy 21 lure 8-packs (discounted for bulk orders.) With these 680 lures, you're able to constant attract Pokemon for 84 total hours. That means, for $1.19 an hour, you're able to attract customers for 30-minute intervals, almost guaranteeing new foot-traffic. 
3. Become a Pokemon Master
Foley's Bar and Grill in Chicago put out a sign in front of their store that said "Free Pokemon with drink purchase," as a marketing ploy. Katie Regan, bartender at Foley's Bar and Grill, said people were coming into the bar, catching Pokemon, and not buying anything, so they put up the sign.
It's an excellent time to use the marketing skills you already have. If you're adept at referral programs, offer your customers a discount for social shares at your location. Photos of rare Pokémon are worth their weight in gold, at least according to Professor Oak.
Citizens Bank of Edmond encourages Pokemon Go users to stop by their bank lobbies to catch lured Pokemon, share on social, and enter a giveaway. They understand that the best way to understand this new customer to chat with them face to face.
Customers… Gotta Catch 'Em All
Over 20 years after it became popular, Pokémon has entered the era of social media. The app has become a sensation for smartphone users of all ages and is sending them running through their neighborhoods with hopes of catching the rarest Pokémon. This is leaving the boldest local marketers with an opportunity to make an impact, to strike when the iron is hot.