Download 43 free review response templates for negative and positive reviews
Get the templates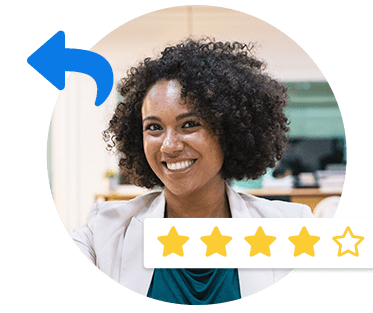 This article was written by Kyle Thacker, marketing director for Uncorkd, a digital menu and beverage management service.
A business' online reputation is increasingly important. This is especially true for restaurants. Regarding potential diners, 55 percent of adults read online reviews before visiting a restaurant.
Unfortunately, the twee and trendy Edison bulb light fixture brightening your restaurant's entryway won't be the first impression you give your guests. It could be your website, or more likely, it will be a Yelp reviewer and those pesky red and white stars.
See also: "5 Hilarious Examples of How NOT to Respond to Online Reviews"
So how can you ensure that your online reputation is as respected as your real-life reputation? One strategy is proper training and consistent steps of service. Let's dive into the type of training you'll need to prevent negative reviews.
Walk the Walk: Following the Steps of Service
Most bad reviews aren't responding to a fly in the soup or an overdone steak. Results from a study led by Stanford professor Dan Jurafsky found that most negative restaurant reviews come from instances of "service-related trauma."
This "trauma" refers to instances of poor customer service that leaves diners feeling neglected, ignored, or undervalued. It's worth remembering that a negative review is just the communication of a bad experience, so your goal in fighting bad reviews is to eliminate bad experiences, not bad reviewers.
Training staff to following proper steps of service is a great practice to avoid service-related trauma by making sure that your guests are receiving adequate attention.
What are steps of service?
Steps of service refer to the routine that servers and bartenders will follow when taking care of every guest that they serve. These steps will leave guests feeling appreciated, and will help staff spot any potential issues that may crop up during service.
Here is an example outline for steps of service.
Greet Guest

: Introduce yourself to the guest or table. Ask if they've dined with you before or if this is their first time in. Quickly review menus and give guests a chance to look them over. When leaving guests to review menus, tell them "I'll be right back to take your order" so you've set the guests' expectations for what will happen next.

Drink Order:

Return and take drink order. Inform them of any specials, or favorite items that shouldn't be missed on the food menu. Inquire about potential allergies or unique requirements they may have.

Deliver Drinks:

Drop drinks to table, ask if they are ready to order food. If not, give them a few minutes and again use the phrase "I'll be right back to take your order" before leaving.

Food Order:

Make sure they are enjoying drinks. Take food order, and repeat order back to each guest to confirm you've taken the order correctly.

Table Touch:

This should come before the food arrives. See if anyone needs another drink, wants to add food, or has any issue.

Deliver Food:

Make sure you are aware of when food is dropped at your table. Coordinate with the kitchen or food runners. Make sure each guest is set up to enjoy their meal.

Table Touch:

Follow up with guests to make sure the food meets expectations. Offer another round of drinks.

After Dinner:

See if guests are finished with dinner and if they are interested in ordering dessert, coffee, or a digestif.

Pre Check Drop:

Before bringing guests the check, confirm that they are ready for it by directly asking, "Are you ready for the check?" This ensures that your guests are finished and also ensures that the restaurant is not missing out on potential sales.

Check Drop:

Thank guests for coming in and invite them back. Reiterate your name when saying thank you. For example, "Thank you for dining with us tonight, please visit us again. My name is Kyle and I'd love to take care of you again when you come back." This adds a personal touch to service, which is a good thing to add moments before guests decide on a tip.
Talk the Talk: Open Communication Channels
How restaurant staff manage guest complaints or service issues is vitally important to good customer service.
Managers should train their staff on appropriate responses to common issues, and also create a culture of open communication. Open communication gives staff the okay to alert management about any issue and find the solution as quickly as possible.
Keeping in mind that most negative reviews stem from guests who feel unappreciated, it's important that when an issue does come up (this is inevitable) that a proper response is taken and you show the guest that you care about solving their problem.
One sure way to show guests that you care is to bring a manager into a situation to talk with the table. Open communication channels will let staff feel comfortable talking with management.
Here are strategies to foster open communication channels:
During pre-shift meetings, designate a specific manager who will be on the floor and who is the primary contact for any issues.

During staff training, identify common issues and outline the proper responses so staff is confident when handling customer complaints (every restaurant is organized differently, so it's good to highlight common issues that may be unique to your style of service).

Train managers on store policy: Should they apply discounts for a disappointed guest? Or provide a free dessert sampling? This cuts back on the time it takes to make decisions.
You'll also like: "Restaurant Guests More Likely to Leave Positive Reviews on Facebook"
Always Extend an Invitation
There are countless reasons that normally good service can be disrupted. And sometimes, paying customers fall victim to circumstance and have a bad time.
Just as a restaurant can have an off-night but usually puts together stellar service, an upset customer may be responding to poor service, when they otherwise might be pleasant and gracious diners.
I say that to say this: Don't consider a complaining guest as a guest that you don't want in your restaurant. In an industry that runs on margins as thin as those that keep restaurants open, every customer is important.
A good restaurant manager should know when poor circumstances are dictating a customer's reaction. If there has been some failure on the part of the restaurant, then a manager should always invite an upset customer back for another chance to dine with them.  
A perfect invitation is discount card* that guests can use on another visit. Whether it's 25 percent off of a meal, a round of free drinks, or free dessert, offer something that draws the customer back to your restaurant. This gives you a new opportunity to impress your guests and show them the standard of excellence that your restaurant usually meets.
*A way to personalize this gift card is to list the manager's name and contact information on the card. Also, phrasing the message of the incentive like "Our General Manager Daenerys Stormborn Extends 25% Off Your Next Meal." This adds a friendly and personal touch to the discount, and makes it feel more like VIP treatment than the usual "sorry we screwed up."
Alcohol and Food Training
Part of great service is understanding your customer's needs and desires, and providing them with an experience that exceeds those expectations.
The foundation for this comes from food and alcohol training. Food training should have a granular focus, outlining each dish through its component parts.
Food training should break down these elements:
Ingredients

Flavor Profile

Allergies

Which ingredients can be swapped out to account for allergies
Looking at dishes this way will help staff make recommendations based on a customer's tastes.  
Alcohol training should also be in-depth. This is true not only because it will help provide a better guest experience, but because alcohol is the biggest profit generator for restaurants and your staff should be ace liquor salespeople.
Cover all areas of your beverage program, with particular focus on wine and beer. These items are more often paired with food than straight spirits or cocktails. You want your staff to intelligently talk about your alcohol selection in a way that will help guests create the perfect meal. This is how you exceed expectations; it is how you create a great experience.
The number one skill that is forgotten when training is listening. Yes, servers and staff must be able to listen to the guest, and even parse out meaning from jumbled descriptors when guests are unsure of how to communicate the flavors and styles they are looking for.
Train your staff to listen. It's the antidote to feeling unappreciated. Your guests will appreciate it. And your online reputation will too.

You'll also like: