Download 43 free review response templates for negative and positive reviews
Get the templates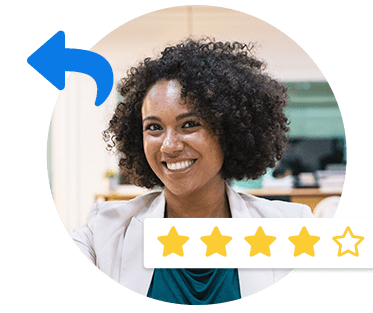 Tracking Google reviews are a top priority for any business.
A survey revealed that 63.6 percent of consumers are likely to check online reviews of a business on Google before they visit. Another report showed that Google reviews are one of the most important factors for 21 percent of consumers when they search for a local business.   
Businesses need to stay on top of recent and negative feedback on Google so they can maintain or grow their online reputation.
To track Google reviews, all you need is a Google My Business (GMB) account.
Google Reviews On Google My Business
Online reviews on Google are posted by Google users, who have to be signed in when they rate and write about your business. The reviews appear in two major locations: Google Search and Google Maps.
As a GMB user, you'll see these reviews in one convenient location: GMB.
Within the GMB dashboard are a series of options displayed on the left side of the screen. Clicking on the "Reviews" section will take you to another screen, which has all of the reviews of a business submitted by multiple users.
You can also use the GMB app to see all reviews by tapping the Menu icon and then going to the "Reviews" section.
By default, reviews are sorted by date with the most recent submission at the top. However, you can also sort by the highest- or lowest-scoring reviews. You can also choose to only see reviews that did or didn't receive a reply.
Speaking of replies, you can also use the "Reviews" section to respond to customer feedback. Keep in mind that customers will be notified when you respond to their review, and you can also edit your response.
Track Google Reviews with Notifications
You can get notified whenever a customer leaves a review in your listing by checking the "Customer reviews" box in the GMB settings page. On the desktop version, these will appear as email notifications. For mobile alerts, you will need to use the GMB app.
For most businesses, this is enough to stay on top of customer feedback on a daily basis.

However, those with a GMB account with more than 100 locations can't take advantage of the notifications because Google deactivates notifications altogether.
Fortunately, there are some review management platforms that can notify larger businesses, and more importantly, respond to reviews from all locations.
Why are these reviews important?
It's obvious that Google reviews significantly influence the way customers think about your business. This is why review monitoring and management is so important.
Reviews can also help or hinder your local search ranking. Asking for positive and detailed reviews can help raise a listing's prominence. Businesses can also use edited reviews to their advantage by asking people to change their rating by resolving any issues that they might mention in their negative feedback.
By keeping a close eye on GMB, you can showcase a business in the best possible light, while also minimizing the impact that any negative opinion might have on a business.