Download 43 free review response templates for negative and positive reviews
Get the templates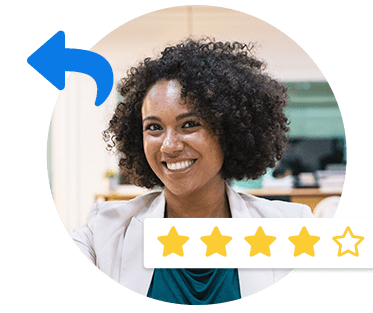 As a small or medium business, you are probably well aware that key players in the review aggregation game can make or break you. This knowledge can be intimidating and make business owners feel as if they don't have control over the process, but this is far from the truth.
What you see in your online reviews is generally a reflection of the overall performance of your business. Yes, once in a while, businesses are judged unfairly, but the bulk of your reviews will average out to the reality of your business.
Each time a customer is about to type a review, he or she has the power to hinder or boost your growth, but what is voiced is mainly colored by the way you choose to run your shop. Doing what it takes to ensure every review furthers your customer acquisition efforts and ensuring no review goes to waste is an essential element of a well-managed online reputation strategy.
How to Make Positive Reviews Work for You
By virtue of their content, positive reviews posted in popular review websites such as Foursquare, TripAdvisor, Yahoo Local, Facebook Reviews, Yelp, and Google will work on your behalf with minimal intervention.
But now that your positive reviews are working for you, there are actions you can take to boost their overall impact in the acquisition of new customers, and in fostering the loyalty of your reviewers and existing customers. Let's explore a few moves that will certainly set the stage for a synergistic approach to the management of positive reviews.
Respond to Your Positive Reviews
Give your reviewers the time of the day. Feeling acknowledged increases the likelihood a reviewer will become a brand advocate and repeat patron of your business. Engaging in a conversation with your reviewers gives you the opportunity to educate them about products they might want to try, and it helps in building rapport.
In addition to fostering loyalty, a response to a positive review provides future customers with insights on how you are likely to treat and appreciate new patrons. (Check out how responding to your positive reviews can help your overall business strategy.)
Use Your Positive Reviews to Leverage Marketing Collateral
Including snippets or verbatim copy of short, positive reviews can add credibility to your online and offline marketing collateral. You can incorporate testimonials in the form of a review to brochures, websites, e-mail marketing, and even menus.
For example, if you have a highly praised menu item, then you can quote text from a prior positive review that includes descriptions that are far more approachable and distinct than those used to describe the menu item. 
Use Your Positive Reviews to Perfect Your Marketing Strategy
Your customers are speaking to you. Listening to their voice can equip you to make laser-sharp decisions regarding the direction in which you will take your business, moving forward. Bank on your strengths as perceived by the customer, and highlight products and services with high level of popularity in review sites.
How to Make Negative Reviews Work for You
It is quite tempting to feel defeated and discouraged by negative reviews, but we ask you to please see beyond the review itself, and consider the content of a negative review as the ultimate usability group at absolutely no cost to you. Negative reviews, if used constructively, can set the stage for radical product and service optimization. Here are a few ideas to help you bank on your negative reviews: 
Respond to Your Negative Reviews
When it comes to negative reviews, it is all in the way you recover. Your reaction and the remedy you offer to your customer sets the stage for success or failure. In addition to resolving the issue at hand, a good review and online reputation manager will also take the opportunity to inform the customer, as well as future customers, of features or services that might have resulted in a better customer experience.
For example, if a customer complains about long waits for a table, the response can incorporate suggestions related to reserving private dining rooms for large parties, or informing the customer of days and times with lower customer volume. An informative, solution-driven response not only benefits the reviewer, it also provides reassurance to future customers as well as guidance to help them have an improved customer experience.
Use the Feedback to Create an Agile Cycle of Improvement
Use negative reviews to fix existing product or process issues quickly. In the past, and in the absence of real-time feedback, it would have taken a long time for businesses to identify pain points that might have impacted the customer experience. Nowadays, a well-designed scorecard and careful observation of trends can help businesses quickly correct problems and reduce the number of customers impacted by flaws in process. 
Use Your Negative Reviews to Perfect Your Marketing Strategy
Knowing what your customers dislike can help you draft a marketing strategy that aims to please. Every review contains valuable information, supporting or invalidating theories of what works for your business. Use this data to perfect the way you pitch your product to your loyal customers as well as to future patrons. Negative reviews, in particular, can help you draft promotions and sales strategies that fully satisfy customers' expectations.
Every review has potential within it to help you grow as a business. Learn to identify opportunities that help you maximize both revenue and growth by maintaining close supervision of all the activity pertaining to your business in all the relevant review websites.