It comes as no surprise for senior care and assisted living marketers to hear that the majority of the research associated with locating suitable senior or long-term care facilities falls on the shoulders of adult children.
The reasons behind this type of dependency are many, but principally we are dealing with a generational gap whereby seniors have little familiarity with the tools available to research senior-care availability, namely the Internet.
As Internet research becomes more widespread and newer generations begin to age, chances are we will see a decrease in said dependency. For now, those in charge of messaging and product development for senior-care centers and assisted-living facilities need to be sensitive to their key audience, which is the adult children of potential residents.
You can learn more about the ways people search for senior care here. Or take a look at one of our recent posts, which takes a closer look at shopper behavior in the selection of senior and long-term care.
Tailoring brand messages to key audiences must take place in all online and offline marketing material, with particular attention to interactive, real-time environments such as forums and review sites. If your senior care facility has already adopted basic reputation and review management strategies, then it is essential that everyone involved understands the importance of responding to reviews in such a way that current questions or those likely to arise from adult children are tackled accurately and with richness of detail.
Why Do Senior Care Managers Need to Prioritize How They Are Perceived by Adult Children?
Selecting a safe, affordable, and emotionally healthy senior care facility is no small task. In addition to the emotional complexities associated with aiding a parent with this life transition, many adult children live in states with filial support laws that make adult children potentially liable for expenses associated with the care of indigent, aging parents. Ensuring the nest egg outlasts their parents is of the essence when selecting a senior care facility.
In many instances, the reviews that stakeholders will encounter in association with their facility are not necessarily reflective of the opinion of a resident. Instead, the reviews have been submitted by adult children and tackle concerns that might not fully relate to the quality of life and/or comfort of the resident.
Managing the responses and actions associated with these reviews has the potential to be extremely beneficial in the acquisition of new customers, or, to the contrary, very damaging if neglected, ignored, or handled carelessly.
In a nutshell, the adult child needs to receive responses that demonstrate care for the resident in a manner that is holistic, tackling things like finances, communication with relatives, and mobility. When a facility neglects these areas, oftentimes the adult child is forced to intervene by either assisting or advocating on behalf of his or her parents. Make sure adult children of both your current residents and potential residents are finding responses that include information that is relevant to their priorities, and communicated in a way that conveys interest and respect for both the resident and his or her adult children in charge.
Where Is the Balance Between Addressing Adult Children and Speaking Directly to Potential Customers?
The more seniors become familiar with Internet-based research, the more you will need to balance your voice, responses, and interactions to speak to both the potential residents and their adult children. The secret in crafting content and review responses that effectively address both groups is to be sensitive to the emotional aspects of this life event and demonstrate an interest for the welfare of everyone involved in the transition.
When your facility receives a review from a resident, deal with the issue first, and then provide an online response that outlines the steps you took to resolve the customer concern escalated via a review. Likewise, should you receive a review from an adult child, do not be swift to answer. Find the facts first, and resolve any valid issues or concerns.
What Are the Adult Children Looking for in a Senior Care Facility?
When responding to reviews, stakeholders need to keep in mind the main priorities for adult children when it comes to senior care. Generally speaking, adult children will be looking for a balance between quality of life and fiscal responsibility.
When drafting a response, include descriptive verbiage that tackles areas such as activities, safety of the facility, quality of care, cleanliness, compassion, medical care, and nutritional standards. For example, if a reviewer speaks about lack of variety in cafeteria menus, then make it a point to be descriptive about menu rotations and how your facility must balance variety with the need for familiarity and routines.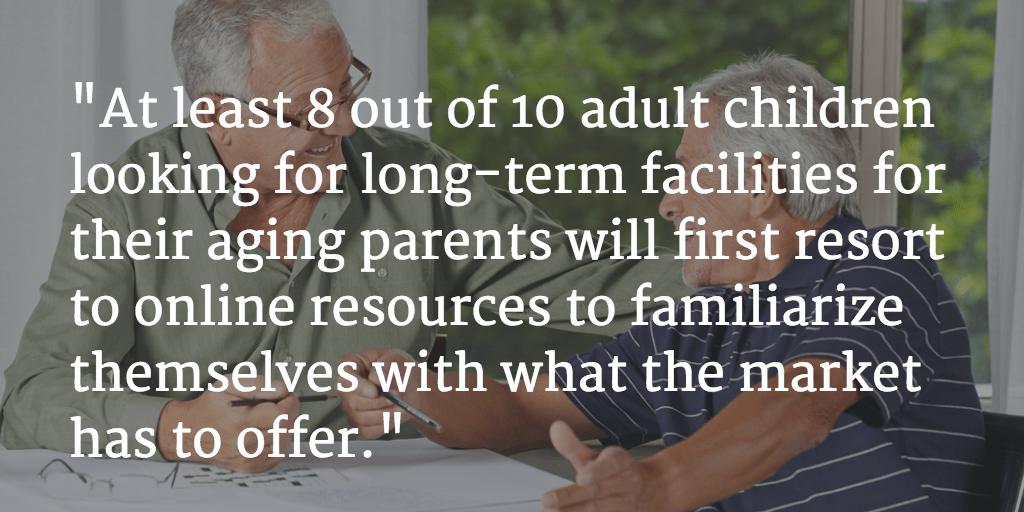 When in the Shopping Cycle Are Adult Children Looking at Review Sites?
Review site engagement provides facility managers a tremendous opportunity to make a great first impression. At least 8 out of 10 adult children looking for long-term facilities for their aging parents will first resort to online resources to familiarize themselves with what the market has to offer. Everything you can do to create a great first impression will be worth your time when it comes to bringing potential customers in the door.
Make sure your facility profiles are complete, accurate, and compelling. Regularly manage your reviews, and provide responses to both negative and positive reviews. Your review profiles will set the stage for the next step in getting someone to choose your facility for their aging parents. Don't underestimate the power of a positive first impression. 
Which Sites Do Adult Children Most Commonly Frequent? 
Yelp: While Yelp covers a broad variety of businesses, chances are adult children will use it as a source of information simply because it is an interface that is familiar to them. Don't downplay its importance; make sure you are managing reviews loaded on Yelp. 
Caring.com: Caring.com is a dominant player when it comes to providing information and reviews about senior care and assisted living. They are likely to show up in search when a shopper conducts a local search looking for senior care. Thus, it is important to maintain an updated and relevant presence for your facility. 
Golden Reviews: Golden Reviews is another relevant and popular site mainly known for awarding their own quality credentials to top senior facilities via their Golden Seal award. The ease of use of their site as a search tool for a variety of senior care facilities, such as independent living and adult daycare, make Golden Reviews a popular first stop for adult children looking for respite in the care of their aging parents.
There are many other sites focused on capturing reviews and ratings for adult living facilities. If your goal as a marketer is to have a comprehensive approach to review and reputation management, then you should seek to be represented in the most important and popular sites, if not all of them, and ensure you maintain real-time interaction with your reviewers as a means of delivering your brand message to potential shoppers.