Download 43 free review response templates for negative and positive reviews
Get the templates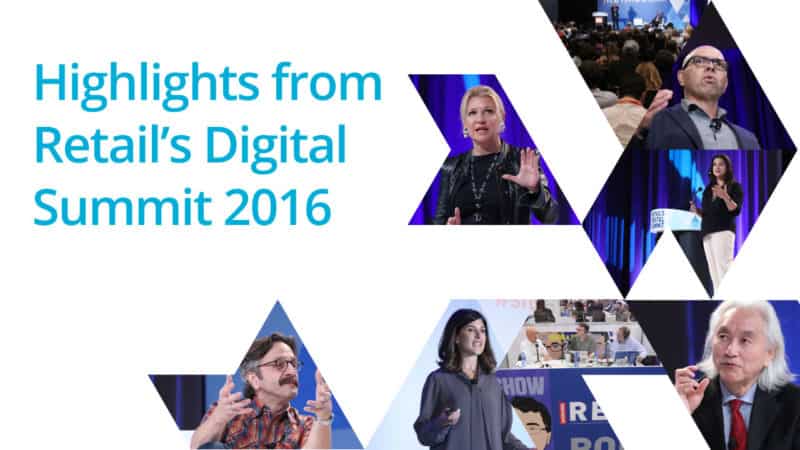 The retail industry has gone digital, and the way a brand interacts with customers online is constantly evolving.
More than 5,000 attendees gathered at this year's Shop.org's Retail's Digital Summit to hear from expert speakers and companies providing digital tools for the retail industry.
The event took place Monday, Sept. 26 through Wednesday, Sept. 28 in Dallas.
Customer Experience With Shinola
One of the highlight keynote speakers was Shinola's president Jacques Panis. He discussed the story of Shinola – which is based in Detroit – and the customer experience both in-store and online.
"We're starting with the reinvigoration of a storied American brand, and a storied American city, according to Shinola's website. "Because we believe in the beauty of industry. The glory of manufacturing."
The upscale retail company, which makes watches, bikes, and leather goods, uses Detroit at the forefront of their marketing and advertising… because creating hundreds of manufacturing jobs in a city that went bankrupt in 2013 is a compelling story.
Although Shinola has been criticized for being inauthentic by journalists, bloggers, and the FTC, the combination of Shinola's story and its in-store experience has created the successful Shinola brand.
"That in-store experience is critical," says Panis. "It's critical to the journey of the consumer with this brand, and so pulling them into the stores is something that we work very very hard on. And how do we make that journey a long one and continue to tell the narrative through the digital platforms is something we're challenged with and something that we work on every single day."
Panis says storytelling is how Shinola recreates the in-store experience online.
"When you walk into a Shinola store, all of the senses are activated, so you can taste our coffee, you can smell the candles burning, you can hear the music playing, etc," he says. "How do you take that experience and transfer that online? We're doing that through imagery, video content, a story, a narrative online and driving that narrative to the consumer."
Future of Retail
The future of retail was the subject of another noteworthy session from consulting firm PSFK. Piers Fawks, president and founder, and Scott Lachut, president of research and strategy discussed the impact of mobile and social media. PSFK has identified 10 pillars for using technology to create a connected customer journey, according to an article about the session.
One of the pillars is to "encourage advocacy" – to encourage loyal customers to talk about your brand online. For example, according to the article, Tesco Bank has set up channels for customers to talk about their finances.
Other keynote speakers included Alon Cohen, president and co-founder of Houzz; Shelly Palmer, managing director of Palmer Advanced Media; Mike Amend, executive vice president of Omnichannel at JC Penney; Johnna Marcus, senior director of Sephora Innovation Lab; Reshma Saujani, founder and CEO of Girls Who Code.
Check out the full list of recap content from Retail's Digital Summit here.
(Photo Credit and Video Credit: Shop.org of the National Retail Federation)