OpenTable just got sexier. 
The online restaurant reservations and reviews platform recently announced that it has acquired Foodspotting, a visual food guide and photo-sharing app, for approximately $10 million. (Congrats, Foodspotting team! Ka-ching!) 
Tomio Geron, a contributor at Forbes, described the deal as crucial in "accelerating mobile and social technologies" for OpenTable, which is known for enabling online reservations for more than 385 million diners at over 26,000 member restaurants. 
(Check out: "OpenTable Reviews Program Explained")
OpenTable CEO Matt Roberts said in a press release, "We're looking forward to leveraging "Foodspotting's" unique expertise in the areas of imagery and social sharing to enrich the OpenTable experience for diners and restaurants in new and exciting ways. By adding more visually compelling content to help people decide where to dine and discover dishes they'll love, we hope to make it even easier to find the perfect table for any occasion." 
We here at ReviewTrackers have been monitoring restaurant reviews on OpenTable for quite some time now, and we're not going to lie: their text-heavy website was kind of boring, at least aesthetically speaking. It kind of looked like it was designed in 1984. (Which, of course, is totally okay, considering how successful OpenTable has been in creating a system for booking online restaurant reservations and aggregating restaurant reviews and ratings.) 
By buying image-based Foodspotting, OpenTable is suddenly a lot sexier. And because of this, it can now also reach out more effectively to users who depend on food photos to make restaurant choices – as well as to member restaurants who want to showcase their most delicious-looking dishes.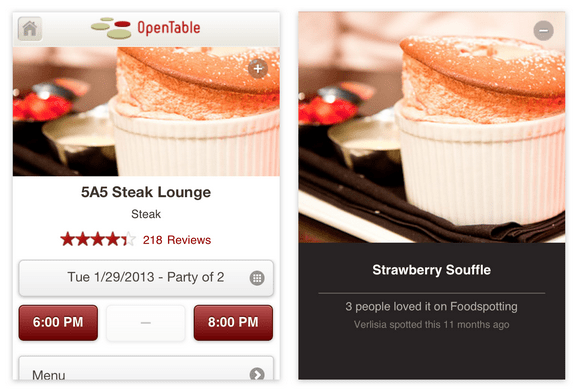 So if you're an OpenTable member restaurant – well, you'll have the chance very soon to show the world photos of the most delicious items in your menu. 
In fact – through a recent collaboration with Foodspotting – OpenTable already added new dish photos to the listings of some member restaurants, giving an appetizing taste of the kind of feature enhancements diners can expect very soon. 
Foodspotting CEO and co-founder Alexa Andrzejewski will be joining OpenTable as lead user interface designer. 
"We could create smarter experiences if we could integrate more deeply by, for example, recommending dishes when you make reservations," she said in a company blog post. "(But) rest assured that Foodspotting will continue to live on as a standalone product."
Photo credit: