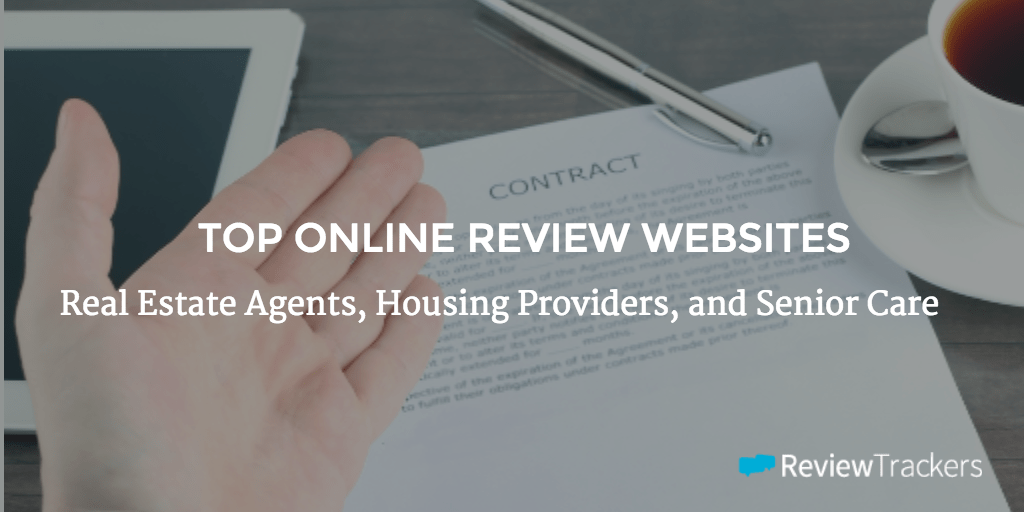 Online reviews can make or break a business. This goes not only for restaurants and hotels, but also for other local businesses in a wide range of industries and verticals, including real estate, housing, and senior care facilities.
This shouldn't come as a surprise at all. If consumers are searching for a home for themselves or their loved ones, it's reasonable to assume that they will consult online review sites for other consumers' feedback and experiences. Reviews, after all, are one of today's leading sources of information on the quality of local businesses.
Managing a real estate agency, a housing provider, or a senior care facility? Now is the time to create a review management strategy and stay on top of what your customers are saying online. To help you get started, here's a list of top industry review sites, complete with information on how to claim your business listing:
Real estate
Trulia
Trulia is an online residential real estate site for home buyers, sellers, renters, and real estate businesses and professionals in the US. It offers comprehensive school and neighborhood information on homes for sale, and also offers online reviews of real estate agents, real estate brokers, mortgage brokers and lenders, builders and developers, and property managers.
It's easy for businesses and professionals to gain free exposure on Trulia. To create or claim your Trulia business listing, you have to sign up as a Trulia user. Once you have your login information, visit http://www.trulia.com/submit_listings/. You can submit either your data feed (for multiple sale or rental listings) or individual sale and rental listings.
Zillow

Zillow is the parent company of Trulia (the latter was acquired by the Zillow Group in a deal in 2014), with a website that offers its own Trulia-like real estate database. According to the company, Zillow's database includes information on 110 million US homes, complete with online reviews and ratings of real estate pros and firms.
To manually claim your listing on Zillow, you will have to join the site as an "industry professional" and create your own profile.
Please make sure that you register with the E-mail address that you use as an agent. Why? Because Zillow listings are syndicated by various listing feed providers. So, if the E-mail address of your Zillow profile matches the E-mail address on a listing, all the information will automatically sync: your profile will appear on your listings, and your listings will appear on your profile. Additionally, you'll be able to manage and make edits to both your profile and your listings on Zillow.
If you accidentally provided an E-mail address that's different from the one that's registered on your Zillow listings, you can use the "Claim this listing" feature on the site to tie your information together.
Housing and senior care
Apartment Ratings
http://www.apartmentratings.com
Apartment Ratings is an online database of user-generated information on apartment buildings in the US. The site offers info on building features, user ratings, and tenant-reported average rental prices, and the site also has a collection of online reviews of apartment communities as generated by tenants, as well as a Google Maps-based registered sex offender database.
Landlords and apartment complex and property managers can create their business listings on Apartment Ratings by visiting http://www.apartmentratings.com/addcomplex/. On this page, you'll be asked to provide your community name, location, number of units, year built, and contact info.
Alternatively, you can sign up as a manager by visiting the Apartment Ratings Manager Center at https://www.apartmentratings.com/manager/register/userinfo. Doing this will enable you to claim ownership of your apartment listing, respond to reviews and opinions, update community information, and even purchase leads.
Caring.com

Caring.com is an online resource for families and caregivers looking for information and support as they care for aging parents and loved ones. It has a comprehensive directory, complete with online reviews, of caregiving services and facilities, including nursing homes, assisted living, independent living, memory care communities, and CCRCs (continuing care retirement community).
To get listed on Caring.com, simply visit https://www.caring.com/local/get-listed and fill out the form.
Golden Reviews
Golden Reviews is another online destination for users looking for the best senior care communities. It offers online reviews and ratings of 110,000+ listed providers, with the ability to search by location and care type.
To create or claim your business listing on Golden Reviews, you have to register as a user. Once you've successfully logged in, visit http://www.goldenreviews.com/admin/facilities/new and provide the information required.
Alternatively, you may choose to join Golden Reviews' Network of Care, a program that allows your organization to become a "Caring Partner" and receive real-time review notifications, post public responses, customize the photos and description in your listing, and leverage tools for online review management.
Our Parents
Our Parents is home to a database of all licensed senior housing in the US, with information (online reviews, advice, articles, and an online forum) that allows users to match their needs with the right care option provider.
If you're not yet on Our Parents, you can create / add your business listing by visiting https://www.ourparents.com/partners and submitting your contact and community information.
Senior Advisor
Senior Advisor offers more than 85,000 online reviews of senior communities; it also has a collection of photos, prices, ratings, and opinions of assisted living, dementia care, independent living, senior apartments, and other similar providers.
Through its partner program, Senior Advisor is able to let business owners claim their listing for free.
If the listing already exists (just search for your business name on the site), all you have to do is create a Senior Advisor account, navigate to your listing or page, and click on the "Claim this profile" link below your listing name. You'll be notified via E-mail within 1 business day if your request has been approved. Once approved, you'll be able to use the site's management features, such as the ability to edit your profile, request for new reviews, and respond to reviews.
If the listing doesn't exist, you'll have to request the creation of your new listing and E-mail the Senior Advisor support team at [email protected] with the name and address of your business. If your request is successful, Senior Advisor will create a listing for you within 1-2 business days.
Senior Homes
Senior Homes is another destination for those looking for information on assisted living, independent living, memory / Alzheimer's care, retirement communities, etc. Apart from online reviews, the site also offers articles written by experts to help families find assisted living providers.
There are two options for creating / claiming your business listing on Senior Homes. You can sign up for a free basic listing by going to http://www.seniorhomes.com/o/get-your-free-business-listing/ and providing your contact and business information. Or you can get a featured listing, a paid service that benefits your business through premium placement in search results and the generation of high-quality leads and inquiries.
Seniorly
Seniorly offers a simple way for consumers to search for senior housing. The site aggregates online reviews from across the web in addition to having reviews of their own. They also provide resources on assisted living, independent living, short-term stays, respite care, and in-home care.
Seniorly connects your home care agency, senior housing operator, or placement agency with the right leads. The site also provides software to manage senior care transitions effectively.
Other review sites to consider
Remember: online reviews are a major factor in guiding consumers' purchase decisions and shaping your business reputation. Take the first step to managing your reviews on the Web – by planting your digital flag and claiming your business listings on all relevant review sites.
Good luck!