Download 43 free review response templates for negative and positive reviews
Get the templates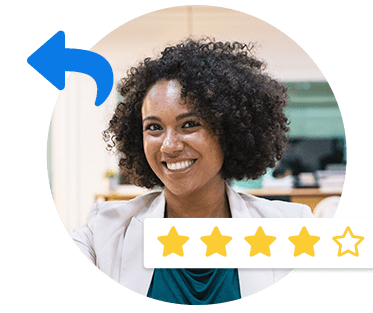 It can be argued not many businesses think of a guest, a customer, as someone with whom to build a long-term relationship. Guests, after all, are people you sell to, and it's easy to stay in the mindset of selling and trying to gain more of them – as opposed to keeping the guests you already have. After the sale, you go your way, and I go mine. Right?
Not really. The cost of losing one customer is greater than you might expect, which is why it's critical that your organization is able to gauge the dollar value of your customer relationships – to identify the customer lifetime value.
Customer lifetime value is a prediction of the net profit attributed to the entire future relationship with a customer. Note "entire future relationship" – and not merely "transaction." By building a relationship with guests and customers, you're able to keep them coming back and not incur the cost of losing them.
For example, if you lose one guest at your restaurant that is worth $1,000, that's a loss of $20,000 over 20 years. On the other hand, keep that guest coming back to your restaurant instead of letting them seek out the competition, and you have a guaranteed revenue of $20,000 over 20 years.
Build Meaningful Customer Relationships
Chris Zane, the owner and founder of Zane's Cycles, a small bicycle store in Branford, Connecticut, has been featured in Forbes and Inc.com for his success in building customer relationships and creating excellent customer experiences. He started with one small bike store business, which he opened in 1981 at the age of 16, and has since grown the store into one of the largest premiums and incentives bicycle distributor in the United States.
In an interview with Inc.com on the roots of his commitment to customer relationships and retention, Zane said that a customer had written a letter to him detailing his experience. No one at the shop had come to help on his first visit, the customer wrote Zane, which was how he ended up buying a bike that was too big. Zane then told his store manager about the situation and invited the customer back to refit and add extras to the bike – at no additional cost.
"We're looking at the lifetime value of the customer," Zane said. "Why ostracize someone over one or two things that might cost us money when understanding the lifetime value gives us the ability to justify it?"
By working to build customer relationships, Zane is able to create structured opportunities to grow his business with happy customers who will shop at his business locations for years to come. In addition, the happy customer will "tell his friends about it."
"I am building a relationship with the customer that's long term," he said, "because in order for me to capture, say, $5,600 in profit I need to look at that first-time customer like a $5,600 profitable customer and not the $2 I might make on a tube because he just hop in by the store to get a flat replaced."
Zane even wrote a book about the importance of customer relationships. In Reinventing the Wheel: The Science of Creating Lifetime Customers, Zane argues that businesses are not selling a product, they are selling an experience. 
Listening to Customer Opinions and Feedback
Not all customers will write you a letter like in Zane's case. In the age of online reviews and social media, what most will do is share their opinions and feedback on Yelp, Facebook, Twitter, TripAdvisor, or anywhere online. Or they'll tell their friends about their experience.
This is where online review management comes in. It's a great way to build relationships with your guests online, foster trust and loyalty, and find ways to keep these guests coming back based on the feedback and experience they've shared.
By managing online reviews and analyzing what guests and customers are saying online, you can learn how to stand out from the competition.
Here are some stats on why customers leave and turn away, plus other facts and figures that highlight the importance of managing customer relationships to improve retention:
$83 billion is the cost of poor customer service in the U.S., according to Kissmetrics.com.
Customers spend 9.5 minutes, on average, when using an automated system.
According to the Gartner Group, 20 percent of existing customers will be the source of 80 percent of future profits.
Increasing customer retention rates by only 5 percent will increase profits by 25 to 95 percent.
Looking to maximize your guests' lifetime value? Here are some tips:
Listen to customer feedback and track your online reviews. That way, you're always on top of what your customers are sharing online and how they feel about your business.
Make improvements to the way you run your business based on customer feedback.
Commit to delivering excellent customer service. You may be kicking butt in terms of building and launching great products, but it is great service that will help position your business to keep customers for life.