Download 43 free review response templates for negative and positive reviews
Get the templates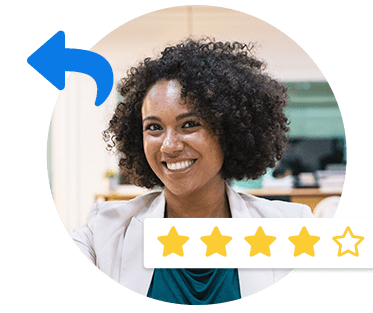 If you have been with us for a while, then by now you are probably starting to enjoy the fruits of a well-managed online reputation through diversification. In the battle for reputation domination, having a consistent brand presence across all popular review websites can help your small business gain ground and expand your reach, for little to no cash investment.
Once a small business is on board with reputation management and has placed some order and direction on major websites such as Yelp and Google My Business, it is time to take ownership of smaller, but no less important, review sites with potential to generate new business leads by reaching to alternate niches and a different pool of users.
Today we are going to show you step by step how to claim and effectively manage your Insider Pages profile.
Who Should Claim Their Business Profile on Insider Pages?
Insider Pages features five main business categories. If your business falls within one of these categories, then consider moving forward and claiming your profile.
Health and Medical
This category includes dentists, doctors, specialists, and dedicated clinics with multiple practitioners. This category also lists alternative medicine such as acupuncture, reflexology, herbal medicine, and acupressure. Insider Pages is also home to listings for pharmacies, medical supply stores, and a variety of long-term care and assisted living. 
Home and Garden
This is a great category for businesses engaged in services such as home remodeling, electrical repairs, plumbing, gardening, interior design, roofing, pool services, carpet cleaning, home theater installations, housekeepers, and home inspections.
Hair and Beauty
Your business should be listed under hair and beauty if you are a hair salon, spa, medical spa, barber, massage therapist, yoga instructor, personal trainer, or fitness center. (Check out: "Brands in Beauty Sector are Leveraging Reviews to Drive Revenue – Here's How You Can Do the Same"
Pets
Business owners often neglect this category and listing and end up placing their business under home and garden. The pet industry generates billions of dollars and is constantly on the rise as far as revenue opportunities. Categorize your Insider Pages profile under pets.
How to Claim Your Profile on Insider Pages
The first step to creating your business profile on Insider Pages is the creation of a personal account. This can be done by completing a simple profile or using a quick Facebook signup feature. If you prefer to maintain the privacy of your personal Facebook profile, then you may want to opt for the fill-in form.
Search for your business using the search feature on the top. If your business is listed, then proceed to step 3. If not listed on Insider Pages, then you can submit a request to add your business to

[email protected]

. By placing a request with CityGrid, your listing will be added to a variety of local directories and review websites such as MerchantCircle. Keep in mind that it takes one to two months for your listing to appear.
Now that you have located your business on the right corner of your listing, you will see a call to action that reads: "claim your business." If your business is listed but does not show this option, then chances are someone from your company has already claimed it, or you claimed it in the past and forgot about it. If that is the case for you, then check around with your team to see if someone did in fact claim the business, and run a query on your email archives. If you are unable to identify who claimed your business, then you can contact

[email protected]

, and they will conduct a query and help you resolve the issue. Be ready to provide evidence of ownership via a business card or other identifiable way to associate you with your business.
Now that you have clicked on "claim your business," you will be pointed to a screen with the terms and conditions. By agreeing to their terms and conditions, you will fully activate your account.
Once you have claimed your business, head to the top right corner and select "my business" to begin the editing process. On the business profile, you will be able to edit such things as business hours, location, services provided, and contact info. You will also be able to respond to customer reviews and take advantage of the create-a-coupon feature. If you do decide to create a coupon, then it is important that you plan correctly, and understand the risks and benefits of running a discount-based promotion.
Please note that there is an entirely different process for the claiming, creation, and enhancement of profiles for medical professionals. Their path allows for the profile to activate the Doctor Finder feature available to potential patients on Insider Pages.
Once you have an enhanced profile, you may wish to have reviews removed. Like most review websites, Insider Pages provides a great deal of protection to their reviewers based on the First Amendment. Having said that, if the review is in violation of the terms and conditions of Insider Pages, then you stand a chance of having the review removed.
Be cognizant that Insider Pages is just one of many review websites that makes up the CityGrid network. Within Insider Pages, you will see information and/or reviews about your business originating in review and directory websites such as Citysearch, Infogroup, ServiceMagic, Healthgrades, and others.
Add Insider Pages to your overall online reputation management strategy. By integrating it, you are not only reaching out to Insider Pages users but you are also touching on a larger marketing network likely to grow in the upcoming years.
As always before making any move take time to study and analyze which websites have the most potential to generate business for you. Scenarios can be significantly different from business to business making it imperative to conduct a deep dive and use the right reputation and review management tools in order to get a full picture before making a marketing move.