Download 43 free review response templates for negative and positive reviews
Get the templates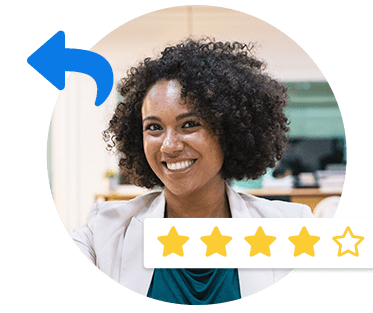 We are frequently asked about the long-term benefits of hands-on strategic review and reputation management and monitoring. Today we will explore some of the key wins your business can expect to obtain when you have implemented tools and processes aimed at managing and boosting your online business reputation.
The Central Goal of Reputation Management
The principal objective of a reputation management strategy is to reactively and proactively address customer perceptions of your business, by correcting customer service patterns and improving the cycle of product development. In fact, when handled right, proper reputation management can equip a business or corporation with the tools to discover new markets and implement new products as part of the cycle of innovation.
When your business is committed to improving the way it is perceived by current and potential customers, you will enjoy corollary benefits such as increased leads resulting from online review sites, word-of-mouth referrals, and additional flexibility in terms of price elasticity. As a reputable business, you will be able to charge more for your products and services than those with blemishes on their brand or location image.
Five Key Areas of Reputation Management That Can Help You Build Your Brand
1. Optimized Customer Service
A good percentage of online reviews voice concerns regarding customer service. You can have the best products in the market and still create a negative customer experience by having staff that lacks efficiency, product knowledge, common courtesy, and a can-do attitude. Reviews provide you with a free tool to quickly identify and diagnose behavioral patterns affecting your business. If the issue is specific to a particular customer-facing employee, then reviews will equip you to provide additional coaching to employees with negative feedback. If the behaviors persist, then you will have the background needed to make a decision to terminate the position when a worker does not demonstrate a commitment to change negative behaviors affecting customer experience.
Take a look at ReviewTrackers' Small Business Guide for Handling Reviews Like a Pro.
If you are seeing employee-specific feedback, then make sure there is sufficient information on the review to identify the employee. If you don't have sufficient data points, such as a name or a highly detailed physical description, then you will need to tackle the issue as a collective problem and address it as part of your whole-team training sessions. If customer-service issues are not specific to certain team members but instead appear to be a prevalent problem across all employees, then the issue needs to be tackled differently. Group-wide customer-service challenges are not always rooted in a poor customer-service culture. Sometimes the issues affecting customers can be traced to problems with logistics and resources that are hindering the ability of your employees to deliver high-quality customer care. For example, if you have a restaurant and many patrons are complaining of issues with cold food, then the problem can be traced to timing if servers are failing to quickly retrieve the food from the kitchen. It can also be traced to a poor-quality heating lamp that does not give the staff a sufficient buffer to handle the kitchen-to-table experience without food getting cold. Always give your team the benefit of the doubt, and seek ways to equip them in such a way that they can deliver superb customer service conducive to high-score online reviews.
2. Promos That Work
Reviews provide your business with instant feedback, capturing the receptiveness of particular offers and promotions. Understanding the type of promotion or special that leads to increased customer satisfaction can help your business build momentum and improve overall scores. Tweaking your approach to promotional and other marketing activities, based on the opinion voiced by your guests, sets the stage for accelerated customer engagement and increased numbers of reviews. Learn how a well-managed Groupon Deal Can Boost Your Review Volume.
3. Products Your Customers Want
Being responsive to the feedback your customers provide via websites such as Yelp or Superpages helps your business eliminate products that are not up to par with your brand and develop new products that are better aligned with the needs and wants of your most loyal customers. Reviews, when properly tracked and utilized in the product-development cycle, result in increased overall satisfaction and may theoretically help your business secure a larger wallet share from its current customer base. This type of agile product development is best exemplified by the way restaurants can tweak their menu and focus only on the items with the most raves, and remove those causing less-than-optimal customer experiences. In the case of restaurants, it is also possible to tweak portion size and pricing in order to adapt the offering in such a way that present and future customers feel like there is a value-ad experience in terms of size, quality, and price point. Review how restaurants can tweak their menus based on customer feedback. 
4. Brand Commitment to Present and Future Customers
Taking the time to engage with customers directly, by responding to both positive and negative reviews, conveys brand commitment. Addressing customer concerns voiced via a negative review with a sincere apology, and taking remedial action to satisfy the customer and improve the internal process, will result in increased satisfaction for future customers and decrease the likelihood of receiving additional complaints for identical issues. As you optimize processes, you will spend less time responding to negative reviews and more time engaging in a more positive and business-conducive setting. 
5. Interactive Brand Voice in Popular Review Sites
Review sites offer far more than a platform for reviews. Many give you, the business owner, a plethora of tools to help you engage with customers and leads in ways that allow you to highlight the best that your business has to offer. Review sites like Google My Business can be connected directly to your brand YouTube channel at no cost to you. Including a multimedia environment to further your messaging often seals the deal when potential customers are seeking additional information to help them decide if their money is best spent in your venue. In addition to multimedia, well-branded and informative content can help set realistic expectations for future customers, resulting in an increased chance of meeting or exceeding expectations, thus securing high-scoring reviews.
Managing your reputation with laser focus and commitment to excellence will help you migrate from a reactive environment focused on apologizing and making things right, to a proactively managed experience that delivers superior products and services 100 percent of the time.