Download 43 free review response templates for negative and positive reviews
Get the templates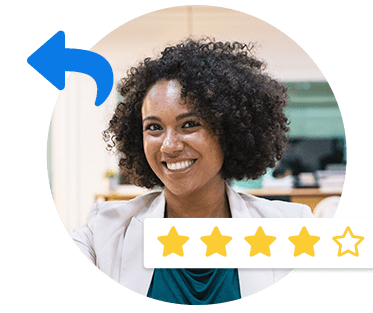 ReviewTrackers was featured as one of the SMB Future Stars at the recent BIA/Kelsey SMB Digital Marketing 2012 conference in Chicago. The title was given to early-stage companies developing the next big digital marketing solution for small and medium-sized businesses.
We were honored to share the stage with fellow SMB Future Star Pricing Engine. Founded in New York by Internet marketing professionals Jeremy Kagan and Yagmur Coker, Pricing Engine offers a must-have tool for online marketers and advertisers, enabling them to save time and money while also serving as a trusted source of expert advice.
(Photo: Linkedin)
Shortly after the conference, we got in touch with the Pricing Engine team. Here's what they had to say:
Tell us what your start-up is about.
Pricing Engine helps smaller businesses benchmark, optimize, and expand the number of leads and sales they get from their digital ad campaigns. With our platform, SMBs obtain a targeted report card that grades how their ad campaign(s) are performing and provides easy-to-follow recommendations to help them improve it.
Business owners also use the Pricing Engine unified buy platform to identify their best ad campaigns and quickly move them into other ad channels. Users also get access to premium ad inventory – not available to small advertisers on their own – through exclusive partnerships Pricing Engine has with quality publishers, networks, and exchanges. 
Where did the idea for Pricing Engine come from?
Co-founder and CEO Jeremy Kagan has over a decade of experience working in tech startups, digital ad agencies, and global media companies as well as being a popular adjunct professor of digital marketing strategy at Columbia Business School. Through his teaching experience, he recognized the disparity between how much companies spend on digital advertising and how much value they get back. This is especially true for small business owners who can't afford expensive tools and consultants. A lot of this stems from a lack of knowledge about the overwhelming amount of information and advice available to analyze digital ad performance. Most companies lack the understanding of what all of this is worth. Jeremy realized there's a need to assign a value to these strategies and methods; companies need a low-cost, simple way to "price" their campaign choices.
How does Pricing Engine help drive the success of SMBs and merchants?
Pricing Engine is looking to fill a tremendous gap in the ad tech ecosystem by providing a comprehensive BUT simple-to-use set of ad management tools for the small business owner. We help SMBs and merchants efficiently and effectively develop their online advertising presence by benchmarking them against their peers.
In effect, by anonymously pooling data about how their competition is performing, we create an easy-to-read proprietary report card based on our own system that lets small business owners know how they're performing in major categories. For example, by assessing their historical performance using the Google ad platform in comparison to 1,000 related businesses, we can tell them exactly how much to bid, what keywords work and don't work, etc. Pricing Engine delivers accurate data to SMBs and merchants who need help driving the success of their campaigns. 
What SMB problem/challenge is Pricing Engine hoping to solve?
SMBs and merchants are primarily focused on running the day-to-day operations of their business. Marketing is a necessary component in growing business. However, SMBs often lack the time, team and budget that large companies and corporations have to manage ad spend. That's where we come into the picture. Pricing Engine provides SMB owners with the information they need to lead them to simple and actionable results. They don't need a 20-page spreadsheet. They need easy-to-understand graphs. Not only are we saving them time and money, but we're also teaching them the best practices to analyze their campaigns.
Where and how can we connect with Pricing Engine?
Become a fan of Pricing Engine on Facebook
Follow Pricing Engine on Twitter
Check out the Pricing Engine profile on LinkedIn
Want to read more interviews? Just click on the #SMBDigital tag on the RT blog. You can also follow us on Twitter via @ReviewTrackers for more news and updates.