The bulk of what we learn is delivered to us in visual and audio format. For this reason alone, businesses should always be on the lookout for ways to improve the audiovisual experience on their sites and satellite-marketing platforms, such as review sites. Because businesses only have partial control over the multimedia loaded on review sites, it is especially important to take all the necessary proactive and reactive measures to ensure your business has its best foot forward when it comes to visual experiences, such as photos and videos.
Badly captured images or videos, whether they are user-generated or loaded by your business, will without doubt have a negative effect on the way people perceive your products and services. Let's take a look at the most common problems related to multimedia on sites such as Yelp, Google, Facebook, TripAdvisor for Business, and Foursquare.
Prehistoric Photos and Videos
We see this scenario way too often: the photos featured on your Yelp or TripAdvisor profile are circa 1992. If your photos or videos are not fresh and up-to-date, then you are sending the wrong message to shoppers.
An outdated photo or video speaks of lack of engagement with new customers, unwillingness to innovate and, most importantly, indifference to potential shoppers in search of information that best represents what your business has to offer today.
When auditing your images for recency, look for cues that date you, from fashion to signage in the background representative of an event of years past. Having updated images is of particular importance to hotels and restaurants. A picture or video featuring a hotel room that has not been renovated when the hotel has undergone renovations can be a deal breaker.
Updating your own photos is as simple as deleting and posting new ones. This is not the case with consumer photos. If you identify a consumer photo in association with a review, then make sure you load a similar picture reflecting the most recent updates to your product or service. In fact, make content revisions to your site and your review site profiles that intentionally highlight any concern or outdated information conveyed visually via a popular image.
While we are at it, we want to remind you that your business photos are not the best home for retro filters. The best and most appropriate profile photos are high-quality images that convey your business as is. Artistic filters have their place and time, and your review site profile is not it.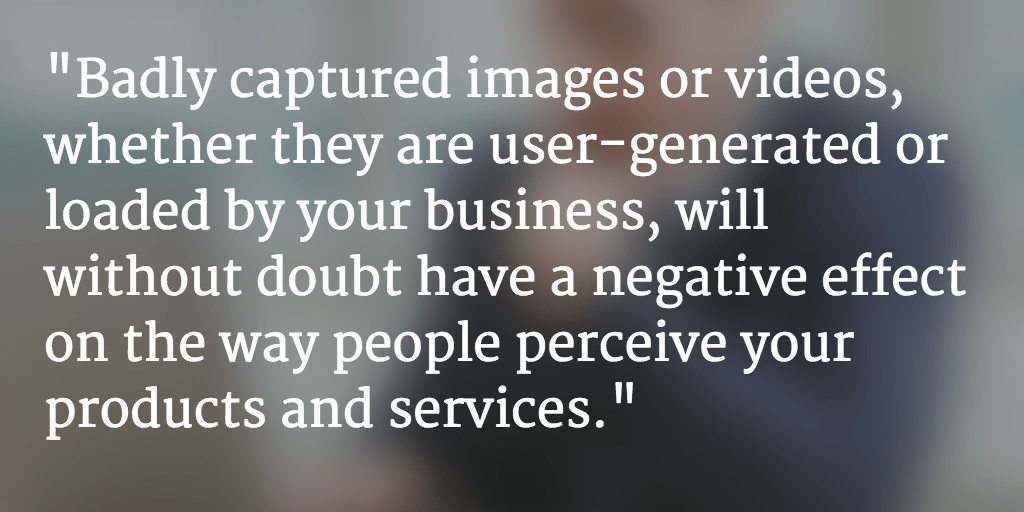 Visual Rants
This is perhaps one of the most damaging types of multimedia likely to appear in association with your review profiles. The short story: an angry customer has a negative experience and has the means to convey it visually. A few scenarios include poorly assembled plates, plates containing less than palatable food, shortcomings in housekeeping in a hotel room, or the results of a service the customer believes was less acceptable, such as carpet cleaning gone bad.
If you are the unlucky recipient of a visual rant, then you have very few options when it comes to remedy. First: you can push the image down by incentivizing new-image activity from other users. Second: you can see if the image violates any of the general guidelines of the site such as profanity, violation of privacy, or inaccuracy such as the photo does not correspond to your business (in that instance, you may escalate to Yelp by flagging the image.)
One of the most common and active review sites for image uploading is Yelp. Here are the steps to request a picture to be removed from Yelp (note that other popular sites have similar procedures).
Click on the image.
On the right side, scroll down to the bottom. Under "not helpful" you can select the icon to flag the image.
Once you click on the icon to flag the image, Yelp will ask you to indicate the reason for flagging. The photo will be escalated to moderators who will determine if the picture is in fact violating Yelp's policies.
Bad Backdrop
Still images are a great tool to assess the reality of your facilities. It is all too common to become blinded to mechanical, aesthetic, and operational shortcomings when you are on location day in and day out. A still image will give you an opportunity to truly see your facilities and products through the lens of your customers. Take every user-submitted photo as an opportunity to improve what your customer sees, whether it is updating your furnishings or simply removing clutter.
The opportunities are only limited by your imagination and branding objectives. Managing the audiovisual portion of your reviews is far more objective than anything customers might voice out with their words. 
Poor Lighting
Lighting is a tricky business, particularly for restaurants. On one hand, you want to create an intimate environment by dimming the light. On the other hand, you want your pictures and the pictures taken by your customers to convey great visual qualities. There are numerous ways to counteract this problem. Among our favorites are:
Train staff to offer to take photos of groups, food, or facilities, should they spot a customer taking a picture.
Offer up a tips-and-tricks cheat sheet on each table, teaching customers how to take excellent food photography. Tips might include using the rule of thirds, or creating a soft filter by using the flashlight feature on an alternate phone and covering it with a napkin.
Too Many Pictures, Too Little Messaging
A picture may speak a thousand words, but content continues to be king. A review profile with too many photos and too little information provides only a partial story of your business, and it does not allow for customers to fully understand your offering.
Review your photos periodically, and revise your profile content to highlight what is already present via multimedia. For example, if a hotel guest takes a photo of a new spa feature, then take a moment to describe the addition with words in your profile or through a customer response.
When It Comes to Video, Your Audio Matters
Your profiles on review sites are traffic generators for your business. As such, the content should be managed with the same level of care you would manage the content of your site or a television advertisement. We see way too many videos that are full of good intentions but devoid of quality. While people may forgive the homemade aspect of a video, poor audio is borderline intolerable. If a video has noise or unintelligible voices, then consider a voiceover or a well-selected music background. Make it a point to set time aside to audit and enhance any videos you might already have on review sites. Your final product should be compelling and representative of your brand.
Cut It Short!
The attention span of potential buyers conducting research on popular review sites is very short. When you know shoppers won't hang around your profile for long, making sure you capture their attention within the first seconds of engagement matters tremendously.
Videos should be concise, interesting, engaging, and with the meat upfront. The information that you feel is most marketable must be delivered within the first 30 seconds of your video. Protracted video content seldom results in increased leads or increased conversion. Avoid it at all costs.
Weak Lead Photos
This is perhaps the most common mistake and the easiest to fix. If your lead picture is not your most attractive picture, then by all means change it. The ability to replace your lead picture is available in the majority of review sites once you have claimed your profile. Your lead picture should represent your product and services in the best possible light. If at all possible, lead with a professionally taken image.
Managing videos and photos is an intrinsic part of your reputation management. Don't set it aside or minimize its importance. Visual collateral tells the story to potential customers with far more credibility than any review they could ever read. Load images that count, and encourage your best and most loyal customers to do the same.