Download 43 free review response templates for negative and positive reviews
Get the templates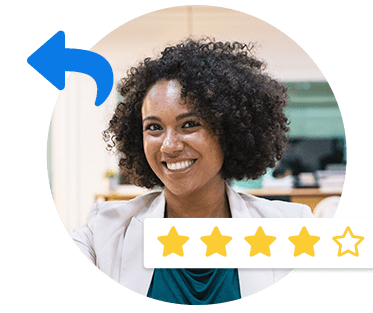 It's critical for businesses of all kinds and sizes to manage online reviews. Tracking and analyzing customer feedback allows you to make better, more informed decisions on how to best manage each step of the customer lifecycle.
After reviewing best practices across a variety of industries currently managing their reviews as part of their customer experience strategy, we identified 9 things that will help you stand out and enable you to get the most out of every single customer review.
Here they are:
1. Audit and Track Your Progress 
One of the most common mistakes we see in review management relates to erratic, undirected engagement that does not have clarity as far as goals and objectives.
For companies just getting started, it is advisable to audit all profiles across the most relevant review websites and spend time recording and analyzing what's happening.
A thorough audit should help your business identify strengths, weaknesses, and underutilized areas of opportunity.
Once leadership has a grasp of where everything stands, it will be significantly easier to establish metrics, objectives, and key performance indicators that will help everyone in the organization evaluate progress and make strategic changes that make sense to the customer experience.
Make it a habit to measure progress periodically and communicate findings, both as a way of encouragement, but also to equip specific departments to make changes intended to address shortcomings voiced by customers through their online reviews.
2. Deliver on the Promise 
Reviews are an assessment of what the customer experience is like.
So in order to generate great reviews, your business must be committed to the delivery of products, services, and experiences that are conducive to positive reviews, brand advocacy, and increased customer loyalty.
A review management strategy will only work if everyone at every stage of the customer lifecycle has a clear understanding of what it means to deliver on the brand promise. Reviews, good or bad, are the end result of operational efforts. Make certain everyone at every stage is vested and committed to taking the business to the next level.
3. Consistently Engage Across All Relevant Channels
Brands need to keep in mind that customers' expectations are defined by their messaging. It is not uncommon for businesses, particularly smaller local shops, to have disparity in content and conflicting or outdated information across a variety of industry-relevant review websites.
Prioritize content accuracy when completing your review management checklist. Accurate and updated information makes it easier for your team to deliver on their promises, and it boosts overall customer satisfaction.
When checking your content, be sensitive about visuals such as photos or videos, and verify the accuracy of key information such as your address, phone number, email, links to social media, and hours of operation. Specific industries such as foodservice should also make it a point to update menus when applicable.
(RELATED: Top 9 Reasons to Claim Your Business Listings and Review Site Pages) 
4. Complete Customer Escalations and Follow Up to Foster Retention
Tackling a customer concern voiced in a negative review is not simply about providing a response and including an apology.
The escalated issue should be managed fully, until the person tasked with the escalation is confident the issue is resolved to the satisfaction of the customer. The goal is to ensure that the effort to remedy the customer concern is conducive to reduced churn rate and serves to mitigate the potential of a negative message going viral due to lack of timely handling.
5. Respond to Positive Reviews to Build Strong Advocates
A sound and sustainable review management strategy includes direct engagement with potential brand advocates. Taking positive reviews for granted is a terrible organizational move.
Why?
Because every positive review is an opportunity to deepen a relationship with a customer that has already demonstrated an affinity toward your brand. Draft responses that are personal, relevant, and conducive to additional visits.
There is evidence that businesses engaging in a two-way dialogue with positive reviews often maintain a high Net Promoter Score (NPS). A response to a positive review should take into account the lifetime value of the reviewer.
6. Identify Review-Based KPIs and Improve on Each Indicator
Review sites offer businesses a goldmine of data that should never be ignored.
Conduct deep dives of customer feedback, and identify opportunities for service improvement that can be used as key performance indicators.
Once you have identified key opportunities, work with every department in your business organization toward finding ways to improve these metrics. As your business begins securing additional reviews, use the content to measure the result of strategic changes, and look for additional key performance indicators that may help in taking the business to the next level.
7. Leverage Review Management and Customer Feedback Tools
Being an early adopter of review management and customer feedback tools will give you access to additional customers that most likely have a tendency to be engaged and quite willing to give a review. Oftentimes, businesses miss out on important opportunities by being risk-averse.
Small businesses in particular need to keep in mind that if the tool or service is free, then they have very little to lose when it comes to giving it a try.
8. Convey Brand Differentiators in Business Profiles
Is your content on third-party review sites telling consumers what makes you unique?
If it is not, then you need to fix it right away. Most people select one business over another based on brand differentiators. If your goal is to use review sites as lead generators, then including the exclusivity of your business is a must.
9. Maximize Review Request Opportunities
Review volume, speed in acquisition, and density dictate the level of visibility of your business, as well as the level of credibility of your review site profiles.
Utilize every single opportunity you have to secure additional reviews, while staying within the policies and regulations set forth by the review hosts. Websites like OpenTable and TripAdvisor make it very easy to request a review right after a transaction, allowing businesses to develop very strong review profiles.
(ALSO check out: 7 Ways You Can Use Net Promoter Scores to Improve Online Reputation and Customer Satisfaction)