Download 43 free review response templates for negative and positive reviews
Get the templates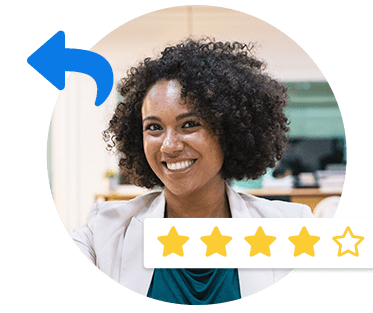 Remember the early days of social media? Platforms were popping up left and right, online conversations were growing exponentially, and businesses everywhere were grappling to keep up.
The fast-paced, customer-centric world of social media continues to evolve. One key trend that has emerged is the increasing reliance consumers have on online reviews, and, along with it, the importance of online review management as a strategy for marketers and brand executives.
Reviews have changed the way businesses approach social media
Review management has changed the way businesses approach social media, and it has helped take the guesswork out of consumer trends and opinions, allowing brands to engage more effectively in continued, long-term conversations with their consumers.
A social business report found that 67 percent of executives believed social media could fundamentally alter their business. In many cases, it already has. We believe that whether these changes have a positive impact or a negative one depends highly on how well you manage not only your likes, followers, mentions, retweets, and hearts, but also your reviews and the feedback left by your customers online.  
"People don't buy goods and services. They buy relationships, stories, and magic." —Seth Godin
So how exactly do online reviews affect social media marketing for businesses? And how can you manage customer feedback in ways that support your social media strategy and boost your reputation? Read on to find out.
Measure consumer brand sentiment through reviews
By keeping up with buzz, mentions and, conversations about your brand on social media and on online review sites, you can paint a more holistic portrait of consumer brand sentiment. You can watch, in real-time, the ebb and flow of your customer's opinions and track trends. This allows you to correct situations before they become reputation disasters or nasty Yelp reviews gone viral.
Of course, before social media, millions of people were already talking about brands, recommending them to loved ones or forewarning them of problems. But brands weren't privy to these conversations; the information was disclosed only with the receiver in mind.
CHECK OUT
7 Online Review Tactics for Social Media Marketing
Now, however, your consumers are turning to social media platforms and online review sites as a megaphone for their opinions, experiences, and feedback. While the intended audience of loved ones may or may not be the same, the reach now is greater. With review management, you can liberate and leverage this newly available information on brand sentiment for your business.
Engage in meaningful dialogue with customers
Gone are the days of speaking your piece to your customers and just hoping they'll listen. With active review management, brands and customers can engage in dialogue.
If a customer chooses to pour their heart out to a company, the company can craft an appropriate response based on that tone. If a client is fuming mad about a mistake, a brand manager can act fast with an answer that will mitigate the problem.
READ MORE:
Check out how these examples of businesses responding to bad reviews
In this context, the dialogue involves an exchange (such as a Facebook post and reply or a Yelp review and response) between multiple parties. This gives brands an opportunity to respond to users with targeted information, allowing for a more personalized experience and a stronger relationship. This, in turn, works to strengthen all other forms of future communication your brand may impart on this customer throughout the entirety of their relationship with your brand.
Keep in mind, though, that whatever is being said may be indicative of overall customer behavior. While only one customer may post about their disappointment in a poorly executed flash sale, you can pretty much guarantee there are others out there feeling the same way. When you engage in dialogue with one, you are engaging in dialogue with many.
One company that really shines in this area is Whole Foods. Just check out their conversations on Twitter with customers and followers.
While it would be easy for them to focus their attention on pushing specific products or glorifying their brand ad nauseam, the majority of their feed is actually dedicated to personal engagement. And while the tone of most responses is light-hearted and fun, they are also able to calm angry patrons who might leave negative reviews or customers who are in a food preparation pickle. Whole Foods is engaged across a variety of review and social media channels and never misses a beat.
Social Media Success Story
Shutterstock shares attractive and applicable posts on Twitter (like awesome photography) but the company's social media presence is more than just a stream of content for followers to check out.
Shutterstock's team engages with influential Twitter users who share mutually applicable content. They also respond to reviews and customer feedback (positive and negative) in a polite tone and in real-time.
They're also really good at providing details so that a reviewer feels like their comments matter. If a user tweets out an alert about an image with a problem, their team not only responds; they also assure users that matters are being taken care of and that solutions are quick to follow.
Implement responsive, dynamic marketing
Social media marketing and review management aren't just about protecting your brand reputation or managing customer feedback. These tactics also happen to affect entire marketing strategies, changing the way businesses interact with customers.
It's not uncommon for businesses today to move away from traditional advertising and marketing efforts like print ads and television commercials and focus their investments on other channels. Thanks to social media, businesses are adapting to new avenues of communication, connection, and information consumption.
Not only is social media a great platform for brand advertising; it also gives companies the opportunity to tell the story of their brand to a big audience in many ways.
Social media has spurred consumers to form new expectations about marketing. Your online presence is only as successful as your ability to pay attention to, and make changes based on, your customers. To do this, you must form strategies for listening and creating conversation. Customers need to feel acknowledged and heard.
Social media has allowed for the communication between consumer and brand to occur in very powerful and interactive ways.
Amplify the voice of the customer – and your brand
Reading and responding to your reviews on social media and dedicated review platforms is a great way to ensure that the voice of your brand is heard.
Let's discuss some best practices for writing review responses with your customers in mind:
Effective responses to reviews consider the subject matter addressed by the reviewer. But they also address questions that other potential customers might have when they read the interaction.

Effective review responses are never robotic. They speak to the reviewer specifically in a realistic, human tone. Reviews that call out company failures or indiscretions are handled speedily, politely, and in ways that showcase high regard for excellent customer service. The suggested solution is composed in an effort to make things right with the customer and support future loyalty from them, their friends and family, and anyone else who may be tuning in.

Respond to people who leave positive reviews. These happy customers can act as an ongoing mouthpiece for your brand, and as such, your positive review responses should show appreciation and gratitude, plus new information that could attract ongoing support: for example, mentioning upcoming products or sales and introducing the reviewer to new services you think they may enjoy based on their thoughts.
Here are a few other qualities to shoot for when crafting your responses to both negative and positive reviews:
Your response should be SEO-friendly and rich with relevant keywords.

Your response should be polite and cater to your customers.

Your response should consider the views and opinions of your target audience.

Your response should be posted in a timely fashion.

Your response should be well-written, free from misspellings and grammatical errors.

Your response should focus on solutions, when appropriate. You should approach negative reviews as a problem-solver.

Your response should remain consistent with a predetermined brand voice.
Social Media Success Story
Walmart has a huge Facebook following. Boasting over 32 million page likes, the retail brand has quite the social media audience at its disposal.
You might think staying on top of comments posted on their page would prove an impossible feat. However, if you take a look, you'll notice a constant stream of admin responses to matters large and small, positive and negative.
As with any giant brand with plenty of locations, things are bound to go wrong and customers are bound to voice their (not-so-nice) opinions. Walmart responds to these complaints professionally and in a very polite tone. They assist customers where possible and help them reach someone who can when not.
Expand your reach with social sharing
It's natural for consumers to turn to their loved ones and friends for advice and knowledge on what to buy. You've no doubt called up a family member before undergoing a project on your house to get referrals for the best men and women for the job. You've probably polled your co-workers about their favorite restaurants before making reservations for an important celebration. Through social sharing, this tale as old as time is getting a makeover. The advice and knowledge are now available online, and more often than not, customers are on social media raving or ranting about their experiences.
It's obviously great for your brand if they rave and give 5-star reviews; this builds positive buzz around your brand on social media. Why? A report by Nielsen explains that 77 percent of consumers are more likely to purchase a product if they've learned about it from their family or friends.
Creating positive content on social media that encourages sharing also increases your ability to expand your reach. Not only will your brand's message be amplified by the crowd but the voice of your prospective customers, sales, and leads will be amplified, too.
Hand Over the Megaphone: 8 Tips to Encourage Social Sharing
Engage with key influencers

in your customer base and reach out to them. Explain ways that your product can bring value to their followers' lives and provide them with exclusive content and sales.

Keep up with social conversations and respond

to both your positive and negative mentions and reviews. Prospective customers will remember how you handled yourself in all types of situations. Great customer service is memorable.

Ask for social media referrals

. You can attach referral requests to any email or reach out to acquaintances who have benefitted from your brand.

If there's a problem, reassure people that you are solving it.

Don't shy away from posting in times of crisis or after you've made a mistake. When these unhappy circumstances occur, post as soon as possible the precise occurrence and what's being done to rectify the situation. This can help erase the unsettling feeling your followers may have.  

Encourage your employees to share brand content

. No doubt they have a fair few followers who are new to your brand. Moreover, connecting the brand to a human their followers recognize goes a long way in making your company more personal and positive.

Build and share giveaways

. This is a great tactic for creating excitement about your brand on social media because people love free stuff. You may receive entries from people who've never utilized your services, but they will certainly remember your generous goodwill in the future.

Share your expertise

and knowledge on your blog and social media pages, as well as on sites like LinkedIn. If you can provide followers with new, valuable information, they'll likely want to pass it along.

Start pinning

. If you haven't already, hop on Pinterest and start pinning your products to boards with real-time pricing and store availability. Keep content balanced by pinning a nice mix of information that does not directly pertain to your goods and services but does pertain to your customers and their interests.
Meet and anticipate customer needs
Today's customer craves a stronger sense of immediacy and pervasiveness than ever before. Is their bank account balance dwindling? Then they want a notification to pop up on their phone to let them know. Do they have a question about a store's return policies? They want to hop on Twitter, send a tweet and receive an immediate reply.
These digital trends that err on the side of instant gratification have made physical customer service close to obsolete, especially with younger generations, who prefer tapping into their social media and mobile apps to interact with brands.
Online brand responsiveness is key to customer acquisition (especially of this younger set) and retention. Customers want answers fast. And when they don't get the answers they're seeking, they turn elsewhere.
Businesses that excel in review management are typically early and effective responders. Some take this one step further and tap into consumers' love of mobile technology. Consider a restaurant where, when a diner "taps" their coaster with a phone, they're given information about the drink they're sipping, forthcoming specials, etc. Or a market with scannable QR codes at checkout that take customers straight to the store's Yelp page.
Staying on top of your clients' needs and offering shortcuts can go a long way in extending customer satisfaction. When you create these moments for your customers, you are providing them with more possibilities to evaluate your brand in a positive way.
Improve search performance
Search engine optimization is crucial to businesses of all sizes. But local businesses, in particular, should be extremely smart with SEO decisions, not only for cost purposes but also based on the need to corner the market as it pertains to searches in and around their own location or service area. One strategic way of supporting local search optimization efforts is through review management.
CHECK OUT:
The Impact of Online Reviews on Local Search Rankings
Local businesses looking for productive and efficient ways to appear in their target audiences' searches should consider what managing online reviews can do. Consider this: traffic originating from third-party review sites could convert equal or higher amounts of traffic than traffic that comes directly from a business' website.
But let's not leave multi-branch organizations out of the conversation. Larger businesses that depend on localized branches, like national hotel chains or chain restaurants, should employ similar strategies for each of their branches, too. Each location should commit to a strategy that involves carefully managed online reviews.
Create consistent profiles across all review sites.

Work on maintaining clear and consistent messaging across all your review site profiles. Your profile should include hours of operation, descriptions of services, menu offering, detailed accounts of your rooms, or items you always have in stock. Step into the shoes of your customer and consider the information they may type into a search engine in order to get to you. And of course, make sure your business name, address, phone numbers, and contact information are correct. Finding you should be easy, not frustrating.

Engage with your reviewers.

Responding to online reviews is not only smart for keeping your customers around, but it is also a magnificent way to showcase customer commitment to those browsing your profile and considering doing business with you for the first time. Responses to both positive and negative reviews can strengthen credibility and provide a simple avenue for you to connect with your customers. Studies show that a response to a negative review is often the trigger for that all-important second chance, and may even help lead to long-term brand loyalty.

Write your responses professionally.

Proofread each one for grammar, customer focus, and brand voice before hitting "publish." Follow up your responses with actionable items. Deliver on your promises and provide the solution. But also, adapt your existing practices to make sure they improve based on review feedback.

Approach negative reviews as a problem-solver. Negative reviews are usually the result of a complaint that was met with indifference. Set your brand apart not just by listening to problems, but by fixing problems. Customers want to be heard, but they also want to see change, especially when their experience was a bit off. Fix these problems on the spot to sidestep the possibility of a negative review later. Customer escalations can quickly blemish your online profile. Of course, some problems will go unresolved, and you won't discover them until reading the negative review. Spring into that same problem-solver action just the same. Write a response that seeks to fix the problem. Invite them to come back for a better experience.
Social Media Success Story
Xbox actually holds the Guinness World Record for the most responsive brand on social media. And in case you were wondering: yes, that is an actual category!
Besides a commitment to quickly and effectively responding to all tweets that cross their feed, Xbox also does a wonderful job of communicating a few important things to their social media followers; also, their "About" section specifically addresses the hours their social media team will be actively responding.
This is a great way of alerting customers to when they can expect feedback or when the best time to contact might be. This may seem like a small detail to add to your pages, but Xbox proves how doing so can be a big step towards maximum response efficiency.
Develop two-way relationship between brand and consumer
Active review management allows brand and consumer to exist on equal footing. An ongoing online dialogue allows information to flow freely, back and forth, between both parties. This sort of equal footing is only possible offline after an initial or pre-existing connection has been made with the customer. Yet social media allows for the equal footing to exist prior to any existing relationship or transactions.
For example, a prospective customer can base shopping decisions on a brand's Google star rating. The same brand can respond to their positive and negative reviews to showcase stellar customer service to that same prospective customer looking for a place to spend.
A Twitter user can stumble upon a new brand by scrolling through specific hashtags, the same way a brand can find a customer to respond to by using that same feed.
Increase mobile engagement
Attracting shoppers on their mobile devices means targeting based on geographic location. Linking consumers to businesses that are immediately relevant (and nearby) allows smart marketers to capitalize on impulse, as opposed to intent. In this way, revenue grows over time as customers are shepherded to the appropriate businesses through the use of their mobile devices.
There are many interactions that can help connect your business with potential customers. Here are some of them:
Make sure your company name, address, phone number and hours are accurate and consistent across the web and available on all platforms and profiles.

Claim and manage

your business listing on Google My Business

.

Invest in in-store signage and materials that encourage your customers to "check in."

Provide offline collateral that will initiate the use of review sites.

Promote location-based actions whenever possible.
How to maximize location-based actions:
Embrace platforms that allow your customers to easily and quickly share content. Twitter, Vine, and Instagram are great places to start. Maintain active accounts on these social media sites so you're easily found and followed.

Encourage your guests to share their experiences when interacting with you. Let them know the best ways to tag you or otherwise involve your brand in the action: hashtags, contests, etc.

Track down your location-based actions across the Web to get a clearer picture of what people are saying about you. Found a tweet, photo, or heart-warming story you love? Share it!
MORE TIPS:
Fantastic Offline Tips for Generating Positive Reviews
Have a rapid response strategy
In those instances where crisis strikes, businesses require a rapid response strategy to seamlessly transform the issue and avoid a damaged brand image. Committing to transformational crisis management can mean the difference between a brand that continues to thrive and grow and a brand so damaged it will fade into the dust.
Instances that require rapid responses are usually one-offs for the majority of your consumers. They appear out of left field. And when this sort of occurrence is viewed as abnormal, customers will wonder how and why it has transpired. They'll probably start asking questions:
Can we trust this brand going forward?

Who was ultimately responsible?

Was it on purpose or an oversight?

Will it happen again?

What does this mean for the brand?
Your response to the crisis is key to how your customers will answer these questions. The communication put out by your brand throughout the crisis and in the aftermath will help you come out on top.
Answering the questions listed above as they pertain to hypothetical occurrences is a great place to start. Next, consider the best channels for dispensing this information. Will your approach differ based on how many people are affected? Should you take the situation offline or is it best handled in a public forum for all to see?
Whatever the case may be, staying on top of incoming reviews before they reach crisis level is your best preventative approach. When trends start to appear in your reviews, take the time to adapt policies, strategies, and protocol to solve recurring problems.
Call to Action!
If you want to be on top of your online review management game, you must invest time and energy in social media. Every business should seek engagement in the following social channels:
Facebook

Google My Business

Twitter

Instagram

Pinterest

Any industry-relevant forums and review sites
While that list may seem a bit overwhelming, there are resources out there that can help you stay on top of the many platforms. Consider using social media marketing and customer feedback software to streamline your communication across channels and to monitor your mentions and tags in real time.
Online review management certainly has the power to impact social media in highly effective ways. Approaching your platforms and feeds through the lens of review management can help give you the competitive edge.