Download 43 free review response templates for negative and positive reviews
Get the templates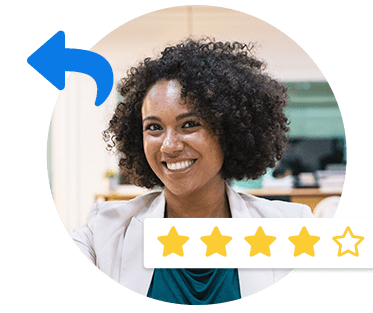 According to Intuit, the mobile food-vending trend is not a fad. Food trucks are here to stay, with an expected growth in revenue from $650 million in 2012 to approximately $2.7 billion by 2017.
While the current revenues of food trucks represent only a little more than 1% of the total restaurant industry, it is important to understand and embrace certain principles and practices to ensure the success of these low cost-of-entry enterprises. If you are a food truck operator, your marketing needs are peculiar and must be tailored to accommodate the absence of a true geographical location, among other marketing challenges.
Understanding and maximizing the opportunities afforded to food trucks is not difficult, and it may mean the difference between sustainable growth and utter failure.
Review sites don't require an exact address
One of the first and most important marketing moves that a food truck operator can make is taking control of their online reputation. Engaging with reviewers, ensuring your profile on popular review sites is complete, and using the feedback to optimize your operation may just give you the edge over the competition. A common misconception of those in the mobile food industry is that you need to actually have a physical location to take the reigns of your online review profile. The city name is often sufficient to get your online presence rolling on sites like Yelp and TripAdvisor.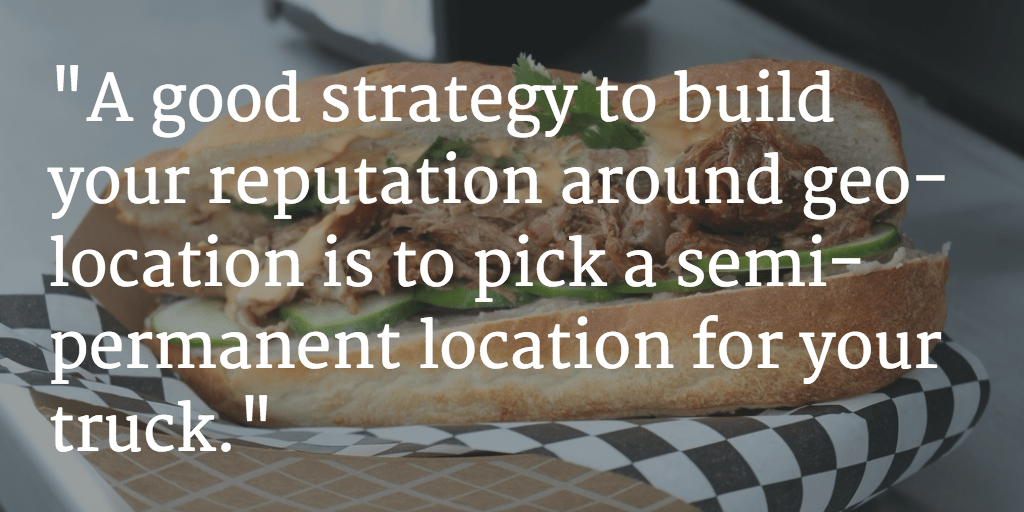 There is value in helping your customers find your location
As features such as TripAdvisor Questions & Answers and Yelp direct messages develop, you will find yourself having to engage with your potential reviewers in real-time. A common question you are likely to see is the question of your location on a day-by-day basis.
A good strategy to build your reputation around geo-location is to pick a semi-permanent location for your truck. Many food trucks take part on initiatives such as The Atlanta Food Truck Park or the Fine Arts Food Trucks in Houston. By having a "base" location, potential customers taking advantage of proximity-based search offered by these review sites will afford you a better chance of securing leads.
Another alternative to help your customers find you is to use GPS-enabled trackers, and pair them with apps such as Food Truck Fiesta and Eat Street. Presently, the bulk of GPS-enabled food-truck-finding apps do not have review aggregator features, but several are in the works as they attempt to have a more robust social integration.
Implement a review management strategy
Food trucks are significantly underrepresented as it relates to effective online customer engagement. Many mobile food vendors are, in fact, collecting online reviews from customers oftentimes without their knowledge.
When it comes to customer feedback, ignorance is not bliss. Your review response strategy should mimic the strategy of full-service restaurants. You are, after all, competing for the same customers.
As a limited service culinary enterprise, you have your work cut out for you. Customers' expectations in terms of service may not be aligned with your delivery and logistics capacity, and that can quickly transform into an online rant. Customer concerns voiced via online reviews can serve as the basis for educating potential customers and for exposing searchers to the minutiae of food truck operations, which will help in setting realistic expectations. Learn how to respond to both good and bad reviews in a way that builds your branding and furthers your market penetration.
Work to improve your review volume and scores
There are multiple ways to encourage your customers to advocate on behalf of your food truck, using online review sites. The first and most practical approach is the inclusion of offline collateral to identify your truck as having a presence these sites.
You can, for example, add a Yelp sticker to a visible area of your truck, and include your Yelp seal as part of your printed menus, if available. Also consider giving your customers the option to check in on an app like Foursquare and, when possible, reward engagement.
Finally, initiate a mail list and encourage Twitter followers. You can later use your list to encourage reviews for sites like TripAdvisor, Google, Facebook. With ingenuity and intentionality you can rise to the top of popularity searches, not only for food trucks, but also by food type for your area.
Monitor and utilize review data 
Implement tools that help you see the whole picture. Review monitoring is not optional for any food service provider. Putting together a reputation management strategy is not costly at all, and the results are priceless and impactful.